December 05, 2019
IEEM unit one of 4 percent in nation to achieve coveted recognition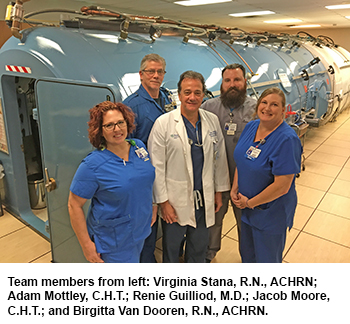 ARLINGTON, Texas — The Hyperbaric Medicine Unit at the Institute for Exercise and Environmental Medicine (IEEM) at Texas Health Presbyterian Hospital Dallas recently received accreditation as a Level 1 facility with distinction by the Undersea & Hyperbaric Medical Society (UHMS).
The UHMS, an international nonprofit organization, says accreditation is awarded to facilities that have met its high standards of care and patient safety. According to the organization, only 14 percent of hyperbaric units in the United States are accredited. Only 4 percent of facilities are accredited with distinction, indicating the unit is a Center of Excellence.
The IEEM is a joint program between Texas Health Dallas and UT Southwestern Medical Center at Dallas. Its goal is to promote basic and clinical research, educational and clinical practice in defining the limits to human functional capacity in health and disease, with the objective of improving the quality of life for people of all ages. It is also one of only nine facilities in the country to offer an Accreditation Council for Graduate Medical Education fellowship in Undersea and Hyperbaric Medicine.
"Achieving accreditation with distinction is a testament to the dedication of our team," said Renie Guilliod, M.D., medical and fellowship director of the Hyperbaric Medicine Unit, and a physician on the medical staff at Texas Health Dallas. "Our dedicated team members work together to provide our patients with high-quality, compassionate care."
The IEEM's Hyperbaric Medicine Unit uses hyperbaric oxygen therapy to treat conditions such as delayed injury of radiation therapy, carbon monoxide poisoning, gas gangrene and decompression illness in divers. It is also extremely useful in lesions that cannot heal because the blood supply is inadequate, as is the case with compromised skin grafts and flaps, diabetic foot ulcers, crush injuries and sudden vision loss due to acute retinal artery occlusion.
The therapy involves breathing 100 percent oxygen at pressure levels that are two to three times greater than normal atmospheric pressure. The elevated pressure and oxygen concentration allow higher levels of oxygen in the blood, creating hyperoxygenation of tissues. This process promotes and accelerates healing.
The unit's trained hyperbaric specialists, led by physicians on the Texas Health Dallas medical staff and UT Southwestern Medical Center, treat more than 1,000 patients annually. Along with providing non-emergent hyperbaric oxygen therapy, the team has treated over 90 emergencies to date in 2019, ranging from compromised skin grafts to critically ill carbon monoxide poisoning patients and divers with decompression illness. "Our unit has been accredited continuously since 2004. The accreditation committee said we're a model as a Center of Excellence for facilities across the country," said Adam Mottley, C.H.T., unit safety officer. "This validates the process we've established to serve our patients."
The Hyperbaric Medicine Unit at Texas Health Dallas is the largest multi-place facility in North Texas accredited by UHMS. The facility is one of the few centers in the U.S. that offers the full scope of services for the hyperbaric patient, including critically ill and mechanically ventilated patients.
"Having one of the country's few hyperbaric units accredited with distinction is a tremendous benefit for the patients of North Texas," said Jim Parobek, the hospital's interim president. "From compromised skin grafts to infections and divers' illnesses, the Hyperbaric Medicine Unit staff is able to provide top-notch care."
Follow this link to learn more about the Hyperbaric Medicine Unit.
About Texas Health Resources
Texas Health Resources is a faith-based, nonprofit health system that cares for more patients in North Texas than any other provider. With a service area that consists of 16 counties and more than 7 million people, the system is committed to providing quality, coordinated care through its Texas Health Physicians Group and 29 hospital locations under the banners of Texas Health Presbyterian, Texas Health Arlington Memorial, Texas Health Harris Methodist and Texas Health Huguley. Texas Health access points and services, ranging from acute-care hospitals and trauma centers to outpatient facilities and home health and preventive services, provide the full continuum of care for all stages of life. The system has more than 4,100 licensed hospital beds, 6,400 physicians with active staff privileges and more than 26,000 employees. For more information about Texas Health, call 1-877-THR-WELL, or visit www.TexasHealth.org.