April 02, 2019
Private rooms help parents bond with tiny newborns
When Ilaissa Negron and Ernesto Chapa visit their tiny daughter, Elena Chapa, they're in a peaceful private room at Texas Health Presbyterian Hospital Denton, where the four-week-old preemie can rest under cycled lighting that mimics sunrise and sunset.
Negron holds Elena against her chest in a comfortable glider made just for "skin-to-skin" care, also called Kangaroo care. Once their daughter grows enough so that her parents can hold her longer than her Kangaroo care time, they plan to stay overnight on a bed that folds out from a convertible table and banquette.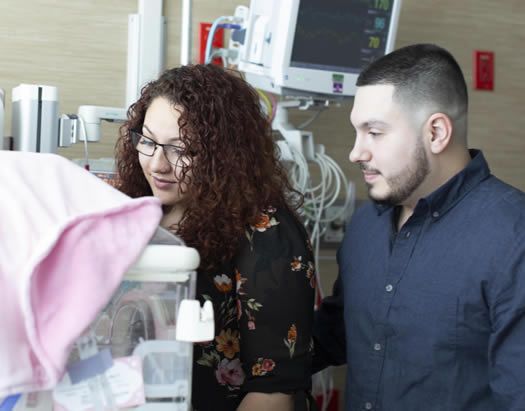 Elena is staying in the hospital's brand new neonatal intensive care unit, a roughly $3.4 million project that expanded the unit from 10 beds in open pods to 16 private rooms.
Staying on top of the latest trend — toward private rooms with sleeping quarters — helps keep parents in better touch with their newborns "so they're not scared to take their baby home," said Faith Gallo, R.N., interim NICU manager.
In the first week the NICU was open, the number of little patients zipped up from six to 12, keeping nurses and physicians on their toes as everyone adapted to the new unit.
"I can't say enough kudos about the staff," Gallo said. "They are really engaged and own this."
New beds for the babies were purchased that can serve as both radiant heat warmers and covered isolettes. Covered, the beds provide the humidity needed to protect the fragile skin of preemie infants, and also serve as better buffers of outside noise — a quiet environment is best for preemie development.
Each room also has its own small refrigerator for breast milk.
The new NICU also has a set-up for twins, with a sliding door that opens so that parents can be in both rooms at once.
A new family room includes a table and TV, along with a restroom and shower for parents who are with their baby day and night.
Elena was delivered at 25 weeks, just as the new NICU opened on Feb. 12. Most preemies are discharged from the NICU around the time of their original due date, so she has about a month and a half to two months to go, Gallo said.
Negron said her experience in the new NICU has sparked an interest in becoming a NICU nurse. She was in nursing school but dropped out when she was admitted to the hospital's Labor & Delivery unit as an antepartum patient before Elena, her first child, was born.
"I got a lot of insight being here and watching my daughter's treatments," she said. "It's really opened my eyes to this kind of nursing."
Added Chapa, "What calms me down is that we have great nurses here. They call us with updates. We'd be a little more worried if we didn't have great nurses."
About Texas Health Resources
Texas Health Resources is a faith-based, nonprofit health system that cares for more patients in North Texas than any other provider. With a service area that consists of 16 counties and more than 7 million people, the system is committed to providing quality, coordinated care through its Texas Health Physicians Group and 29 hospital locations under the banners of Texas Health Presbyterian, Texas Health Arlington Memorial, Texas Health Harris Methodist and Texas Health Huguley. Texas Health access points and services, ranging from acute-care hospitals and trauma centers to outpatient facilities and home health and preventive services, provide the full continuum of care for all stages of life. The system has more than 4,100 licensed hospital beds, 6,400 physicians with active staff privileges and more than 26,000 employees. For more information about Texas Health, call 1-877-THR-WELL, or visit www.TexasHealth.org.