September 26, 2019
Sexual Assault Nurse Examiners are specially trained and certified to perform forensic exams
Residents in Stephenville and the surrounding area who are victims of sexual assault now have a 24-7 option for compassionate, comprehensive medical and forensic care at Texas Health Harris Methodist Hospital Stephenville.
Leaders have combined the addition of a Sexual Assault Nurse Examiner (SANE) with the use of a TeleSANE system to achieve around-the-clock coverage. The priority for SANE is to address the medical and emotional needs of the victim in the Emergency Department and then proceed with forensic medical-legal exams that will stand up in court.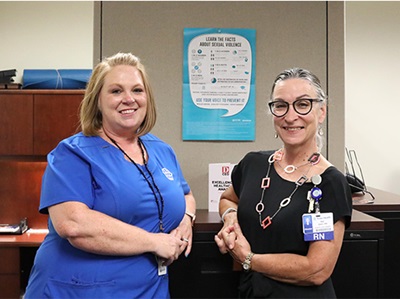 "We are pleased to provide this service for our region," said Christopher Leu, president, Texas Health Stephenville.
Sexual Assault Nurse Examiners are specially trained and certified to perform these exams. They are available to testify in court should the need arise.
The Rape, Abuse & Incest Network reported that a sexual assault occurs in the United States every two minutes.
SANE nurse
While SANE care has been offered sporadically at the hospital since 2015, Cindy McCarthy, D.N.P., M.B.A., M.H.A., R.N., NEA-BC, C.E.N , chief nursing officer at Texas Health Stephenville, wanted to find a way to offer 24-7 coverage and proposed the concept of a full-time/on-call SANE at a Texas Health Nurse Executive Team meeting after hearing of another program at Texas Health.
"This was Cindy McCarthy's idea two and a half years ago," said Kathleen Gann, M.S.N., R.N., CEN, SANE-A, CA-SANE, W.W. Caruth Jr. Foundation director of the Texas Health System Services SANE program. Texas Health Stephenville now also has a Sexual Assault Nurse Examiner on call four days a week. The nurse also covers Texas Health Harris Methodist Hospital Cleburne.
TeleSANE
To help supplement the on-call coverage, the team turned to technology.
Gann knew telemedicine had been in use for SANE programs at other U.S. hospitals.
"I have attended several national forensic nursing conferences where telemedicine for SANE programs were presented," she said. "The outcomes were intriguing, and I came away with the idea TeleSANE was possible at Texas Health for rural communities. Texas Health SANE worked closely with IT for the technology aspect and the pilot was initiated at Texas Health Stephenville."
McCarthy also recognized the potential of telehealth for SANE and agreed to have the pilot at Stephenville. "Telehealth is used for a lot of other things and we worked to try to get that capability for us," McCarthy said.
Special training
In a TeleSANE exam, an Emergency Department nurse or other nurse would be guided by a Sexual Assault Nurse Examiner live on camera. So far, TeleSANE, has not been used because other Sexual Assault Nurse Examiners have been able to handle cases, but the training is done weekly so the team is ready. The Emergency Department nurses have been specially trained for the exams as well.
"We spend a lot of time one-on-one with Stephenville," said Cindy Burnette, D.N.P., R.N., CA-CP SANE, SANE-A, southwest region SANE manager.
"The Emergency Department nurse actually does the collection and the Sexual Assault Nurse Examiner will guide them," said Gann. When the time comes, Gann, Burnette or Sonia Sims, M.S.N., R.N, CA-SANE, will be the ones guiding an exam.
"We do our examinations based on what the victim tells us happened. Once we listen to the history, the SANE guides the ED nurses," Gann said.
It's like telestroke services that have stroke specialists at larger hospitals and provides guidance to rural hospital clinicians.
'Right in our backyard'
"We just appreciate being able to offer that option of having TeleSANE right here in our backyard," McCarthy said. Without complete coverage, sexual assault victims would have to go to Fort Worth for SANE examinations, which can be a deterrent for victims as they consider whether to proceed with charges.
"People don't want to leave their comfort zone," McCarthy said. "We truly appreciate having the TeleSANE option to do an exam as opposed to not getting an exam."
SANE Program Resources for Sexual Assault Victims:
Texas Health Dallas
Emergency Department: 214-345-6203
Questions about SANE at Dallas: 214-345-6443 TexasHealth.org/Dallas SANE
Texas Health Harris Methodist Fort Worth
Emergency Department: 817-250-3333
Questions about SANE at Fort Worth: 817-250-4293
Texas Health Arlington Memorial Hospital
Emergency Department: 817-960-6200
Questions about SANE at Arlington Memorial: 817-250-4293
Texas Health Plano partners with community SANE Program at The Turning Point
1-800-886-7273 (The Turning Point hot line)
Questions about SANE at Texas Health Plano: 972-981-8008
Texas Health Stephenville
Cross Timbers Family Services hotline, 866-934-4357; Texas Health Stephenville, 254-965-1500
Questions about SANE at Texas Health Stephenville: 817-250-4293
About Texas Health Resources
Texas Health Resources is a faith-based, nonprofit health system that cares for more patients in North Texas than any other provider. With a service area that consists of 16 counties and more than 7 million people, the system is committed to providing quality, coordinated care through its Texas Health Physicians Group and 29 hospital locations under the banners of Texas Health Presbyterian, Texas Health Arlington Memorial, Texas Health Harris Methodist and Texas Health Huguley. Texas Health access points and services, ranging from acute-care hospitals and trauma centers to outpatient facilities and home health and preventive services, provide the full continuum of care for all stages of life. The system has more than 4,100 licensed hospital beds, 6,400 physicians with active staff privileges and more than 26,000 employees. For more information about Texas Health, call 1-877-THR-WELL, or visit www.TexasHealth.org.