August 13, 2019
Fast action by caregivers at Texas Health Denton and Texas Health Fort Worth result in a positive outcome
After finishing a major backyard project, Steve Hooker wanted to rest and relax. Feeling a bit light-headed in the July heat, he sat down and asked his wife, Vicki, for an aspirin. He recalls leaning over to pet Zoe, the family dog, before falling to the floor — unable to move — and trying to formulate words into a complete sentence.
He was having a massive stroke.
But because of a seamless stroke treatment process at Texas Health Presbyterian Hospital Denton, along with an intricate procedure performed at Texas Health Harris Methodist Hospital Fort Worth, the 70-year-old retiree is alive and well today, and beyond grateful.
Stroke patient Steve Hooker with speech-language pathologists Heather Parks, left, and Paula Couch during a therapy session at Texas Health Denton.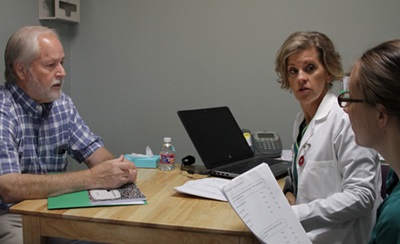 "Thanks to a team of experts, I'm able to enjoy retirement," Hooker said. "I left the hospital on my own two feet, and my only impairment is an occasional stammer."
Hooker also credits his survival to the quick actions of his wife, who immediately noticed his slurred speech. She also remembered that his left eye had started giving him problems, just days before the stroke
"I knew about the BE FAST acronym and how to test someone's balance, eyes, face, arm and speech," she said. "We both understood time was of the essence."
"I hit the floor at noon, minutes later Vicki called 911, and the fire department arrived by 12:15 p.m.," Hooker said. "I don't remember much after that."
Paramedics rushed him to Texas Health Denton. Vicki Hooker, arriving separately by car, was kept abreast of her husband's progress by Janet Adams, CCRN, SCRN, Texas Health Denton's stroke program coordinator. A multidisciplinary team of clinicians immediately assessed his condition and administered the clot-busting drug alteplase.
At the same time, the stroke team at Texas Health Fort Worth began preparing for Hooker's urgent arrival via helicopter.
"He had the classic signs of a left middle cerebral artery stroke — one of the most recognizable large vessel strokes around," said James Ryan, APRN, AFCNS-BC, SCRN, Texas Health Fort Worth's stroke program coordinator.
To effectively address the blood clot blocking one of the major arteries in his brain, a physician inserted a catheter with a stent retriever through an artery in the leg, up to the brain, and then pulled the clot from the blocked artery, in a procedure called a mechanical thrombectomy.
"It's a highly specialized and intricate procedure only offered at a designated comprehensive stroke center," Ryan said. "Texas Health Resources has worked diligently to provide these types of centers for residents living in North Texas," he said. Currently, Texas Health has two comprehensive stroke centers located in Fort Worth and Dallas.
"Both hospitals played major roles in Mr. Hooker's success story," said Kirk King, Texas Health's Hospital Channel chief operating officer. "Texas Health Denton provided life-saving, emergency medicine and treatment, and Texas Health Fort Worth completed the quality care by providing the patient with the more complex, brain procedure. It further exemplifies the message that no matter where individuals enter our doors, patients and their loved ones will receive the care they need."
"Everything was done so smoothly, and Janet updated me every step of the way," Vicki Hooker said. "Having modern medicine is great, but having people around truly devoted to saving lives and helping others is what truly matters."
The comprehensive stroke program at Texas Health Fort Worth includes customized educational and support programs, advanced imaging services 24 hours a day, along with a neurosurgical intensive care unit available to perform thrombectomies 24 hours a day.
"It's safe to say that Mr. Hooker is out of the woods, but he had severe blockage in his carotid arteries," said Ronald Gerstle, M.D., a neurointerventional radiologist on the medical staff, and an integral part of Texas Health Fort Worth's stroke team, who performed Steve Hooker's procedure. "He's definitely on a road to recovery, but his story is a testament to the importance of noticing stroke symptoms early and receiving medical treatment as soon as possible."
Three days after suffering a stroke, followed by a major brain procedure, Steve Hooker left Texas Health Fort Worth. "His outcome was just so amazing," his wife said. Thirty years ago, her own mother suffered a stroke. "She dealt with paralysis and difficulties swallowing."
Hooker's only lingering effects from the stroke is a minor speech impediment. "It's been frustrating, but the idea that it's his only impairment is phenomenal," she said.
He's currently undergoing speech therapy at Texas Health Denton, with speech-language pathologists Heather Parks and Paula Couch.
"The recovery process is a fight, and patients have to be willing to take on the challenge of getting back what they lost," Parks said.
Some of his verbal exercises include reading information aloud at varying degrees of complexity. Parks said it eliminates the need for Hooker to concentrate on what he says and instead focus on how the words sound. Therapy sessions also include writing exercises. According to Couch, communication deficits often involve speaking, writing, reading and listening.
"The end goal is to concentrate on both content and quality, because functional communication requires both," Parks said. "But motivation is the fuel keeping him moving toward his goals. And with the support from his wife and his strong determination, he'll get through the challenging course in front of him."
About Texas Health Resources
Texas Health Resources is a faith-based, nonprofit health system that cares for more patients in North Texas than any other provider. With a service area that consists of 16 counties and more than 7 million people, the system is committed to providing quality, coordinated care through its Texas Health Physicians Group and 29 hospital locations under the banners of Texas Health Presbyterian, Texas Health Arlington Memorial, Texas Health Harris Methodist and Texas Health Huguley. Texas Health access points and services, ranging from acute-care hospitals and trauma centers to outpatient facilities and home health and preventive services, provide the full continuum of care for all stages of life. The system has more than 4,100 licensed hospital beds, 6,400 physicians with active staff privileges and more than 26,000 employees. For more information about Texas Health, call 1-877-THR-WELL, or visit www.TexasHealth.org.