September 06, 2019
Texas Health Dallas nurse rescues two occupants after plane crash
A peaceful day in the Canadian wilderness turned into a rescue mission for a Dallas nurse. Joseph Brookshire, M.S.N., R.N., C.N.L., and other witnesses risked their own lives to pull two people from a crashed airplane in Alberta, Canada.
Brookshire was there for the International Nursing Research Congress. Before the event, he drove five hours north of Calgary to a remote park, located near the alpine town of Jasper.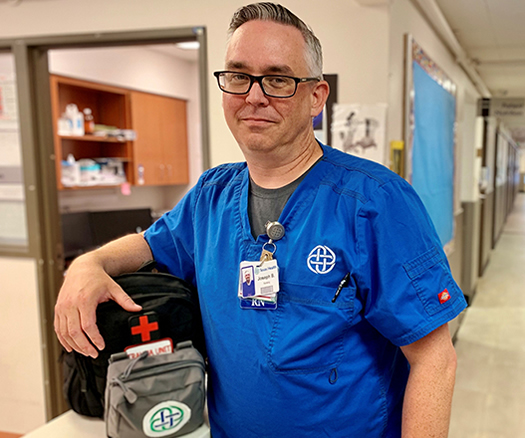 "I was in my car trying to scope out some places to take landscape photos," said Brookshire, clinical nurse leader at Texas Health Presbyterian Hospital Dallas.
While gazing at the lush forest and mountains, he noticed a small commuter airplane take off on a dirt airfield. He said the plane was about 50 feet above the ground but failed to gain altitude between the mountains.
"The plane turned behind a hill and then disappeared," Brookshire said. "It didn't register as a plane crash because I didn't see or hear an explosion."
Crash scene
Out of curiosity and concern, he decided to follow the plane to see if it landed somewhere. When he drove up to the Athabasca River, one mile from the airport, he saw the plane submerged in the middle of the water.
"I immediately put the car in park, ran down the hill and jumped into the water," he said.
Brookshire swam to the plane along with two other witnesses. They did a quick assessment of the damage and came up with a plan to get the pilot and passenger to safety.
"They were buckled in their seats with freezing water up to their necks," he said. "If we didn't get them out of the plane right away, they would have drowned."
Brookshire and two others worked together to open the doors and windows of the plane without the roof collapsing, which had been badly damaged in the crash. They carefully removed each victim one by one through the door while trying to avoid additional cuts from broken glass.
"There was fuel, blood, debris all around us, but we stayed focused on getting them out of there," he said. "In the back of my mind, I was just hoping the plane wouldn't explode."
Bystanders had gathered on shore and watched as the victims were carried across the river. Brookshire said he remembered the first step in triage which is determining who needs immediate care and helping that person first. And that's what he and other good Samaritans did.
The passenger who couldn't hold his head above the water was still unresponsive on dry land. Five people rotated doing CPR for 40 minutes until EMS arrived and took over. Brookshire said that, sadly, he later heard that EMS was unable to revive the passenger.
The pilot, however, did survive because of the quick actions of Brookshire and others. He responded to commands but was unable to move his body on his own. Brookshire said they were given a seatbelt collar from a bystander to help stabilize the man's neck and that may have prevented further internal injuries.
Training into action
Brookshire said he's trained to handle situations like this. His nursing career at Texas Health Resources started five years ago in the Emergency Department (ED) at Texas Health Dallas and he's spent the past two years on the trauma medical-surgical unit.
"It's not uncommon for our caregivers to go above and beyond to help save lives even outside the walls of the hospital," said Julie Balluck, M.S.N., R.N., CPAN, NEA-BC, interim chief nursing officer at Texas Health Dallas. "The work culture at Texas Health encourages all of us to help others both on and off our units."
Several days later and after the adrenaline had worn off, Brookshire had quite the story to tell his friends at the International Nursing Research Congress in Calgary. He met up with fellow Texas Health Dallas trauma nurse leader Ashley Henriquez.
"It didn't surprise me at all that he would help complete strangers. That's just the kind of person he is," said Henriquez, M.S.N., R.N., C.N.L. "He's a very committed and compassionate nurse."
Brookshire also said he has a personal responsibility to care for others no matter what.
"If I didn't stop to help, I would have regretted it. And I want every patient to have the best chance of survival and the best outcome possible," he said.
Brookshire's heroic actions along with other bystanders was captured on cell phone video and featured on the Canadian Television Network. Watch the video here.
About Texas Health Resources
Texas Health Resources is a faith-based, nonprofit health system that cares for more patients in North Texas than any other provider. With a service area that consists of 16 counties and more than 7 million people, the system is committed to providing quality, coordinated care through its Texas Health Physicians Group and 29 hospital locations under the banners of Texas Health Presbyterian, Texas Health Arlington Memorial, Texas Health Harris Methodist and Texas Health Huguley. Texas Health access points and services, ranging from acute-care hospitals and trauma centers to outpatient facilities and home health and preventive services, provide the full continuum of care for all stages of life. The system has more than 4,100 licensed hospital beds, 6,400 physicians with active staff privileges and more than 26,000 employees. For more information about Texas Health, call 1-877-THR-WELL, or visit www.TexasHealth.org.