December 03, 2019
A sampling who received devices increased ambulation distance by more than 300 percent
FORT WORTH, Texas — Nurse Manager Juanita Hernandez and her team are using wearable technology to make a dent in a big, dangerous statistic: One person over 65 dies roughly every 20 minutes in the U.S. because of a fall, and the number is expected to grow dramatically as Baby Boomers age, according to the U.S. Centers for Disease Control and Prevention (2018).
An important key to reducing falls is making sure patients walk soon after surgery — and keep walking after they are discharged, said Hernandez, D.N.P, R.N., NE-BC, CMSRN. "According to the research, getting them up and moving is what really prevents falls," she said.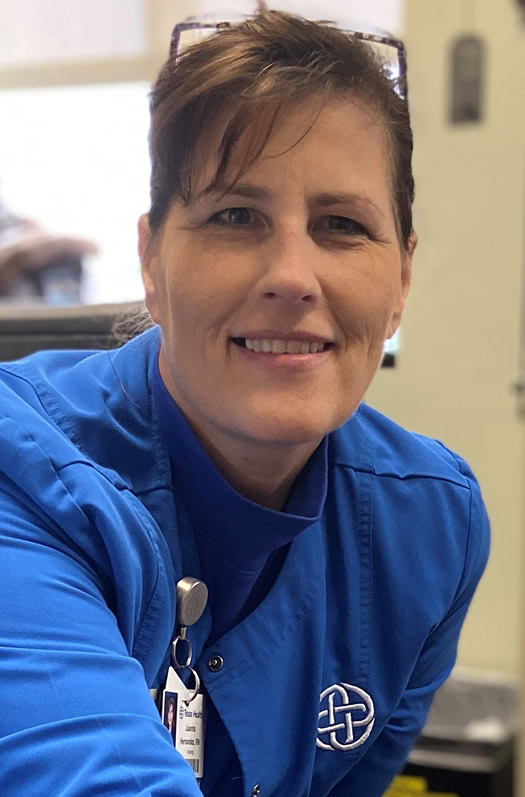 To that end, she and her team at Texas Health Harris Methodist Hospital Southwest Fort Worth are using activity trackers for a select group of post-surgical patients, who wear them in the hospital and then connect with their physicians for monitoring after they go home. So far, the results are stunning: A sampling of 18 patients who received the devices increased their ambulation distance by as much as 323 percent.
Hernandez started the project as part of her doctorate, which she just competed. The work is continuing thanks to a grant from the Texas Health Resources Foundation, which has funded an extension for another 100 patients to receive the devices free of charge. With a physician's order, patients can link their FitBits to MyChart, which is synced to CareConnect.
Physicians can review the steps in MyChart as a monthly report. All the syncing can be done with a variety of activity trackers, including the Apple Watch.
What if?
Hernandez started the project with Deborah Behan, Ph.D., a Texas Health nurse scientist, as her doctoral advisor by asking, "What if the patients had trackers? We're all wearing them. Why can't we capture the technology that exists already?" She consulted Mary Beth Mitchell, R.N., chief nursing informatics officer, who got to work with her team.
While Hernandez and her team can view the data in CareConnect, Mitchell said, she and a team including Digital Health application architect Allen Burcham hope to make the information easily available to all inpatient care team members by year's end.
"It's very exciting because we constantly struggle with ambulation, with making sure our patients are getting up and walking," Mitchell said.
Even going to the bathroom may be a big task for some patients, "and we'll be able to capture all that ambulatory activity," she said. "And the nurse won't have to document it, but rather it goes directly into the record. We see this, really, as a first step in bringing patients' wearable data into the patient record, providing additional information to caregivers."
San Banerjee, vice president of Digital Experience, said, "This is a great example of how Texas Health Resources is enabling remote patient monitoring as part of our Connected Health and Well-Being initiative that aims to give our patients the digital tools to proactively engage in their health and wellness. This will allow us to better know, engage and empower our patients to help lead the best of their health and well-being."
Patients of Jennifer Snow, D.O., FACOS, who is on the medical staff at Texas Health Southwest, are receiving the FitBits along with those of three other physicians. While Snow said it's too early to tell how the monitoring will work, she's all for getting patients up and about.
"If people aren't ambulating enough after surgery, they run the risk of getting blood clots and pneumonia," Snow said. "Every day a person spends in bed it takes two to three days to recover from that, so early ambulation is important."
Patient Elisabeth McCrea of Cleburne was thrilled to have hers after a recent surgery at Texas Health Southwest. While some people might not be happy to hear their physician can view their steps on a regular basis, McCrea sees it as a plus.
"I like it," she said. "They can be checking back after surgery, keeping tabs on you. They can say 'Hey, you're just sitting around.' It motivates me to keep moving!"
Dangers of falls
Failure to keep moving can have dire consequences for someone older than 65 who has already fallen. One fall increases their risk for falling again, according to the CDC, which also reports that falls are the leading cause of injury-related death for that age group.
The numbers are staggering if a patient in that age group suffers a hip fracture, which can happen as a result of a fall: "In usual care, the reported 1-year mortality after sustaining a hip fracture has been estimated to be 14 percent to 58 percent," according to the National Center for Biotechnology Information.
Hernandez saw the danger of failure to ambulate after a hip fracture in her own family. Her uncle, who lived in another state, fell and broke his hip at 78.
"He didn't want to get up and walk because it hurt," she said, and the nursing staff didn't push him. He died 10 months later after another fall at home.
"The nurses' and PCTs' attitude about walking really impacts whether patients get up," Hernandez said. For years, she said, hospitals installed bed alarms and urged people to stay in bed, thinking that was the best way to prevent falls. She said nurses were afraid they would be blamed if patients got hurt.
The research shows that it doesn't take long to see the effects of staying in bed. "They get weak and they actually fall more," Hernandez said. She said patients lose 5 percent of their muscle strength every 24 hours.
Without ambulation, she said, "someone who is independent and walks at home can come to the hospital, stay for a few days and may not be able to walk by the time they leave." That can lead to a stay in a rehabilitation facility and possibly a nursing home after that.
"Then they've lost their independence," Hernandez said. "We want to prevent that. That's the big why behind the project. Mobility prevents falls and promotes health. Trackers help people do it by providing encouragement and positive reinforcement."
About Texas Health Resources
Texas Health Resources is a faith-based, nonprofit health system that cares for more patients in North Texas than any other provider. With a service area that consists of 16 counties and more than 7 million people, the system is committed to providing quality, coordinated care through its Texas Health Physicians Group and 29 hospital locations under the banners of Texas Health Presbyterian, Texas Health Arlington Memorial, Texas Health Harris Methodist and Texas Health Huguley. Texas Health access points and services, ranging from acute-care hospitals and trauma centers to outpatient facilities and home health and preventive services, provide the full continuum of care for all stages of life. The system has more than 4,100 licensed hospital beds, 6,400 physicians with active staff privileges and more than 26,000 employees. For more information about Texas Health, call 1-877-THR-WELL, or visit www.TexasHealth.org.