December 15, 2020
Front-line caregivers line up to get COVID-19 vaccine
ARLINGTON, Texas — "If we're telling others to do it, we should, too."
"My mom really wants me to get it."
"I'm tired of my family being afraid to be around me."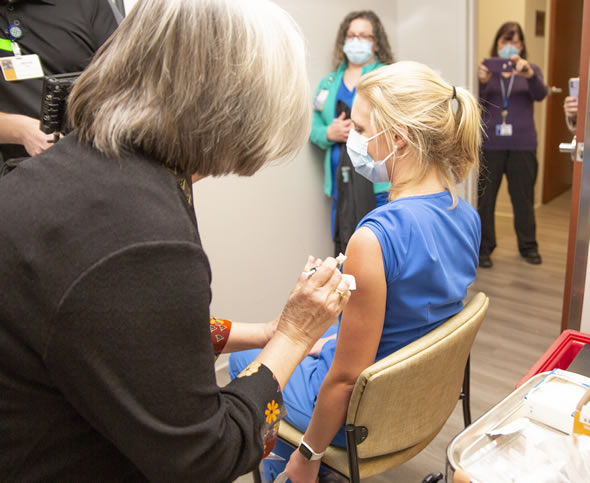 Chandler Cummins, R.N., an ICU caregiver at Texas Health Southwest Fort Worth, receives the first dose of COVID-19 vaccine in Tarrant County.
These were just some of the reasons given by 30 caregivers lined up Tuesday to be the first in Tarrant County to receive the COVID-19 vaccine. Texas Health Harris Methodist Hospital Southwest Fort Worth was chosen for Texas Health's "soft launch," vaccinating 30 front-line caregivers one day before clinics were set to begin systemwide.
First to get the vaccine was Chandler Cummins, R.N., a charge nurse in the intensive care unit.
"I feel pretty hopeful," Cummins said. "I'm hoping this is the beginning of the end, so I feel really good about it. It's been something we've been looking forward to for a really long time."
She said the vaccine was an injection of hope in a tough time.
"These past few months, there's been kind of a dark cloud over us," she said. "It's been really difficult, and we haven't seen a lot of light at the end of the tunnel. Being the first one to get the vaccine, it's kind of the first time I've felt like there's a little glimmer of light and hope there."
The clinic began with a Blessing of the Hands led by Mary Ellen Barrow, manager of Pastoral Care.
"You are embarking on a process that is new," she told the vaccine recipients. "You are helping humankind overcome limitations that are new. This is a day you will remember always."
Karen Bell, R.N., COHN-S, manager of Employee Health, oversaw the clinic and said she was proud of everyone involved.
"Last week, Mary Robinson said the caregivers at Texas Health are the 'greatest generation' since World War II," Bell said. "We've gone through this pandemic, we've helped our community. It's been very sad, and we've lost a lot of our patients. It's very painful for us. But this is a hopeful day. It's an honor to be a part of it. It's just been a great day."
Bell stressed that the vaccine was no quick fix, and this was not the time to drop our guard.
"We have a long way to go, wearing the mask," Bell said. "One way the disease is transmitted is small settings outside of work — school, church, restaurants, other gatherings. Many of the employees I'm testing are being exposed outside of work. We're all wearing PPE here at work. But outside of work, we must continue to wear it. It may be many months. We're starting to vaccinate employees, but it's going to be a while before the public is vaccinated. So we all have to keep wearing masks for the duration."
About Texas Health Resources
Texas Health Resources is a faith-based, nonprofit health system that cares for more patients in North Texas than any other provider. With a service area that consists of 16 counties and more than 7 million people, the system is committed to providing quality, coordinated care through its Texas Health Physicians Group and 29 hospital locations under the banners of Texas Health Presbyterian, Texas Health Arlington Memorial, Texas Health Harris Methodist and Texas Health Huguley. Texas Health access points and services, ranging from acute-care hospitals and trauma centers to outpatient facilities and home health and preventive services, provide the full continuum of care for all stages of life. The system has more than 4,100 licensed hospital beds, 6,400 physicians with active staff privileges and more than 26,000 employees. For more information about Texas Health, call 1-877-THR-WELL, or visit www.TexasHealth.org.