June 04, 2020
Texas Health provides safe space for Behavioral Health, coronavirus patients
BEDFORD, Texas — Texas Health Springwood Behavioral Health Hospital HEB has created one of the region's only inpatient COVID-19 units for patients in need of psychiatric care who have tested positive for the virus.
"Shutting the behavioral health unit down completely just was not an option for us, especially amidst the stress and isolation of a pandemic," said Jay Frayser, administrator of behavioral health at Texas Health Springwood. "This was the time when our patients needed us the most."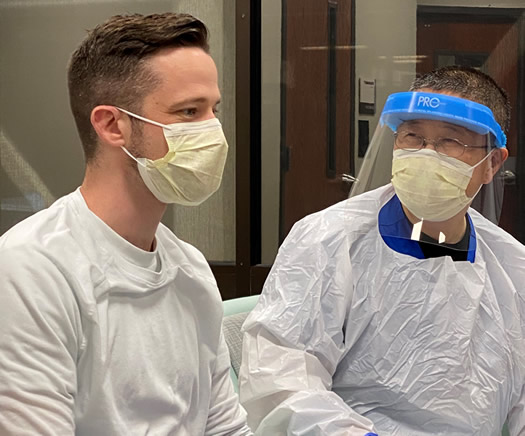 Registered nurses Nick Kelley and Curtis Zhao, nursing supervisor, prep for a group therapy session at Texas Health Springwood.
When Frayser received news of the updated COVID-19 safety guidelines restricting communal environments and enforcing strict distancing regulations, he knew he had to find a new approach to making inpatient behavioral health care available to individuals affected by both mental illness and COVID-19.
The first step was making sure that Texas Health Springwood was in full compliance with Texas Health's COVID-19 personal protective equipment (PPE) guidelines. In addition, to make sure that all safety precautions for COVID-19 patients were secured, Frayser and the Texas Health HEB facilities team explored the possibility of developing a negative pressure environment that would provide enough isolation to reduce the risk of exposure, but also be able to sustain a small scale, communal patient population.
The care environment was unique to other COVID-19 units within hospitals in that in addition to securing individual patient rooms, the hallway connecting the rooms was also secured creating an extended space. The entire unit would function as a collective space which could then safely accommodate communal interactions, such as group therapy sessions and counseling.
"Other behavioral health providers in the community have informed us that being COVID-19 positive would be exclusionary criteria for entry into their hospitals," said Scott Domingue, M.B.A., B.S.N., R.N., CMSRN, NEA-BC, chief nursing officer of behavioral health at Texas Health. "The end result of that is an unfortunate situation where patients suffering with mental illness will be hospitalized in non-behavioral health services."
Being hospitalized in a traditional medical hospital, Domingue said, wouldn't give these patients access to the therapists, behavioral health programs, and psychiatric medication consultations "that are really vital to being on the right road to recovery."
In the updated model, patients in need of psychiatric care who tested positive for COVID-19 could safely continue behavioral health treatment while under observation for the virus. That included maintaining regular sessions with behavioral health therapists, the ability to participate in safely distanced interactions with other COVID-19 positive behavioral health patients, all while receiving the proper medical attention needed to fight the virus.
"The biggest challenge was making sure the unit as a whole was functioning as a safe negative air pressure quality environment, not just the individual patient rooms," said Sasha Gbedemah, infection prevention manager at Texas Health Harris Methodist Hurst-Euless-Bedford. "Typically, patients would be in and out of group therapy, but since that was no longer an option in the wake of the pandemic, the solution was to expand the secured pressure quality into the hallway and utilize that space as a gathering place."
Frayser and his team also created modified therapy schedules and personal protective equipment (PPE) training. They also educated behavioral health employees on proper protocol while interacting with patients who were not only fighting the uncomfortable symptoms of the virus, but also managing mental health issues.
"Those admitted often need a medical detox and behavioral health inpatient services in addition to testing positive for COVID-19. Patients admitted to this program are mildly medically complex or asymptomatic to the virus while receiving on-going psychiatric treatment," Frayser said.
The specialized COVID-19 psychiatric unit has a total of 10 rooms and can accommodate up to 20 patients. Texas Health Springwood also has the capacity to open an additional unit dedicated to adolescent treatment for those 18 and under with behavioral health needs who test positive for the virus should the need arise.
Domingue said the only other system that he is aware of in the area that offers such a unit is John Peter Smith Hospital. The Springwood unit has admitted several patients, none of whom had severe symptoms of COVID-19.
"Texas Health Behavioral Health has worked closely with stakeholders within Texas Health and with our colleagues at JPS to implement a sound infection prevention plan with the goal of providing a safe environment for our patients and staff. This would not be possible without the guidance of the infection prevention team, led by Sharon Williamson, senior director of infection prevention," he said. "It's been wonderful to see our team pull together and find a way to provide a safe, seamless, and caring experience for patients dealing simultaneously with mental illness and COVID-19."
About Texas Health Resources
Texas Health Resources is a faith-based, nonprofit health system that cares for more patients in North Texas than any other provider. With a service area that consists of 16 counties and more than 7 million people, the system is committed to providing quality, coordinated care through its Texas Health Physicians Group and 29 hospital locations under the banners of Texas Health Presbyterian, Texas Health Arlington Memorial, Texas Health Harris Methodist and Texas Health Huguley. Texas Health access points and services, ranging from acute-care hospitals and trauma centers to outpatient facilities and home health and preventive services, provide the full continuum of care for all stages of life. The system has more than 4,100 licensed hospital beds, 6,400 physicians with active staff privileges and more than 26,000 employees. For more information about Texas Health, call 1-877-THR-WELL, or visit www.TexasHealth.org.