June 10, 2020
Respiratory therapist reunites with her husband at Texas Health Fort Worth
FORT WORTH, Texas — Last month should have been a celebration highlighting 21 years of marriage, but for Matthew and Margaret Bell, the COVID-19 pandemic did more than cancel anniversary plans in Iceland – it nearly shattered their lives when Matthew became acutely ill with COVID-19.
But thanks to the dedicated efforts of front-line caregivers at Texas Health Harris Methodist Hospital Fort Worth, Matthew and Margaret reunited on May 29, after 44 days in the hospital, to continue the recovery process together.
"We've known each other since we were 15 years old, and him being in the hospital has been the longest time we've ever been apart," said Margaret. She's worked as a respiratory therapist at Texas Health Fort Worth for 15 years. "I knew how serious his condition was, so the fear of knowing too much was difficult to cope with."
Fighting a grueling battle
In early April, 41-year-old Matthew thought he was suffering from a bad sinus infection, but by April 13, still feeling sick, he and Margaret decided to visit a drive-thru COVID-19 testing center. After testing positive three days later, Margaret rushed him to Texas Health Fort Worth. Two days later he was on a ventilator.
Before he was intubated and lost his voice, Margaret spoke with her husband.
"I have never seen him so afraid. In that moment, I knew I had to be the strong one, for him and my family," she said. "Our roles had switched, and I had to be stronger so our family could make it through this."
According to Andrew Miller, M.D., a pulmonologist on the Texas Health Fort Worth medical staff, Matthew was critically ill, suffering from multi-system organ failure of his kidneys and his respiratory system.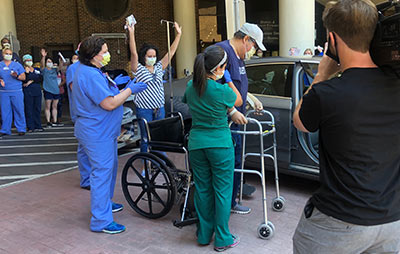 COVID-19 survivor, Matthew Bell, leaves Texas Health Fort Worth while wife Margaret shows her gratitude, lifting up outstretched hands.
Matthew's care team, which included Miller, administered COVID-19 convalescent plasma (CCP) therapy on April 18, which is often used as a last-resort for COVID-19 patients in the ICU.
In late March, the U.S. Food and Drug Administration (FDA) fast-tracked the plasma infusion treatment in hopes of flattening the curve of COVID-19-related deaths in the U.S.
Convalescent plasma is a reasonable treatment option for a novel virus in a patient doing poorly and facing possible death. According to Miller, Matthew was a prime candidate. He received his second and final infusion on April 21.
Winning the battle together
"As a physician it means so much to our entire care team to see patients like Matthew recover," Miller said. "He faced a hard road with a long time spent on a ventilator and receiving dialysis treatments. I know I speak on behalf of all of us, the respiratory therapists, nurses and other physicians who had the opportunity to care for him and help him regain his health, how happy we are for him to go home to his family."
Knowing everything that Matthew has overcome, Margaret is beyond grateful.
"His nurses would sometimes put the phone next to his ear, and I would just read to him for hours," she said. "They did whatever they could to help me and update me on Matthew's progress. The communication between us helped me so much."
Celebrating improved health
Along with being a supportive spouse, Margaret now is using her respiratory therapist knowledge to improve Matthew's stamina and breathing capabilities as he recovers from COVID-19.
Margaret said Matthew has always been the glue, the light of the family, and with his return, the family is once again complete.
The couple is now looking forward to future anniversaries on the horizon, she said. "This is a second chance, a miracle of a second chance."
About Texas Health Resources
Texas Health Resources is a faith-based, nonprofit health system that cares for more patients in North Texas than any other provider. With a service area that consists of 16 counties and more than 7 million people, the system is committed to providing quality, coordinated care through its Texas Health Physicians Group and 29 hospital locations under the banners of Texas Health Presbyterian, Texas Health Arlington Memorial, Texas Health Harris Methodist and Texas Health Huguley. Texas Health access points and services, ranging from acute-care hospitals and trauma centers to outpatient facilities and home health and preventive services, provide the full continuum of care for all stages of life. The system has more than 4,100 licensed hospital beds, 6,400 physicians with active staff privileges and more than 26,000 employees. For more information about Texas Health, call 1-877-THR-WELL, or visit www.TexasHealth.org.