July 08, 2020
Study published by Texas Health Dallas team adds to growing body of research on effective care
ARLINGTON, Texas — A combination of medications given to critically ill COVID-19 patients — as they're being put on a ventilator for severe respiratory failure — has shown a significantly high success rate, according to researchers on the COVID-19 ICU team at Texas Health Presbyterian Hospital Dallas, where the patients were treated.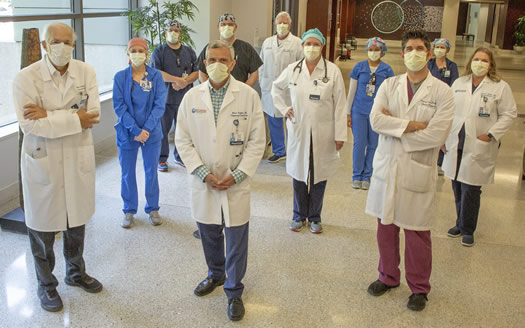 Texas Health Dallas COVID-19 ICU team.
The findings are published in Critical Care Explorations, a journal of the Society of Critical Care Medicine.
"We are pleased that our approach has helped to reduce mortality in patients on mechanical ventilation compared with other treatments," said Munir Hazbun, M.D., pulmonologist on the Texas Health Dallas medical staff and lead author of the study.
Twenty of the 21 patients (95 percent) were able to come off ventilators after a median duration of eight days; 19 have gone home or to a post-acute care setting and two have died (since the article was published), for a mortality rate of 9.5 percent. This compares to mortality rates upward of 30-50 percent for critically ill COVID-19 patients in published studies from pandemic hot spots.
The Texas Health Dallas researchers say their approach could have broader implications and add to the growing body of research, such as the RECOVERY Trial on dexamethasone, part of a randomized clinical trial in the United Kingdom to test a range of potential treatments for COVID-19. These efforts are leading to advances and effective care for COVID-19 patients.
The COVID-19 ICU team treated the group of seriously ill patients on ventilation with a combination of two drugs. The multidisciplinary team of physicians, pharmacists and nurses administered tocilizumab, an immunosuppressive drug, in combination with methylprednisolone, a corticosteroid, soon after the patients were intubated.
"The combination came from originally using tocilizumab and then adding on a steroid. Since patients were benefitting, we kept with the combination," said Andrew Faust, Pharm.D., BCPS, critical care pharmacy specialist and one of two clinical pharmacists on the team.
"We're currently trying to sort out if it's the steroids alone or the combination of the two drugs," Faust added. "The combination just grew organically as we evolved our treatment."
The team initially treated their critically ill, intubated (breathing with a ventilator) patients with tocilizumab, in addition to advanced supportive care. They followed World Health Organization guidelines that cautioned against the use of corticosteroids in earlier viral illnesses due to potential side effects. Corticosteroids are hormones frequently used for their anti-inflammatory properties to decrease swelling in conditions such as asthma and arthritis.
When the intubated patients were not improving, the team decided to apply findings of a recent study in which the use of corticosteroids (methylprednisolone in particular) appeared to be beneficial in the sickest patients with COVID-19 and acute respiratory distress syndrome.
"We've known that steroids can control swelling in the pulmonary airways. We thought adding the steroid could provide a benefit over tocilizumab alone," Faust said. "Since we had three or four really sick patients and nothing else to offer, we felt that we needed to try something that might be beneficial."
"We use methylprednisolone all the time in the ICU, so we were familiar with it. We tried it and the patients responded. So we kept using it and refined our dosing and timing over time," Faust added.
The combination has been effective, according to the research team's findings.
"We initially used tocilizumab to block Interleukin 6, a chemical that is active in inflammation. It worked well with this, but we didn't see the improvement in pulmonary oxygenation that patients require, so we introduced methylprednisolone," Hazbun said. "We then observed a great improvement, so we decided to continue the combination."
Hazbun noted that this study is one of the first showing "very encouraging results" using a moderate to high dose of corticosteroids and an Interleukin 6 blocker on mechanical ventilation in 21 consecutive patients with acute respiratory failure due to COVID-19. Caregivers continue to use the therapy on patients they think could benefit from this new approach.
"With these positive outcomes, it's important to stress this has been a team effort. Along with physicians and pharmacists, nurses and respiratory therapists have been essential members of the team. They have provided great care for our patients," said Mark Feldman, M.D., senior author of the study, chief of internal medicine at Texas Health Dallas and a physician on the hospital's medical staff.
"This study highlights Texas Health's commitment to advancing care through innovative therapies and research that is helping patients and is also shedding light on future therapies for this lethal disease," said Jim Parobek, president of Texas Health Dallas.
Faust and other members of the research team have participated in several of the sendoff celebrations for recovered patients from the study.
"It's incredibly rewarding to see these patients who had been seriously ill leave the hospital," he said.
Team members who co-authored the article in Critical Care Explorations include:
Munir Hazbun, M.D., pulmonologist on the Texas Health Dallas medical staff
Andrew Faust, Pharm.D., BCPS, critical care pharmacy specialist, Texas Health Dallas
Anthony Ortegon. M.D., pulmonologist on the Texas Health Dallas medical staff
Lyndsay Sheperd, Pharm.D., BCPS, BCCCP, clinical pharmacy specialist, Texas Health Dallas
Gary Weinstein, M.D., pulmonologist on the Texas Health Dallas medical staff
Rebecca Doebele, M.D., pulmonologist on the Texas Health Dallas medical staff
Kenney Weinmeister, M.D., pulmonologist on the Texas Health Dallas medical staff
Allison Liddell. M.D., infectious disease physician on the Texas Health Dallas medical staff
Mark Feldman, M.D., chief of internal medicine, Texas Health Dallas, and physician on the Texas Health Dallas medical staff
About Texas Health Resources
Texas Health Resources is a faith-based, nonprofit health system that cares for more patients in North Texas than any other provider. With a service area that consists of 16 counties and more than 7 million people, the system is committed to providing quality, coordinated care through its Texas Health Physicians Group and 29 hospital locations under the banners of Texas Health Presbyterian, Texas Health Arlington Memorial, Texas Health Harris Methodist and Texas Health Huguley. Texas Health access points and services, ranging from acute-care hospitals and trauma centers to outpatient facilities and home health and preventive services, provide the full continuum of care for all stages of life. The system has more than 4,100 licensed hospital beds, 6,400 physicians with active staff privileges and more than 26,000 employees. For more information about Texas Health, call 1-877-THR-WELL, or visit www.TexasHealth.org.