November 02, 2020
Texas Health Arlington Memorial caregivers revive unresponsive 5-year-old
ARLINGTON, Texas — A North Texas family is forever grateful for three nurses who saved their son after a near drowning.
"This was the scariest moment of our lives," said Kristin McElvain, mother of Grayson McElvain.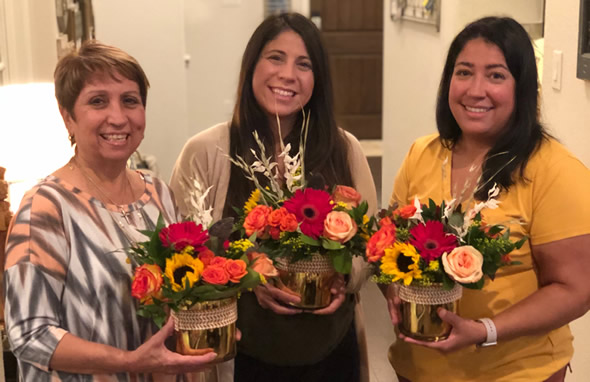 Maria Saenz, R.N., left, Lauren Abney, R.N., and Jessica Villarreal, B.S.N., R.N., received flowers and heartfelt thanks from the McElvain family.
Grayson, 5, was in his grandparents' back yard when he wandered into a neighbor's pool.
"We had just dropped him off and we were on our way to dinner to celebrate our anniversary," Kristin said.
Jessica Villarreal, B.S.N., R.N., calls it fate that brought her — and her family of caregivers — to Mansfield that Saturday afternoon.
"I was supposed to work that day, but I switched with a co-worker," said Villarreal, a mother/baby nurse at Texas Health Arlington Memorial Hospital.
Villarreal had just finished running errands with her mother, Maria Saenz, R.N., a lactation consultant at Texas Health Arlington Memorial, and sister Lauren Abney, R.N.
"We were outside my parents' house, about to leave," Villarreal said. "I had just buckled my son into his car seat and that's when we heard screaming."
Villarreal told her sister to call 911 and ran across the street to the neighbor's house. When she got to the back yard, she saw the homeowner carrying Grayson out of the pool with his grandparents standing nearby.
"I told the grandparents I'm a nurse and I need to do CPR," Villarreal said.
Grayson was not breathing, and he had no pulse. His lips were blue, she added.
"I did chest compressions for at least five minutes," she said. "I kept going, I never stopped."
Saenz, who's been a nurse for more than 40 years, was observing the boy for any body movement. Abney also joined them by the pool as Villarreal counted the compressions out loud.
"The three of us were like a team," Villarreal said. "My mom was telling me, 'Good job, keep going!' My sister told me to keep my arms straight. They were my two cheerleaders who kept me going."
After nearly six minutes, Grayson took a breath. Saenz told her daughters she got a steady pulse from the boy as EMS arrived.
"After EMS took him to the hospital, I walked across the street and just lost it, crying," Villarreal said.
This was the first time Villarreal had done CPR in her 15 years as a nurse. But she remembered the American Heart Association's Resuscitation Quality Improvement (RQI) training, an enhanced CPR program that's implemented across the Texas Health system. It's designed to help maintain life-saving skills and improve patient outcomes.
"That's what saved him because it was fresh in my mind," Villarreal said. "I felt so prepared."
"Jessica and Maria were equipped with the skills needed to impact the outcome of this event," said Shonna Bracco, D.N.P., R.N., NEA-BC, chief nursing officer at Texas Health Arlington Memorial. "Without them there the outcome could have ended much differently. They're true heroes inside and outside the hospital. "
Grayson's parents met the ambulance at Cook Children's Medical Center in Fort Worth.
"When they pulled up, he was awake and crying," Kristin said.
Grayson left the hospital 23 hours later with no complications from the near drowning.
"He's doing fantastic now, he's running around," Kristin added.
The McElvain family got to thank the nurses in person with flowers and hugs.
"There's no way we could ever repay them," Kristin said. "I owe Jessica my entire life."
About Texas Health Resources
Texas Health Resources is a faith-based, nonprofit health system that cares for more patients in North Texas than any other provider. With a service area that consists of 16 counties and more than 7 million people, the system is committed to providing quality, coordinated care through its Texas Health Physicians Group and 29 hospital locations under the banners of Texas Health Presbyterian, Texas Health Arlington Memorial, Texas Health Harris Methodist and Texas Health Huguley. Texas Health access points and services, ranging from acute-care hospitals and trauma centers to outpatient facilities and home health and preventive services, provide the full continuum of care for all stages of life. The system has more than 4,100 licensed hospital beds, 6,400 physicians with active staff privileges and more than 26,000 employees. For more information about Texas Health, call 1-877-THR-WELL, or visit www.TexasHealth.org.