April 28, 2020
Clinicians and patients in the hot zone engage the virus, battling illness and death
ARLINGTON, Texas — The spacious hospital lobbies are almost empty now, stilled by the COVID-19 pandemic.
At Texas Health Harris Methodist Hospital Fort Worth, the piano is silent. The only visible activity is at entrances, where the few visitors permitted trickle in, don masks and move on. At Texas Health Presbyterian Hospital Plano, a handful of people come to the counter for coffee and sandwiches near the main entrance. The eerily calm scenario repeats at Texas Health Presbyterian Hospital Dallas.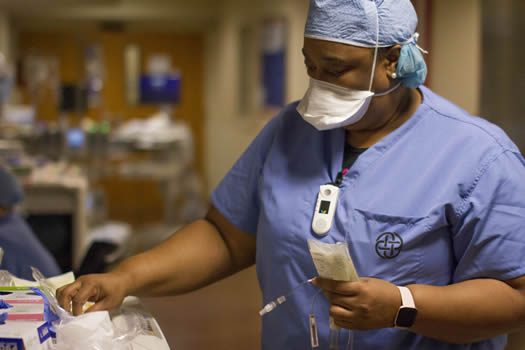 Misha Turner, B.S.N., R.N., CCRN, CA-SANE, says working with COVID-19 patients was initially scary. But that over time it's gotten easier. It's stressful, she said, because of the uncertainty, but observes that it's a new normal.
But deep inside the hospitals, clinicians and patients in the hot zones engage the virus, fighting illness and death.
"Our clinicians on the front lines, like health care workers all over the world, are risking everything to save others," said Kirk King, hospital channel chief operating officer.
"Despite the difficulties of dealing with a pandemic, our caregivers remain committed to compassionate, high-quality care. Our top priority is keeping them safe and we constantly work to support them, scouring the research for the latest developments and looking for innovative ways to prepare for scenarios that may lie ahead."
Texas Health Fort Worth
Misha Turner, B.S.N., R.N., CCRN, CA-SANE, has been a nurse at the hospital for 15 years. She is working an Easter Sunday shift in the intensive care unit, now a COVID-19 unit, one that lost four patients in one day not too long ago.
She stops for a moment to talk before stepping through the double doors that open into the medical-surgical ICU in Bloxom Tower. "It was initially scary. But over time it's gotten easier. It's a stressful environment because of the uncertainty, but this is the new normal. It can be sudden," she said.. "The symptoms hit them quickly. They can be here today and gone tomorrow."
Around her, clinicians made faceless by personal protective equipment deliberately go through the paces: Don the gear — masks, shields, white plastic gowns, blue gloves — and enter the rooms. The donning and doffing become a strain over the course of a shift. Each time a caregiver leaves a room — sometimes many times per shift — the gear is carefully removed, thrown away, hands thoroughly washed and dried.
But if the patient needs something that might normally be done quickly — an adjustment to a ventilator, blinds opened or closed to help patients orient to day and night — they have to repeat the whole process over again with new equipment.
So they find ways to conserve — rapping on the glass doors from inside and outside patient rooms to ask for help or direction.
Many times, members of care teams also find themselves holding a patient's hand or just being present, acting as the family members and other visitors who can't come to hospitals now to be with their loved ones.
On this day, respiratory therapist Tamica Lacey stands outside a room, in full PPE, preparing to enter. This has been her career for more than 20 years.
"I know I'm doing everything I can," she says. "I have faith everything is going to be OK."
The work is physically grinding. Besides the donning and doffing and other care, patients are turned regularly to lie face-down and then onto their backs again, to help them breathe, a technique called proning that has been used in the past for very sick patients with respiratory problems.
Clinicians, including Dr. John Hollingsworth, an intensivist on the medical staff at the hospital, move from room to room. Some stop for a brief respite in a break area.
EVS floor tech Victor Burnett stands outside a curtained corner room, glow escaping around the curtain from the powerful UV light inside, used to sterilize empty rooms once a patient leaves.
"Nothing can be left there," he says. "It really has to be gone over with a fine-toothed comb."
Texas Health Dallas
A barrier stands at a corridor in an ICU where COVID-19 patients are being treated at Texas Health Dallas.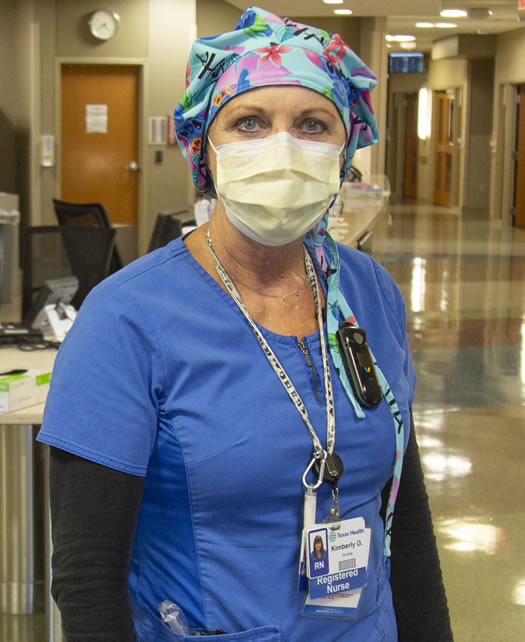 Kimberly Gunn, B.S.N., R.N., CCRN, works in an ICU where COVID-19 patients are being treated at Texas Health Dallas.
Here, too, clinicians move deliberately through the donning and doffing of PPE, the repetition across hospitals a tribute to Texas Health's status as a high reliability organization.
Thuy Nguyen, R.N., is outside one isolation room, where a patient who tested positive, then negative for COVID-19 is being treated. She normally works on the orthopedic floor but now, like nurses at many other Texas Health hospitals, she floats where she is needed most.
With Nguyen, nurse Kimberly Gunn, B.S.N., R.N., CCRN, also waits. A veteran nurse of 40 years, she has never worked at another hospital. She plans to retire in another three years.
"This is hard, this is hard. You feel for the patients and it's scary for them," Gunn says. But today she is feeling good. The patient in the room is improving, being weaned off the ventilator and medications.
Coming off a ventilator can be tough on patients, even though it's a sign of progress. Their lungs grow weak because a ventilator gives them breath, keeps their lungs expanded. The withdrawal is a slow process.
They also may face ICU psychosis, a known condition in these units before the pandemic.
The nurses turn lights on and off to simulate day and night, keep a calendar in the rooms to help, Gunn says.
"When they're in a room like that, they don't know daytime from nighttime," she said.
Today is a good day. The patient is doing well, she says. "It just makes you feel happy."
Texas Health Plano
Four COVID-19 positive patients and 10 more "rule-outs" (persons under investigation) are being treated in what used to be an intermediate cardiac care unit on a recent April day.
The COVID-19-related patients have been cohorted, meaning they are all kept together in one unit, which helps conserve PPE.
Manager Jose Zamora, R.N., said his unit was chosen in part because of its location — directly above the ICU and the Emergency Department.
"It's a matter of patient flow," he said. "It's a quick shot to our unit."
He said the nurses here also are well-accustomed to caring for high-acuity patients.
The COVID-19-related patients came fast when the pandemic began. Now the 24-bed unit typically has 16-20, he said.
On the floor, two nurses sit at the nurses' station going over charts on computers while patient care technicians put on gear and prepare to enter the room of a positive patient.
Belma Zachariah, R.N., said the first few weeks were difficult.
"It was hard with PPE every time and also caring for our other high-acuity patients," Zachariah said.
Zamora said Texas Health Plano's cohort units coordinated with multiple departments across the hospital to help provide clustered care to the COVID-19-related patients.
"This in turn helped decrease PPE usage and improve interdisciplinary teamwork," he said. "Our unit could not provide the quality care we give without the help of the entire team."
Below, in the ICU, intensivist Steven Davidoff, M.D., on the medical staff at the hospital, washes up after caring for a positive patient.
His mantra, he says, is "faith, not fear. I show up to work each day, do what I'm trained to do, take care of patients and hope and pray. I hope and believe in the science of what we're doing, that a best-case scenario will occur."
About Texas Health Resources
Texas Health Resources is a faith-based, nonprofit health system that cares for more patients in North Texas than any other provider. With a service area that consists of 16 counties and more than 7 million people, the system is committed to providing quality, coordinated care through its Texas Health Physicians Group and 29 hospital locations under the banners of Texas Health Presbyterian, Texas Health Arlington Memorial, Texas Health Harris Methodist and Texas Health Huguley. Texas Health access points and services, ranging from acute-care hospitals and trauma centers to outpatient facilities and home health and preventive services, provide the full continuum of care for all stages of life. The system has more than 4,100 licensed hospital beds, 6,400 physicians with active staff privileges and more than 26,000 employees. For more information about Texas Health, call 1-877-THR-WELL, or visit www.TexasHealth.org.