May 29, 2020
54-year-old Dallas resident spent 30 days of his ordeal on life support, looks forward to spending time with family
DALLAS — Michael Hoffman, one of the most critically ill COVID-19 patients treated at Texas Health Presbyterian Hospital Dallas since the pandemic began, did something today that seemed like an impossibility two months ago. The 54-year-old Dallas resident stood up from his wheelchair, waived to a group of cheering caregivers and walked out of the hospital.
He was then embraced by family, most of whom hadn't seen him since he was first admitted to Texas Health Dallas on March 17.
"Throughout all this, I've had to learn patience," the husband and father of three said. "Being sick for so long has taken a toll on my body, but I'm slowly getting stronger and back to my old self. I've come a long way, but I've still got work to do."
Hoffman, a longtime corporate attorney, hopes to soon be playing piano again, cooking for his family, playing racquetball and getting back to work as the president of a Dallas-based title insurance agency.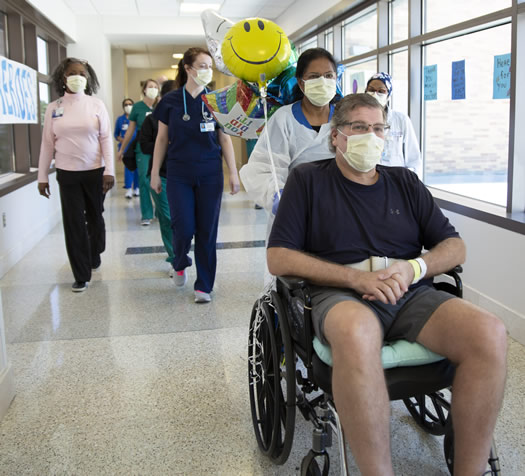 Michael Hoffman rolls toward home after spending two and a half months hospitalized with COVID-19.
To accomplish all this, he begins intensive outpatient therapy next week.
"I'll constantly be thinking about how much of a blessing it is for me to be here and for everything that the caregivers at this hospital did for me and my family," he said. "They saved my life."
Hoffman's medical journey began 73 days ago. He was admitted to Texas Health Dallas with a fever and shortness of breath. He was immediately transferred to the intensive care unit as his breathing worsened, becoming the hospital's first critically ill COVID-19 patient. Within days he was on a ventilator and receiving various medications and therapies to treat the disease, which was ravaging not only his lungs but affecting all his major organs. He developed respiratory failure, sepsis, a heart arrythmia, kidney and liver dysfunction … "The list goes on," said his wife, Jackie, who chronicled his care in a notebook kept by her side.
Hoffman's caregivers treated him with numerous therapies. He was given blood thinners to prevent dangerous clots in his legs and lungs, steroids to reduce inflammation, cardiac medications to keep his heart in rhythm and numerous other drugs, including the experimental medication remdesivir, which has shown promising signs in treating COVID-19 patients. Still, there were few signs of improvement, so the team turned to convalescent plasma, which is a therapy that involves taking the immune-rich plasma from a COVID-19 survivor and infusing it into a sick patient. Slowly, Hoffman began to get better.
"When you have someone who is as sick as Michael was, someone who is young and healthy with no existing medical conditions, you look at all the treatment options," said Dr. Allison Liddell, an infectious disease specialist on the medical staff at Texas Health Dallas and chief of infection prevention at the hospital. "It's a new disease so you have to try different things, work through challenges and have hope that these critically ill patients will get better."
Hoffman was also put on his belly (called prone positioning), which can help improve oxygenation.
"This new coronavirus is a respiratory illness, but when it progresses to COVID-19 it becomes a potentially lethal disease that attacks every system in the body," said Dr. Gary Weinstein, a pulmonologist on the medical staff at Texas Health Dallas and chief of critical care medicine at the hospital. "So to treat cases like Michael's, we approach it from many different angles, applying what we call a full-court press."
On April 17, 30 days after being intubated, he was finally taken off the ventilator. He was eventually moved to the hospital's rehabilitation unit to gain strength. He had to learn to walk again, stand and brush his teeth, and do other daily tasks most people take for granted, like learning to swallow so he could eat solid food again.
"That's been my focus here — to get my strength back so I can stand and walk and do things like cook with my family again," he said. "It's the people here who have helped me — the doctors, nurses, therapists — get to where I am today."
Pressure ulcers on his cheeks from the many days on his belly in the ICU, feet in the air, are mostly healed but still appear from beneath his surgical mask like war paint. And for Hoffman, there's another campaign he wants to wage as he fights to gain back his own strength: raising awareness about the need for blood and plasma donations to treat COVID-19 and other conditions. His two sons, who contracted the virus but did not become seriously ill, have already donated plasma multiple times. Hoffman himself has donated blood many times throughout his life.
"But I never thought I would one day be the recipient of a life-saving donation," he said as he prepared to leave the hospital on a warm May afternoon. "I just thought maybe I was doing something that might help someone else, not me. But it came full circle and helped save my life. I want people to know how important it is to do that because the person in need might be a friend or loved one … or it might even be them one day."
Follow this link to learn more about the program, the collection process, and donation eligibility.
About Texas Health Resources
Texas Health Resources is a faith-based, nonprofit health system that cares for more patients in North Texas than any other provider. With a service area that consists of 16 counties and more than 7 million people, the system is committed to providing quality, coordinated care through its Texas Health Physicians Group and 29 hospital locations under the banners of Texas Health Presbyterian, Texas Health Arlington Memorial, Texas Health Harris Methodist and Texas Health Huguley. Texas Health access points and services, ranging from acute-care hospitals and trauma centers to outpatient facilities and home health and preventive services, provide the full continuum of care for all stages of life. The system has more than 4,100 licensed hospital beds, 6,400 physicians with active staff privileges and more than 26,000 employees. For more information about Texas Health, call 1-877-THR-WELL, or visit www.TexasHealth.org.