July 31, 2020
Program provides financial support for patients at Texas Health Plano
PLANO, Texas — A grant is providing financial relief for breast cancer patients at Texas Health Presbyterian Hospital Plano during the COVID-19 pandemic.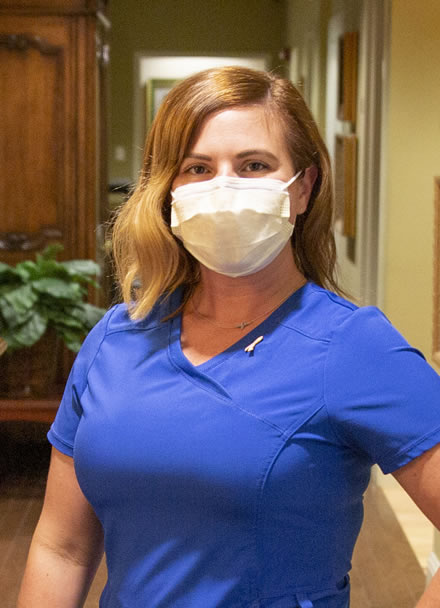 Karen Bryant, R.N., CN-BN, nurse navigator, works in the Sue A. de Mille Women's Diagnostic Center at Texas Health Plano.
"What we're seeing is that patients who wouldn't normally be affected financially or those who don't necessarily fit the traditional guidelines for financial assistance are hurting financially because of the pandemic," said Karen Bryant, R.N., CN-BN, a nurse navigator at Texas Health Plano.
The National Breast Cancer Foundation (NBCF) awarded the Sue A. de Mille Women's Diagnostic Center a $5,000 grant to distribute to breast cancer patients in the form of gift cards. So far, Bryant has identified five patients to receive a $475 gift card each to help cover living expenses.
"A breast cancer diagnosis for anyone, at any time, is physically, emotionally and financially taxing under normal circumstances," Bryant said. "With businesses closed, some of my patients or their spouses are out of work. The gift card, which may seem like a small amount, helps with little expenses that often come up during treatment."
Patricia Huffman, who was recently diagnosed with breast cancer, said the gift card came at the right time.
"It's been very overwhelming. All my bills came due in a very short amount of time," Huffman said.
The North Texas mother said she's been able to work from home during the pandemic, but her husband has been without a full-time job since September.
"It put a huge financial strain on our family," Huffman added.
The gift card has helped Huffman pay for the daily needs of her family. She's also using the extra money to buy items that will ease the symptoms of treatment, such as oils to relieve itching and scarves for her head.
Texas Health Resources Foundation, on behalf of the Diagnostic Center, was invited by the NBCF to apply for the grant from the NBCF's COVID-19 Relief Fund. Texas Health Plano is one of 12 hospitals who have been awarded grants through this fund.
"The lack of resources and the potential loss of benefits and/or income during the pandemic is a major source of concern and need for our patients," said Jennifer Atchison, director of community impact and grants with the Texas Health Resources Foundation.
Atchison said Texas Health Plano received its first grant from NBCF in 2017. The funding helps with screening mammography and diagnostic services for low-income and uninsured women.
The Diagnostic Center has six months to use the patient relief grant. Bryant said she will continue to identify more patients in need of additional support during the pandemic.
"We're here to reduce barriers for patients and offer support whether that is a shoulder to lean on or simply someone to call," Bryant said.
About the Sue A. de Mille Women's Diagnostic Center
The Sue A. de Mille Women's Diagnostic Center at Texas Health Presbyterian Hospital Plano provides breast health services, including potential life-saving mammograms, diagnostic breast care and patient education programs. The facility is a Certified Participant with the National Quality Measures for Breast Centers (NQMBC™). It's also designated as a Breast Imaging Center of Excellence by the American College of Radiology (ACR).
About Texas Health Resources
Texas Health Resources is a faith-based, nonprofit health system that cares for more patients in North Texas than any other provider. With a service area that consists of 16 counties and more than 7 million people, the system is committed to providing quality, coordinated care through its Texas Health Physicians Group and 29 hospital locations under the banners of Texas Health Presbyterian, Texas Health Arlington Memorial, Texas Health Harris Methodist and Texas Health Huguley. Texas Health access points and services, ranging from acute-care hospitals and trauma centers to outpatient facilities and home health and preventive services, provide the full continuum of care for all stages of life. The system has more than 4,100 licensed hospital beds, 6,400 physicians with active staff privileges and more than 26,000 employees. For more information about Texas Health, call 1-877-THR-WELL, or visit www.TexasHealth.org.