December 28, 2020
Three local nonprofits join together to tackle homelessness and chronic illnesses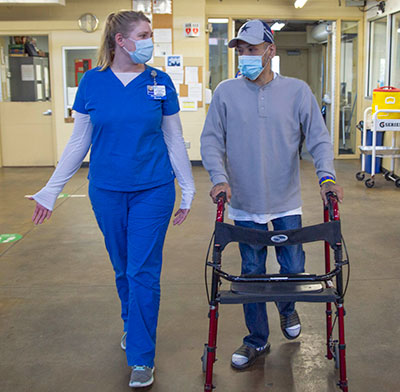 Living on the streets is challenging enough without the added burden of recovering from a surgery, injury or illness.
But a safe place to recover and ultimately find a permanent home is within reach for this vulnerable population through a new Texas Health Resources collaboration.
Texas Health Presbyterian Hospital Dallas is working alongside Austin Street Center and CitySquare to provide a medical respite care program that could ultimately help break the cycle of homelessness for people with chronic illnesses and other medical problems.
"Whether someone needs wound care after an injury, physical therapy following a surgery or behavioral treatment for depression, this program can help," said Jim Parobek, president of Texas Health Dallas. Parobek added: "It will reduce healthcare costs, but this is really about the cost of homelessness. This program aims to reduce that burden and improve the lives of the people in our communities."
The 24-month pilot program, which is called "Health to Home" and launched this fall, provides short-term respite residential care for those with medical and behavioral health problems who have been treated at Texas Health Dallas. Health to Home is the first such program in North Dallas.
"It offers benefits at so many levels," said Daniel Roby, CEO of Austin Street Center. "Through medical respite, we're able to provide a more robust level of care to individuals while at the same time the hospitals are able to reduce preventable return visits to the emergency room recidivism and costs."
Roby added: "When these individuals get the care they need, recover and are able to find a permanent place to live that they can call home, it ends their homeless experience."
Diabetes and kidney failure sent Rafael Plata, 36, to the hospital every other week. Homeless and struggling, he was relieved to get the help he needed through the medical respite program. Now he gets dialysis regularly, has a safe place to keep his medications and even got new glasses. The program and staff are excellent,
"It is something I needed in my life to survive," Plata said. "Now I feel like I could lift the world on my shoulders, and maybe even keep it there a little bit."
Each of the three entities plays a part in serving these patients. Texas Health Dallas's role is to screen candidates who need the services and staff the clinical team supporting the respite unit, located at the Austin Street Center in South Dallas.
Austin Street has designated 10 beds for the unit and has already started accepting individuals who need medical and behavioral support. The plan is that after 30 to 45 days of respite services participants are in a better position to be placed in more permanent housing arrangements through CitySquare.
CitySquare leaders say that they've seen that when people have a place to live and a permanent home, their health improves, said John Siburt, CitySquare President and COO.
"Housing is a form of healthcare. We are proud to partner with Texas Health and Austin Street to be the permanent housing component in Health to Home," Siburt said. "CitySquare will provide these individuals with case managers to help them find employment, manage their primary care, and ultimately return to self-sufficiency once they recover."
The need for medical respite care is great in Dallas. Often the homeless repeatedly visit area hospitals because it's difficult — if not impossible — to stay healthy while living on the streets with a physical or mental illness.
Between 2017 and 2018, 11,500 homeless patients visited Dallas hospitals, and 50% used the ED at least three times. The readmission rate for homeless patients in Dallas is 40%, studies show.
"This program will be able to provide appropriate care at a fraction of what it would cost to be hospitalized," Roby said.
While the program is expected to reduce the high cost of hospitalizations and emergency room visits, the ultimate goal is to reduce homelessness.
"Just being homeless is a challenge on top of physical medical problems and mental issues," Roby said. "This is a way to address homelessness and change lives permanently."
About Texas Health Resources
Texas Health Resources is a faith-based, nonprofit health system that cares for more patients in North Texas than any other provider. With a service area that consists of 16 counties and more than 7 million people, the system is committed to providing quality, coordinated care through its Texas Health Physicians Group and 29 hospital locations under the banners of Texas Health Presbyterian, Texas Health Arlington Memorial, Texas Health Harris Methodist and Texas Health Huguley. Texas Health access points and services, ranging from acute-care hospitals and trauma centers to outpatient facilities and home health and preventive services, provide the full continuum of care for all stages of life. The system has more than 4,100 licensed hospital beds, 6,400 physicians with active staff privileges and more than 26,000 employees. For more information about Texas Health, call 1-877-THR-WELL, or visit www.TexasHealth.org.