October 30, 2020
Parents tie knot in garden at Texas Health Dallas just two days after baby girl is born there
DALLAS — As Blake and Kristen Williams stood at the altar on their wedding day, they never imagined their perfect venue would be the outdoor garden at Texas Health Presbyterian Hospital Dallas — just two days after their baby girl was born. Even though their wedding plans changed three times this year, sharing that moment with their daughter, Winter Grace Williams, was more perfect than any plan they ever envisioned.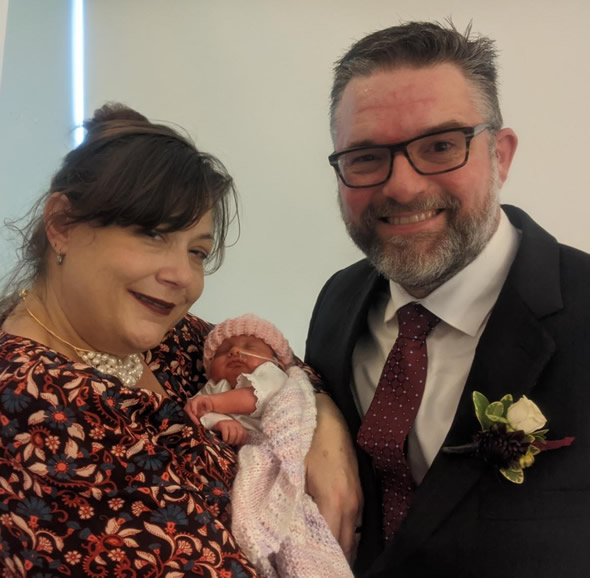 Blake, Kristen and Winter Grace Williams celebrate after the wedding ceremony.
The couple had set their wedding date for Sept. 19 of this year after finding out they were expecting, with a due date in November.
"We had been together, happily in love, for 20 years", said Blake Williams. "But when we finally got pregnant after trying for almost five years, it felt like everything fell together so perfectly and we knew this baby was the missing piece to the family and the future we wanted in marriage."
But like many happy couples with wedding dates on the horizon in 2020, their lives were turned upside down when the COVID-19 pandemic forced the world into isolation and suspended in-person gatherings, leaving little hope for wedding ceremonies for the foreseeable future.
The Williams made the first of many changes to come. They decided to replace venue directions and hotel recommendations with a Zoom link and a password for their now virtual wedding ceremony on Sept. 19.
But the day before the "big day," Kristen started having severe flu-like symptoms and a dangerously high fever. She was immediately admitted to the perinatal care unit at Texas Health Presbyterian Hospital Dallas after being diagnosed with a severe kidney infection. The wedding date came and went as she remained hospitalized over the next four days.
Still determined to have the wedding before she delivered the baby, Kristen decided to reschedule the wedding for Sept. 26, after she was safely discharged from the hospital Sept. 22.
"After everything we had been through, my extended family really wanted to be here to support us in person," Blake said. "All of them had booked their flights to Dallas before the day was over, arriving on Sept. 25. That was a special moment for me."
But things took another unexpected turn when Kristen, at 33 weeks pregnant, went in to get bloodwork for a routine doctor's visit and discovered her blood pressure had risen, drastically increasing her risk for developing preeclampsia, a pregnancy complication characterized by high blood pressure and signs of damage to another organ system, most often the liver and kidneys that if left untreated can lead to serious, even fatal, complications for both mother and baby.
"Because of the preeclampsia and my already weakened immune system from battling the kidney infection, my doctors decided that an emergency C-section was the best option to ensure the safety of me and my baby" said Kristen.
Kristen gave birth to Winter Grace Williams, 4 lbs., 14 oz., via C-section on Sept. 25 at 5:11 p.m. — just two hours after Blake's family's flight touched down in Dallas en route to a wedding they planned to attend the following day.
Considering all the uncertainty and unexpected changes the pandemic had caused, the Williams knew that this might have been their last chance to celebrate anything with all of their family together in one place for a very long time.
Dr. Christina Chan, on the medical staff at Texas Health Dallas and associate professor at UT Southwestern Medical Center, said that while giving the couple a routine update on Winter, Kristen just happened to mention that they might be getting married within a few hours.
"Once I heard that, I immediately spoke with her nurses about trying to help this family have an extra special day," said Chan, who is also the medical director of the Texas Health Dallas NICU.
With little time to spare and after some quick creative planning by NICU nurses, hospital staff and husband-to-be Blake, the couple was married in the hospital's outdoor memorial garden on Sept. 27, surrounded by 19 of their socially distanced family members — and one tiny guest of honor.
"We were able to dress Winter up and bring her down in her bassinette to attend and watch the wedding indoors from behind the glass as a surprise to the entire family," said Nicole Cartmill, R.N., at Texas Health Dallas. "We all wanted to make sure that, although taking place in a hospital, this was the wedding of their dreams. That's what they deserved."
After spending one week in the NICU, Winter was transferred to the special care nursery for an additional two weeks and discharged Oct. 15.
The family is now home safe and Winter Grace has recently received a clean bill of health after their first follow-up visit to the pediatrician.
"I am still in awe that despite our best efforts to adapt to what seemed like such a hopeless situation so many times, that in the end our wedding day was infinitely more wonderful than anything we dreamed it could have been in the midst of all the chaos from the pandemic," Kristen said.
Blake said he and Kristen can't wait to tell Winter how much love and hope she brought to so many people that day.
"We will be forever grateful to the nurses and doctors at Texas Health Dallas that helped remind us to find peace in the fact that sometimes things don't go according to plan. Sometimes they turn out even better!"
About Texas Health Resources
Texas Health Resources is a faith-based, nonprofit health system that cares for more patients in North Texas than any other provider. With a service area that consists of 16 counties and more than 7 million people, the system is committed to providing quality, coordinated care through its Texas Health Physicians Group and 29 hospital locations under the banners of Texas Health Presbyterian, Texas Health Arlington Memorial, Texas Health Harris Methodist and Texas Health Huguley. Texas Health access points and services, ranging from acute-care hospitals and trauma centers to outpatient facilities and home health and preventive services, provide the full continuum of care for all stages of life. The system has more than 4,100 licensed hospital beds, 6,400 physicians with active staff privileges and more than 26,000 employees. For more information about Texas Health, call 1-877-THR-WELL, or visit www.TexasHealth.org.