April 01, 2020
Texas Health HEB operating unique anticoagulation clinic
BEDFORD, Texas — Pharmacists continue to monitor patients on blood-thinning medication, but as an added safety measure, a drive-up anticoagulation clinic lets patients get the same great customer service — without ever getting out of their cars at Texas Health Harris Methodist Hospital Hurst-Euless-Bedford.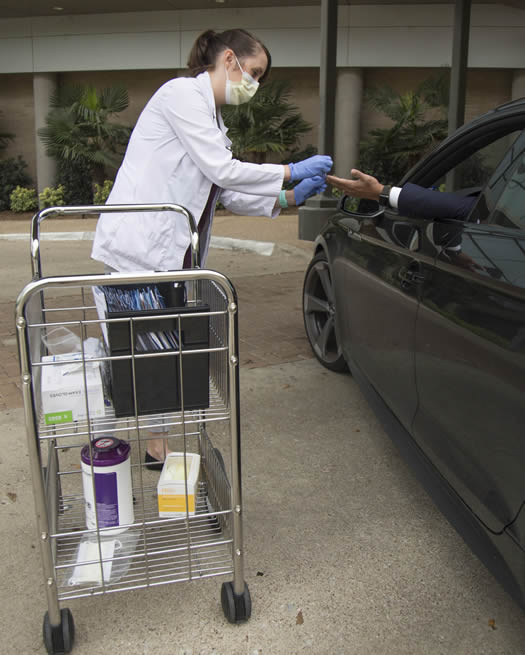 The clinic, which started in 1998, helps people manage and monitor the effects of anticoagulant, or blood-thinning, medication such as warfarin (Coumadin). The staff recently changed its standard clinic operations to a drive-up model in response to the COVID-19 pandemic.
"Shutting down this clinic would have put this patient population at risk, since they would have to report back to their referring physician and possibly go to an outside lab," said Jerry James, PharmD, M.S., pharmacy director at Texas Health HEB.
The anticoagulation team is temporarily stationed in the HELP (Healthy Education Lifestyle Program) clinic offices with a window so they can see when cars pull up. After doing a screening for potential COVID-19 symptoms, pharmacists roll out their equipment in a cart and greet each patient at their vehicle. They perform testing as well as counseling that may lead to an adjustment in medication.
James said these patients require continuous monitoring or it could cause serious harm.
"Their medication levels must remain in a safe and therapeutic range. If outside of this therapeutic range, these patients are at high risk for bleeding or a blood clot formation," James said.
Pharmacists at the clinic are seeing an average of 15 to 20 patients per day. Most of the patients are elderly or suffer from a chronic disease, which puts them in two high-risk groups for COVID-19.
"Many physician offices don't provide this service, and particularly at this time, we want to do our part to try and limit our patients from potential exposure to COVID-19," said Laura Burnett, M.S.N., R.N., CPXP, manager of patient and family centered care at Texas Health HEB.
The drive-up clinic is not currently accepting new patients but remains open Monday, Tuesday, Wednesday and Friday, from 8 a.m. to 4:30 p.m.
About Texas Health Resources
Texas Health Resources is a faith-based, nonprofit health system that cares for more patients in North Texas than any other provider. With a service area that consists of 16 counties and more than 7 million people, the system is committed to providing quality, coordinated care through its Texas Health Physicians Group and 29 hospital locations under the banners of Texas Health Presbyterian, Texas Health Arlington Memorial, Texas Health Harris Methodist and Texas Health Huguley. Texas Health access points and services, ranging from acute-care hospitals and trauma centers to outpatient facilities and home health and preventive services, provide the full continuum of care for all stages of life. The system has more than 4,100 licensed hospital beds, 6,400 physicians with active staff privileges and more than 26,000 employees. For more information about Texas Health, call 1-877-THR-WELL, or visit www.TexasHealth.org.