October 19, 2020
Texas Health Stephenville offering reduced-price program for remainder of October
STEPHENVILLE, Texas — October is Breast Cancer Awareness month, and although the COVID-19 pandemic may have forced the cancellation of many events, that doesn't mean women should postpone their annual mammograms.
"Putting off a mammogram, even for 1 year after age 40, may make the difference between life and death," said Sean Leong, M.D., diagnostic radiologist on the medical staff at Texas Health Harris Methodist Hospital Stephenville. "So to raise awareness and help defer cost, we're offering mammograms at reduced prices for the remainder of October."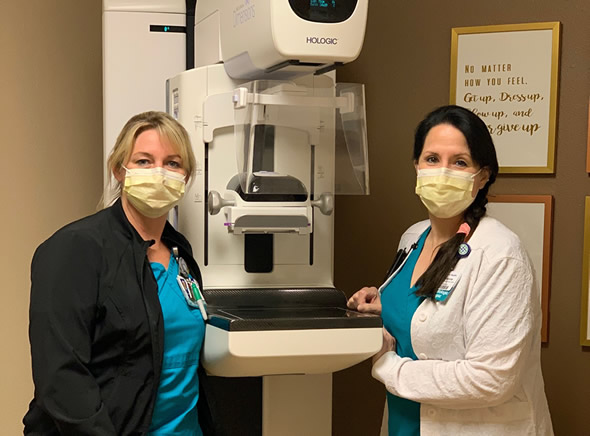 Radiologist Bonnie Marwitz, left, and Suzanne Atwood-Perez, director of radiology at Texas Health Stephenville
The American Cancer Society estimates that 276,480 new cases of invasive breast cancer will be diagnosed in women this year, making it the second leading cause of cancer death in women (only lung cancer kills more women annually). Overall, approximately 1 in 8 women will be affected by breast cancer during their lifetime.
"We want the community to know that we are here for them and doing what we can do get them the health care they deserve, need and can afford during an unprecedented time of emotional and financial challenges," said Suzanne Atwood-Perez, director of radiology at Texas Health Stephenville.
To schedule your screening mammogram by phone, call 254-965-1223 and request the promotional mammogram special. Uninsured and private pay individuals are included and a physician's order is not required. To qualify for the promotional screening mammogram, patients must not be experiencing any breast issues.
Cost of promotional screening mammograms is $75.
Cost of promotional screening mammograms with 3D mammography is $125
Radiologist reading fee is included in promotional mammogram pricing
"Women who are underserved, underinsured or have no insurance are at greater risk of not getting the early detection so it's really key, especially during this pandemic that they continue to reach out and get their mammograms and their screenings," said Leong.
Texas Health Stephenville has been designated as a Breast Imaging Center of Excellence by the American College of Radiology (ACR), meaning that it has achieved high practice standards in image quality, personnel qualifications, facility equipment, quality control procedures and quality assurance programs, according to the ACR.
"We're delighted to provide these technologies and services for the local community, with the goal to diagnose breast cancer early and ultimately improve outcomes," said Atwood-Perez.
About Texas Health Resources
Texas Health Resources is a faith-based, nonprofit health system that cares for more patients in North Texas than any other provider. With a service area that consists of 16 counties and more than 7 million people, the system is committed to providing quality, coordinated care through its Texas Health Physicians Group and 29 hospital locations under the banners of Texas Health Presbyterian, Texas Health Arlington Memorial, Texas Health Harris Methodist and Texas Health Huguley. Texas Health access points and services, ranging from acute-care hospitals and trauma centers to outpatient facilities and home health and preventive services, provide the full continuum of care for all stages of life. The system has more than 4,100 licensed hospital beds, 6,400 physicians with active staff privileges and more than 26,000 employees. For more information about Texas Health, call 1-877-THR-WELL, or visit www.TexasHealth.org.