June 15, 2020
Drs. Levine, Guilliod recognized for excellence in specialties
ARLINGTON, Texas — Researchers at the Institute for Exercise and Environmental Medicine (IEEM) at Texas Health Presbyterian Hospital Dallas recently received top honors from their professional organizations.
The American College of Cardiology (ACC) presented its 2020 Distinguished Scientist Award (Translational Domain) to Benjamin Levine, M.D., IEEM's director, cardiologist on the Texas Health Dallas medical staff and professor of internal medicine and Distinguished Professor in Exercise Sciences at UT Southwestern Medical Center.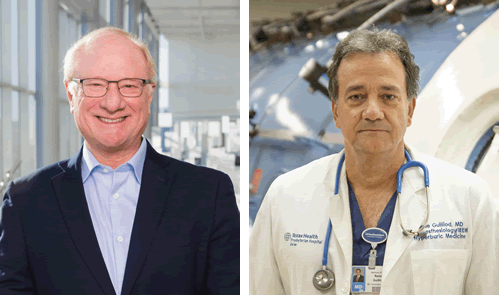 Benjamin Levine, M.D., left, and Renie Guilliod, M.D.
Additionally, the Board of Directors of the Undersea & Hyperbaric Medical Society (UHMS) on May 5 inducted Renie Guilliod, M.D., medical and fellowship program director of IEEM's Hyperbaric Medicine Unit, as a Fellow in Undersea and Hyperbaric Medicine. Guilliod is a hyperbaric medicine physician on the Texas Health Dallas medical staff and assistant professor of internal medicine, anesthesiology and pain management, and physical medicine and rehabilitation at UT Southwestern.
"These recognitions for Dr. Levine and Dr. Guilliod speak not only to their own dedication and acumen in their quest for clinical excellence, but also to the quality of research and treatment provided by the professionals at the IEEM," said Mark Feldman, M.D., internal medicine chair at Texas Health Dallas.
The ACC Distinguished Awards "recognize outstanding individuals making contributions to the cardiovascular profession," according to the organization. Levine was recognized for his scientific contributions to translational research.
The Journal of the American Medical Association defines translational research as the "bench-to-bedside'" process of "harnessing knowledge from basic sciences to produce new drugs, devices, and treatment options for patients."
In presenting the award, the ACC stated, "A world-renowned sports cardiologist — and one of the founding authorities in the field of sports and exercise cardiology — Dr. Levine is a prolific author and a sought-after editor, as well as an active mentor and educator of the next generation of sports and exercise cardiologists nationally and internationally."
Levine was recognized in late March during the ACC's 69th Annual Scientific Session Together with World Congress of Cardiology's virtual meeting.
Guilliod's recognition as a Fellow in Undersea and Hyperbaric Medicine indicates his commitment to the practice and advancement of this specialty. His achievement reflects his eminent level of expertise in the field and demonstrates the highest professional and ethical standards consistent with the aims and expectations of the UHMS, according to the society.
The IEEM's Hyperbaric Medicine Unit (HMU) in 2019 received accreditation by the UHMS as a Level 1 facility with distinction. The unit is the largest multi-place facility in North Texas accredited by UHMS and is one of the few advanced centers in the U.S. that offers the full scope of services for the hyperbaric patient, including critically ill and mechanically ventilated patients.
The HMU's trained hyperbaric specialists treat more than 1,000 patients annually.
Guilliod will be officially recognized at the 2021 Annual Scientific Meeting Awards Banquet on June 12, 2021, in New Orleans, Louisiana.
"It's a tremendous benefit to have an advanced facility like the IEEM here on the Texas Health Dallas campus," said Jim Parobek, president of Texas Health Dallas. "Dr. Levine and Dr. Guilliod help set the pace for research and care that benefit consumers in North Texas and around the world."
The IEEM is a joint program between Texas Health Presbyterian Hospital Dallas and UT Southwestern Medical Center. Founded in 1992, it has grown into the largest center for the study of human physiology (how the body works) in the United States.
Housed on the Texas Health Dallas campus, it is Texas Health's flagship research program. The Institute has 83 active research studies as well as 16 federal and private grants. Researchers publish more than 50 papers annually and receive more than 2,000 research literature citations each year for their work.
About Texas Health Resources
Texas Health Resources is a faith-based, nonprofit health system that cares for more patients in North Texas than any other provider. With a service area that consists of 16 counties and more than 7 million people, the system is committed to providing quality, coordinated care through its Texas Health Physicians Group and 29 hospital locations under the banners of Texas Health Presbyterian, Texas Health Arlington Memorial, Texas Health Harris Methodist and Texas Health Huguley. Texas Health access points and services, ranging from acute-care hospitals and trauma centers to outpatient facilities and home health and preventive services, provide the full continuum of care for all stages of life. The system has more than 4,100 licensed hospital beds, 6,400 physicians with active staff privileges and more than 26,000 employees. For more information about Texas Health, call 1-877-THR-WELL, or visit www.TexasHealth.org.