May 21, 2020
Common training includes experience in pulmonology, internal medicine and critical care
ARLINGTON, Texas — Intensivists at Texas Health hospitals have come to the forefront during the COVID-19 pandemic — their specialized training and ICU experience help improve outcomes for critically ill patients suffering from the virus.
They lead intensive care units and direct patient care based on years of education and training, clinical experience, individual patient information and input from multiple specialty clinicians and the hospital's frontline staff.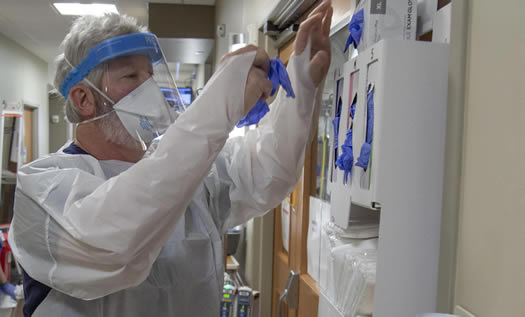 Gary Weinstein, M.D., an intensivist and pulmonologist, prepares to enter a patient room at Texas Health Dallas.
"As always, there's a captain of the ship, someone making decisions about how we're treating patients. That person in a critical care setting is the intensivist," said John Hollingsworth, M.D., a pulmonologist and intensivist on the medical staff at Texas Health Harris Methodist Hospital Fort Worth.
But he was quick to add, "We're part of a bigger community. It takes a village to take care of these patients. It requires help and support from everyone within the system to make it work."
Critical care physicians fighting the pandemic work with infectious disease specialists, pharmacists, nurses, respiratory therapists, nutritionists, hospitalists and others who all contribute to treatment plans.
"Everybody has a little different vantage point," said Gary Weinstein, M.D., an intensivist and pulmonologist on the medical staff at Texas Health Presbyterian Hospital Dallas. "In COVID-19 cases, infectious disease physicians have played an important and integral role."
Specially trained in the use of ventilators and other treatments used in complex cases, intensivists nationwide frequently have completed their residency in internal medicine followed by fellowship training in both pulmonology and critical care — clearly valuable expertise for treating COVID-19, which resides in the lungs.
Physicians from other specialties with appropriate training can also serve as intensivists. Andrew Fredericks, M.D., an intensivist on the medical staff at Texas Health Presbyterian Hospital Denton, did his residency in emergency medicine.
His specialized experience in critical care helps him manage the disease from a broad perspective.
"It not only causes pneumonia, but it contributes to diseases in the kidney and the brain," he said. "We're kind of the active managers of all those organ systems when you're at your sickest."
Helping to protect others
Critical care physicians' roles during the pandemic also can mitigate risk of exposure for other physicians, said Steven Davidoff, M.D., a pulmonologist and intensivist on the medical staff at Texas Health Presbyterian Hospital Plano.
"We're trying to limit other physicians from unnecessary exposure," he said.
His colleague and partner, Weinstein, agreed. Under the intensivist program at Texas Health Dallas, "The intensivist is one of the only physicians who goes into the rooms each day," he said.
At Texas Health Dallas and Texas Health Plano, Weinstein and Davidoff each meet daily with a multidisciplinary team, usually scrutinizing 10 to 12 cases a day.
During rounds recently, about 12 clinicians reported on each patient from different perspectives. The pharmacist, for example, helped gauge a patient's readiness for new treatments and therapies.
Critical care nurses came in and out of the room to talk about different cases. At both of those hospitals, physician assistants and advanced practice nurse practitioners cover the patients at night.
The Dallas program has operated for more than 11 years, Weinstein said. The clinicians continually pore over research and literature on COVID-19.
"We haven't had to worry about what's going on in New York, where you have physicians who don't normally take these kinds of patients functioning as intensivists," Weinstein said.
Hospital-wide teamwork
Critical care physicians also contribute to hospital-wide planning for COVID-19.
"To see a pandemic unfold in real time and develop a response in real time has led to an unbelievable amount of teamwork, collaboration and innovative thinking," Davidoff said.
Together with hospital and system leaders, "we came up with ways for most of Texas Health's hospitals to double our ICU capacity in a three-week period. And that's really unheard-of," he said.
At Texas Health Fort Worth, Hollingsworth said, "It's important to emphasize that I absolutely feel like we have support from both the hospital and the system. Texas Health Resources had many different things in place to allow us to respond to this challenge. We have had a number of different specialties in different groups that have really risen to the occasion and stepped up to help out."
An unknown enemy
Despite their familiarity with very sick patients and infectious diseases, intensivists deal with the same fears as the other health care workers on the front lines.
"As critical care physicians we are trained to be calm under pressure, to deal with life and death," Davidoff said. "We are drawing on our skills and training to deal with a pandemic disease that can kill you and your family members without even knowing you have symptoms. I can't think of any experience that would truly prepare anyone for that."
But he does it day after day, for the same reason he practices medicine at all: "If my partners and I and our teams don't do what we do, more people would die."
Hollingsworth sees it the same way.
"Treating a novel infectious disease that we do not fully understand yet is challenging," he said. "We do sign up to do critical care medicine; however, knowing that doing our job may potentially put the health of family at risk adds an additional level of complexity to an already difficult situation."
But he thinks of a recent case in which a COVID-19 patient in his 20s was discharged from Texas Health Fort Worth after 42 days in the hospital.
"He's the reason we do it. Despite the challenges placed in front of intensivists, who truly face life and death situations on a daily basis, the focus remains on saving as many people as possible and faithfully serving our community."
About Texas Health Resources
Texas Health Resources is a faith-based, nonprofit health system that cares for more patients in North Texas than any other provider. With a service area that consists of 16 counties and more than 7 million people, the system is committed to providing quality, coordinated care through its Texas Health Physicians Group and 29 hospital locations under the banners of Texas Health Presbyterian, Texas Health Arlington Memorial, Texas Health Harris Methodist and Texas Health Huguley. Texas Health access points and services, ranging from acute-care hospitals and trauma centers to outpatient facilities and home health and preventive services, provide the full continuum of care for all stages of life. The system has more than 4,100 licensed hospital beds, 6,400 physicians with active staff privileges and more than 26,000 employees. For more information about Texas Health, call 1-877-THR-WELL, or visit www.TexasHealth.org.