March 26, 2020
Owner cites previous experience with system in desire to give back for care and concern
ARLINGTON, Texas — Merrilee Kick wanted to do something to help those working on the front lines during the COVID-19 outbreak. So, she decided to begin making hand sanitizer at her distillery/winery, and Texas Health Resources quickly came to mind.
Years ago, when Kick was a teacher at Plano West Senior High School, she was treated for skin cancer at Texas Health Presbyterian Hospital Plano. She remembered how the health care system helped her financially when she needed it most.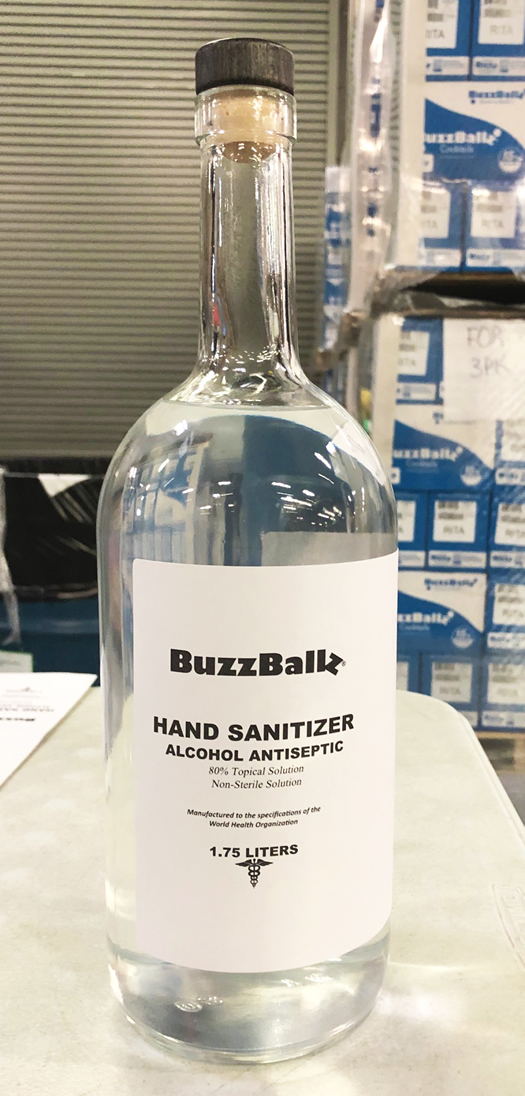 The owner of BuzzBallz/Southern Champion donated enough hand sanitizer in 1.75-liter bottles to fill 1,000 8-ounce containers.
"During that time, being a teacher, my salary was low, and my cancer bills were high. It was close to $10,000 — which was far more than I could afford," recalled Kick, now owner and CEO of BuzzBallz/Southern Champion, a distillery and winery based in Carrollton. "When I asked for help, Texas Health worked with me."
Wanting to now give back, Kick reached out to Texas Health and eventually connected with Nate Mickish, vice president of strategic sourcing.
A batch of the hand sanitizer her company made was soon delivered to Mickish. After confirming it met our standards, some was quickly distributed to Texas Health Harris Methodist Hospital Hurst-Euless-Bedford with more deliveries planned.
"We're just trying to help out and hope that it benefits the people on the front lines that are protecting the rest of us," Kick said.
Mickish estimates the donation will enable Texas Health to distribute some 1,000 eight-ounce bottles to its hospitals and facilities. And more distilleries plan to donate.
"I was really encouraged by it," Mickish said. "This tells me that everyone is taking this outbreak seriously, and willing to do what they can to help. The need arose and the community answered."
BuzzBallz/Southern Champion made the hand sanitizer using a formula provided by the World Health Organization and shared it with Texas Health in 1.75-liter liquor bottles.
Texas Health Medical Support, a not-for-profit company owned by Texas Health Resources, has volunteered to transfer the hand sanitizer into more manageable, easier-to-use bottles.
"When you have a crisis situation, that's when you start seeing how good everybody really is and how they pull together," said Randy Ball, vice president and system pharmacy officer for Texas Health. "These kinds of things bring out the best in our good people."
About Texas Health Resources
Texas Health Resources is a faith-based, nonprofit health system that cares for more patients in North Texas than any other provider. With a service area that consists of 16 counties and more than 7 million people, the system is committed to providing quality, coordinated care through its Texas Health Physicians Group and 29 hospital locations under the banners of Texas Health Presbyterian, Texas Health Arlington Memorial, Texas Health Harris Methodist and Texas Health Huguley. Texas Health access points and services, ranging from acute-care hospitals and trauma centers to outpatient facilities and home health and preventive services, provide the full continuum of care for all stages of life. The system has more than 4,100 licensed hospital beds, 6,400 physicians with active staff privileges and more than 26,000 employees. For more information about Texas Health, call 1-877-THR-WELL, or visit www.TexasHealth.org.