January 16, 2020
Initiative at Texas Health HEB assists uninsured patients with chronic disease
BEDFORD, Texas — The need for chronic disease treatment for uninsured patients has proven so great at Texas Health Harris Methodist Hospital Hurst-Euless-Bedford that the Healthy Education Lifestyle Program has expanded drastically to accommodate many more.
HELP, which started at Texas Health HEB 16 months ago in one small room, had 39 patients from August to December 2018. By the end of 2019, the number had ballooned to more than 100, said Laura Burnett, M.S.N., R.N., CPXP, manager, patient and family center care.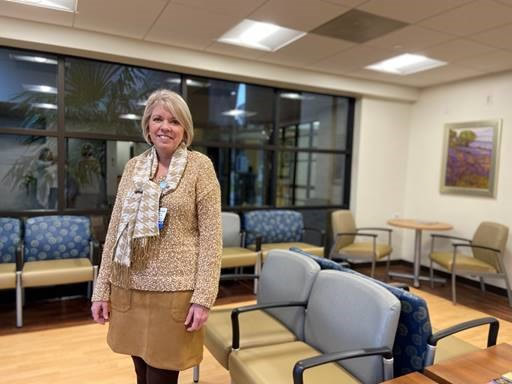 Laura Burnett, M.S.N., R.N., CPXP, manager, patient and family center care, in the newly expanded HELP clinic at Texas Health HEB.
"Most of our patients are working at minimum wage jobs or self-employed," Burnett said. "It could be any one of us."
HELP treats patients with diabetes, hypertension, congestive heart failure and high cholesterol.
Texas Health Harris Methodist Hospital Azle was the first in Texas Health Resources to start a HELP program. Since the Azle program opened in 2013, HELP clinics have expanded to nine wholly owned campuses. The system also is piloting the program in mobile health units. Texas Health Arlington Memorial Hospital and Texas Health Presbyterian Hospital Dallas have similar programs.
"We're seeing more than 600 patients, and across the board seeing a reduction in those patients in the Emergency Department for chronic disease management," said Jamie Judd, M.B.A., director, Community Health Improvement. "We're providing a consistent place for comprehensive care. We have employees who have a heart for this population."
Light and bright
At Texas Health HEB, the roomy new clinic lobby and offices are lined with floor to ceiling windows. The clinic has three examination rooms and offices for the employees.
The program's space expanded from roughly 80 square feet to 2,900, Burnett said, adding that it can serve as many as 400 patients.
"Now our patients can come to a real office," said Kimberly Baker, B.S.N., R.N., MEd, CDE, the clinic's nurse.
The medical director is Gurjit Dhatt, M.D., an internal medicine specialist who is on the medical staff at Texas Health HEB and is a practicing physician with Texas Health Physicians Group.
The Texas Health HEB Auxiliary and the Texas Health Resources Foundation provided funding for the expansion.
"This expansion is an exciting addition to Texas Health HEB and gives us even more of an opportunity to fully serve our Mission by improving the health of the people in the communities we serve," said Fraser Hay, hospital president. "We are blessed to have an amazing auxiliary and I want to thank them for their continued generosity."
Variety of patients
There is no one single patient demographic that the clinic sees, said Anna Rabinovich, D.N.P, APRN, ANP-BC, CDE. "We have people with zero education, and we have people with master's degrees," Rabinovich said.
Many patients have immigrated to the United States, including natives of Africa, France and members of the nearby Tongan community.
"We're learning a lot from patients about their culture, attitudes, and beliefs toward health and medicine," Rabinovich said. "We have to accommodate education to the patient's' individual cultural needs of each patient."
Burnett said the clinic also treats undocumented workers, which fills a big gap in health care in the area.
Only one patient from the clinic has returned to the hospital for emergency room care and none have had a hospital admission related to their chronic disease, she said.
Future plans
The clinic so far has grown by word of mouth and referrals from the hospital, Burnett said. Its federal funding is in place through 2022. A goal for this year is to reach new patients, by visiting large employers who have work forces earning minimum wage who can't afford health insurance, she said.
"I've been in health care for 28 years," Burnett said. "This feels good. It feels right. It's very rewarding."
About Texas Health Resources
Texas Health Resources is a faith-based, nonprofit health system that cares for more patients in North Texas than any other provider. With a service area that consists of 16 counties and more than 7 million people, the system is committed to providing quality, coordinated care through its Texas Health Physicians Group and 29 hospital locations under the banners of Texas Health Presbyterian, Texas Health Arlington Memorial, Texas Health Harris Methodist and Texas Health Huguley. Texas Health access points and services, ranging from acute-care hospitals and trauma centers to outpatient facilities and home health and preventive services, provide the full continuum of care for all stages of life. The system has more than 4,100 licensed hospital beds, 6,400 physicians with active staff privileges and more than 26,000 employees. For more information about Texas Health, call 1-877-THR-WELL, or visit www.TexasHealth.org.