January 15, 2020
Technology facilitates seamless integration of feedback and staff insights to better address patient and family needs
ARLINGTON, Texas — Starting this month, Texas Health will roll out a new digital rounding tool for nurse managers that provides a quick way to share notes to improve patients' overall experience.
By using an app on an iPad mini, nurse managers can do everything from flagging environmental services to an issue in a patient room to letting nurses know after a shift change that a patient likes to talk about her grandchildren. The tool was piloted at a few Texas Health hospitals last year to great results.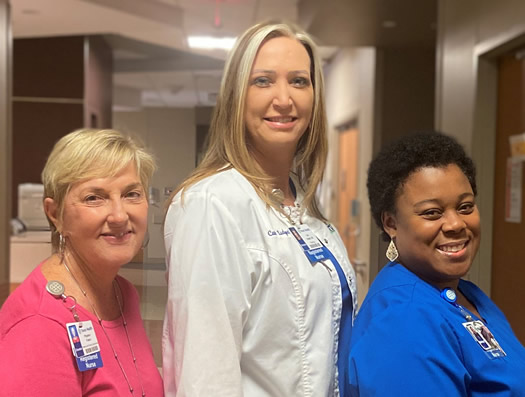 Phylann Fusco, Cari Lidgett, and Yolanda Blaine have played key roles in piloting the new patient rounding technology.
From a patient's perspective, "You've got the details down," said Yolanda Blaine, M.S., R.N., a nurse manager at Texas Health Presbyterian Hospital Dallas who piloted the tool. "You know what I like. You're making an effort to care for me as a person."
For example, if a patient prefers Pepsi as a beverage, that information will stay in the system when he or she is transferred to a different floor or returns to the hospital after being discharged.
What may seem like simple details really pays off though.
"It shows we are communicating with each other," Blaine said. "We can personalize information and keep it in the system." Eventually the information will be shared across floors and hospitals.
"This is an important and exciting rollout," said Bianca Radney, MBA, vice president of Patient and Family Experience. "The ability for us to seamlessly integrate patient and staff insights in a mobile, comprehensive tool is a great win! This supports our ability to quickly document and address patient and family needs. If patients return to our care and have been rounded on in the past, we can know in advance what's important to them, and anticipate service opportunities."
Real-time alerting
The app also will connect to other departments, including environmental services. Michele Kennedy, consultant, Patient & Family Experience, said that if, for example, a room needs cleaning, the nurse manager can take a photo with the iPad mini and send it to environmental services. There, directors get an alert and a timer starts.
"We will be able to see how long it takes to get things resolved," Kennedy said. "If we have an unresolved issue, they know to go address it."
Cari Lidgett, D.N.P., R.N., NE-BC, director of nursing for the medical surgical and intensive care unit at Texas Health Presbyterian Hospital Kaufman, piloted the tool when she was at Texas Health Arlington Memorial Hospital and likes its reporting feature.
"It will track if the patient had a complaint like the room was cold, the trash wasn't emptied, and I'll get a report telling me how many patients didn't have trash emptied, or had cold rooms," she said. "It also has this great feature — you can log on the following day and it will tell you your priority areas to focus on. It will actually give you something you can talk to the staff about."
Nurse recognition
The tool also lets managers give employees on-the-spot recognition, Kennedy said.
"Any staff member mentioned by a patient can receive a Caregram," she said, adding that the hope is to eventually interface with Applause in the future.
If a patient compliments an employee during a nurse manager's round, "the manager types name in, an email pops up, and it sends as Caregram," she said.
"For nurse managers, they can run a report at the end of month, see all the Caregrams and use them in their Check-ins."
Rollout plans
Texas Health previously used a much simpler tool that basically only noted whether a nurse manager had made rounds, Kennedy said.
The go-live date for the new tool is Jan. 21, when it will roll out to Texas Health Presbyterian Hospital Denton, followed by Texas Health Dallas, with other hospitals in the first phase expected to be Texas Health Hospital Frisco, Texas Health Harris Methodist Hospital Cleburne and Texas Health Kaufman.
It will be rolled out in three phases, Kennedy said. "The rollout will probably take us through the summer for the wholly owned entities." Joint venture locations may be able to use the tool in the future.
The tool will go to nurse managers and above, so that supervisors and charge nurses can fill the gap and make rounds when nurse managers aren't available. Supervisors and charge nurses will share the iPad minis with nurse managers when necessary.
The initial rollout focuses on getting the tool out and used, but down the road there will be opportunities for units to personalize the tool to best address the needs of their specific patients.
"We're just getting started," Kennedy said.
About Texas Health Resources
Texas Health Resources is a faith-based, nonprofit health system that cares for more patients in North Texas than any other provider. With a service area that consists of 16 counties and more than 7 million people, the system is committed to providing quality, coordinated care through its Texas Health Physicians Group and 29 hospital locations under the banners of Texas Health Presbyterian, Texas Health Arlington Memorial, Texas Health Harris Methodist and Texas Health Huguley. Texas Health access points and services, ranging from acute-care hospitals and trauma centers to outpatient facilities and home health and preventive services, provide the full continuum of care for all stages of life. The system has more than 4,100 licensed hospital beds, 6,400 physicians with active staff privileges and more than 26,000 employees. For more information about Texas Health, call 1-877-THR-WELL, or visit www.TexasHealth.org.