July 15, 2020
Husband goes above and beyond to show love and support
FORT WORTH, Texas — It was eight days before Lisa Tally's birthday. Normally, festive plans would consume her thoughts, but this year was different. While others remained vigilant against COVID-19, Tally received life-altering news — she had stage three ovarian cancer.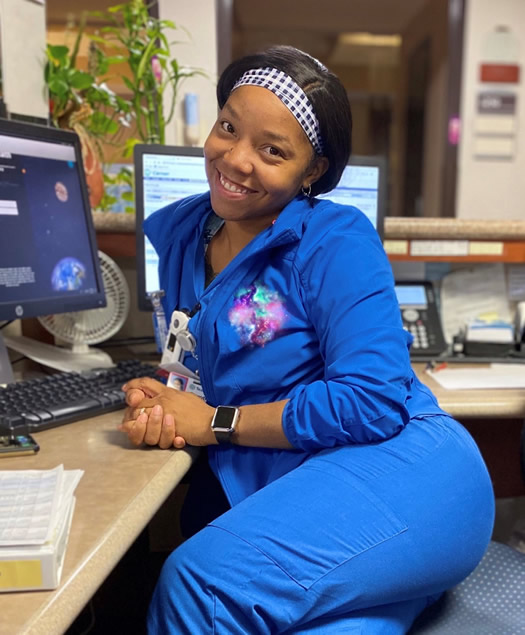 Dorothy Alexander, R.N.
To increase her chances of survival, Tally needed to undergo major surgery. She chose Texas Health Harris Methodist Hospital Fort Worth and six days after her diagnosis arrived with her husband Jim Tally by her side.
"We were already nervous, and with all of the COVID-19 precautions, we couldn't help but be apprehensive," Jim said. "But we walked through front doors, had our temperatures checked, and we headed to surgery, together."
Because of the COVID-19 no-visitation policy in place at the time, Jim could go no further than the waiting room in Richardson Tower. He wouldn't be able to see his wife of 37 years until she was discharged from the hospital.
"That choked me up, and it was hard for me to digest," he said. "I couldn't see her, and I couldn't speak with any of the doctors."
Still, he remained, and after several hours of waiting, Jim was greeted with an update from Kenneth Hancock, M.D., a gynecological oncologist on the Texas Health Fort Worth medical staff.
Hancock informed him that Lisa's ovaries, appendix and a portion of her colon had to be removed.
As Lisa recovered from her surgery, Jim went home and waited. On May 23, Lisa's 56th birthday, Jim was home alone. Suddenly, tears filled his eyes.
"She's been my best friend since I was 16, and we've never been apart for more than six days," said Jim. "I was missing my best friend on her birthday."
Facing another dilemma that day, Jim learned his wife required emergency surgery. "Dr. Hancock called and said Lisa was pale, she had a high temperature, and she was suffering from internal bleeding."
Jim thought the worst. "I was going to lose my wife on her birthday."
Determined to see her more than ever, Jim rushed to Texas Health Fort Worth. Seeing the tears in his eyes, several nurses, including Dorothy Alexander, R.N., made sure he connected with Lisa. Once again, he sat in a waiting room, hoping for an update.
"When patients battling cancer are unable to hold or hug their family members, especially during this pandemic, bringing them comfort isn't a second thought," she said. "The questions simply become how and when."
After more than two hours of emergency surgery, Jim learned the procedure was successful. On her way to a patient room, Lisa was wheeled by the nearby waiting room.
"I knew how scared she was, and I needed to see her. There was nothing really happy about her birthday though," Jim said. "For a brief moment, we saw one another, and that was a blessing."
But Jim was not satisfied. He wanted to show his love and support, and sing "Happy Birthday," to his best friend. With the help of family and friends, along with Alexander, a unique plan was devised.
"When Mr. Tally called and asked to see his wife outside one of the patient rooms, I started praying fast and hard for an empty room to make it all come together," Alexander said. "Mrs. Tally worked just as hard as everyone else to make this happen. After two critical surgeries, she was in pain but determined to see her husband."
Working with the hospital for approval and help, Jim, who owns a home building business, decided to use a familiar piece of construction equipment. He chose a scissor lift — an aerial platform often used during construction — to elevate himself more than 30 feet in the air to see his wife, eye to eye. Wearing a hard hat and a reflective vest, Jim rose to the second floor.
"On my way up, I saw a light come on in the patient room, and then I saw Lisa's hand waving from the window. I serenaded my wife for her birthday, and that was a precious moment for us."
On Memorial Day, friends captured the special moment from outside Texas Health Fort Worth, and Alexander recorded Lisa's reaction from inside the hospital.
"As a nurse, we show integrity and empathy, but during a time of safe distancing, we aren't able to offer a supportive hug to patients or their family members," said Alexander. "I was so grateful to help. The video is tangible evidence that with dedication, love and teamwork, there's no limit to what can be achieved."
Lisa agrees, and she remains beyond grateful.
"Just seeing Jim and my two sons was amazing," Lisa said. "There was so much love in my heart."
Lisa has been recovering at home with Jim, and she'll soon undergo chemotherapy. Not knowing what the future holds, the they remain optimistic.
"God is in control, and our story is not over yet."
About Texas Health Resources
Texas Health Resources is a faith-based, nonprofit health system that cares for more patients in North Texas than any other provider. With a service area that consists of 16 counties and more than 7 million people, the system is committed to providing quality, coordinated care through its Texas Health Physicians Group and 29 hospital locations under the banners of Texas Health Presbyterian, Texas Health Arlington Memorial, Texas Health Harris Methodist and Texas Health Huguley. Texas Health access points and services, ranging from acute-care hospitals and trauma centers to outpatient facilities and home health and preventive services, provide the full continuum of care for all stages of life. The system has more than 4,100 licensed hospital beds, 6,400 physicians with active staff privileges and more than 26,000 employees. For more information about Texas Health, call 1-877-THR-WELL, or visit www.TexasHealth.org.