March 27, 2020
Front-line Texas Health caregivers also looking out for each other
DALLAS — Into every evening, long after her day ends and her children are in bed, Jenna Hermann, B.S.N., R.N., stays in touch with the ICU nurses in her unit at Texas Health Presbyterian Hospital Dallas, who are caring for some of the patients awaiting COVID-19 test results.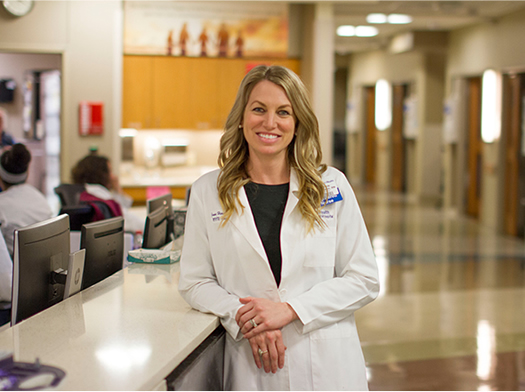 Jenna Hermann, B.S.N., R.N., says she's proud of her teams and the care they're providing at Texas Health Dallas during the COVID-19 pandemic.
"They're here caring for complete strangers — because that's what their passion is — but they also know they're going home to their families and they wonder, 'Am I putting my family at risk?'" Hermann, who is medical intensive care unit manager and surgical intensive care unit interim manager, oversees about 80 employees, 70 of them nurses.
"There's also the unknown factor. This virus is new to the U.S., and that's a stressor — trying to navigate those waters," she said.
Hermann hits the ground running every morning at about 6:15 a.m., checking on her staff, rounding on the unit — and listening. The ICU units, while performing their usual care duties, are taking some persons under investigation or PUIs for COVID-19, as needed.
"I'm really proud of my teams and care they provide to our patients and families."
They count on her for answers to everything from emotional needs to supplies.
"We all became a nurse to care for people and help people. And we show up each day doing what we're trained to do."
Support can come from many places: each other, the hospital leadership and Texas Health Resources as a system, Jenna said.
"We, as leaders, are working day and night to support our caregiving teams. We want to be there for them, especially now, focused on their safety while they provide the best possible care," said Elizabeth Asturi, M.S.N., R.N., NE-BC, chief nursing office at Texas Health Dallas.
Jenna said she also turns to her nursing colleagues.
"My therapy is talking it out amongst my coworkers. We have a support system at work — we're all people going through the same thing. That's my own personal coping mechanism: leaning on each other."
About Texas Health Resources
Texas Health Resources is a faith-based, nonprofit health system that cares for more patients in North Texas than any other provider. With a service area that consists of 16 counties and more than 7 million people, the system is committed to providing quality, coordinated care through its Texas Health Physicians Group and 29 hospital locations under the banners of Texas Health Presbyterian, Texas Health Arlington Memorial, Texas Health Harris Methodist and Texas Health Huguley. Texas Health access points and services, ranging from acute-care hospitals and trauma centers to outpatient facilities and home health and preventive services, provide the full continuum of care for all stages of life. The system has more than 4,100 licensed hospital beds, 6,400 physicians with active staff privileges and more than 26,000 employees. For more information about Texas Health, call 1-877-THR-WELL, or visit www.TexasHealth.org.