March 24, 2020
Chaplain at Texas Health HEB conducts rite before major procedure
BEDFORD, Texas — The man on the phone needed help and he needed it quickly.
"I want to be baptized, do you know how I can do that?" asked the soon-to-be patient, who was facing a major surgery in just a few days at Texas Health Harris Methodist Hospital Hurst-Euless-Bedford.
Chaplain Jacquetta Chambers was there to help.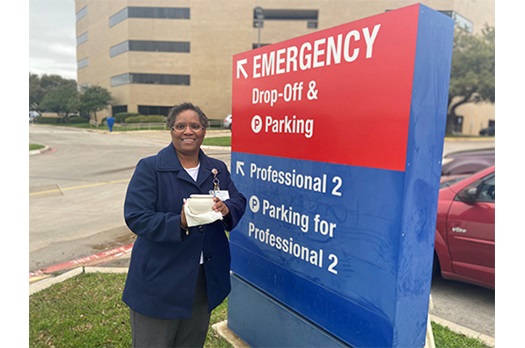 By the time she finished, "I was crying, his wife was crying, he was crying," said hospital Chaplain Jacquetta Chambers.
The man explained he was a Christian but had not been baptized. Because of the upcoming surgery, he said, "I want my life in order and my salvation complete, so I want to be baptized."
She explained that as a United Methodist Church elder and hospital chaplain she could perform an immersion baptism or sprinkle him with water she had prayed over. They agreed that he wanted to be sprinkled and that they would meet in the Texas Health HEB chapel.
But he called three days later and said that because of COVID-19 precautions he wouldn't be able to come into the hospital until the day of the surgery — which made the baptism impossible before surgery, given the time frame.
"He was devastated," said Chambers, manager of pastoral care at the hospital.
Getting creative
She suggested she administer the baptism in the hospital parking lot two days before the surgery.
When that time came, the man waved her down in the parking lot as she walked toward him, carrying the baptismal water she had prayed over since his urgent phone call.
As he bent over, Chambers sprinkled the water saying, "I baptize you in the name of the Father, the Son and the Holy Spirit." By the time she finished, "I was crying, his wife was crying, he was crying," Chambers said.
The experience, Chambers said, "shows me people are still seeking God in this turbulent time."
Chaplains at Texas Health's 14 wholly owned hospitals are finding ways to continue spiritual care of patients while adhering to the strict precautions required by the COVID-19 crisis.
"Chaplaincy service continues as strong as ever, but it has changed in form," said Elizabeth Watson-Martin, vice president, Faith and spirituality Integration. "We are elevating tele-chaplaincy and focusing care on clinicians who are experiencing significant stress on the front lines."
Chaplain Kent Taylor, director of Faith and Spirituality Integration at Texas Health Presbyterian Hospital Plano, added, "As a team we've developed creative ministry forms that meet the significant spiritual needs of those in our charge at this critical time, while keeping chaplains and patients safe from disease spread."
About Texas Health Resources
Texas Health Resources is a faith-based, nonprofit health system that cares for more patients in North Texas than any other provider. With a service area that consists of 16 counties and more than 7 million people, the system is committed to providing quality, coordinated care through its Texas Health Physicians Group and 29 hospital locations under the banners of Texas Health Presbyterian, Texas Health Arlington Memorial, Texas Health Harris Methodist and Texas Health Huguley. Texas Health access points and services, ranging from acute-care hospitals and trauma centers to outpatient facilities and home health and preventive services, provide the full continuum of care for all stages of life. The system has more than 4,100 licensed hospital beds, 6,400 physicians with active staff privileges and more than 26,000 employees. For more information about Texas Health, call 1-877-THR-WELL, or visit www.TexasHealth.org.