March 11, 2020
Animals provide calming and reassuring presence at Texas Health Stephenville
STEPHENVILLE, Texas — Lyndi Hanna of Dublin, Texas, has known since she was a teenager that she wanted to get involved with therapy dogs.
"I'm good with people and animals. I get along with people of any age. It seemed like the perfect thing to do," Hanna said. "But I realized my dogs at that time didn't have the right personality, so I put it on the back burner for about 10 years."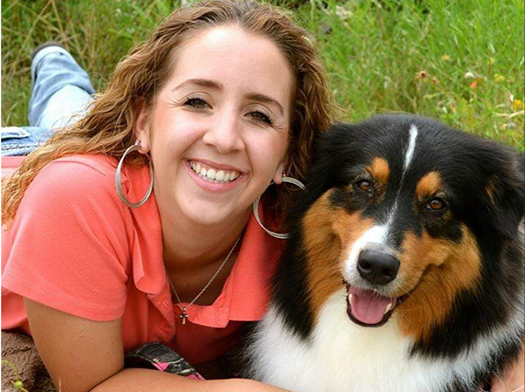 Lyndi Hanna with Annie, her therapy dog. Hanna and her teams help patients at Texas Health Stephenville.
But once she got Annie, an Australian shepherd, she knew the time was right. "She had little kids running up to her and she knew what to do in a variety of situations," Hanna said. She started by getting Annie registered as a therapy dog through Pet Partners, a national nonprofit organization. She became the founding dog for Annie's Therapeutic Companions, which works with Texas Health Harris Methodist Hospital Stephenville, among other area locations.
"The dogs have been a calming and reassuring presence for our patients," said Cindy McCarthy, D.N.P., M.H.A., M.B.A., R.N., NEA-BC, CEN, the hospital's chief nursing officer. "It provides them with a bit of normalcy when they are in a position where they are out of their home environment and away from their comfort zone."
Hospital President Christopher Leu said everyone enjoys the visits.
"While our patients and caregivers appreciate visits from Annie and Lyndi, the hospital leadership team also enjoys her visit. It's always a joy to see Annie, and recently, Hank, come through Administration on Friday afternoons!"
Flexible and Ready to Help
Hanna said the dogs and handlers are highly trained and help in a variety of situations.
"It's anything from calming people down that are stressed to just being something that's like home, that's a comfort to a lot of people," Hanna said. "The dogs are so good at what they do. One person may need a little more quiet, calm love, or someone else may need a dog to make them laugh."
Among the ways the dogs have helped: comforting a sexual assault victim in the Emergency Department; for children as they get a shot or stitches; being there when a family member passes away; and coming in on holidays to brighten the day for patients and staff.
Nurses at Texas Health Stephenville also love the dogs, McCarthy said.
"Lyndi or one of her team members has been here for staff during some very trying times both personally and while they are on duty," McCarthy said. "You can find dog treats in most of the departments and a few offices!"
Members of Annie's Therapeutic Companions include team Annie and handler Lyndi Hanna; team Hank and handler Lyndi Hanna; team Hunter and handler Jaci Smith; team Mattie and handler Brenda Morton; team Simba and handler Heather Lyon; team Jax and handler Brenda Morton.
Hanna's teams, which have varied over the years, have visited Texas Health Stephenville a minimum of twice a week for nearly six years and go to every unit except obstetrics and surgery.
"They come even more often if possible," McCarthy said. "Someone will also respond when available if we call to say we need them for a particular patient or situation in the hospital. They are very responsive to our needs."
Highly Trained
Two more teams are in training for both handlers and dogs, conducted by Hanna, which is substantial and can take one to two years.
The teams first go through basic obedience training, therapy training that is used for nursing homes and then hospital training that allows them to go into intensive care and emergency departments, Hanna said. They are trained as emergency response animals, so they remain calm in hectic Emergency Department situations.
The dogs also must be bathed before each visit, but Hanna said Annie doesn't mind. "She loves the work, and a bath means work is coming."
About Texas Health Resources
Texas Health Resources is a faith-based, nonprofit health system that cares for more patients in North Texas than any other provider. With a service area that consists of 16 counties and more than 7 million people, the system is committed to providing quality, coordinated care through its Texas Health Physicians Group and 29 hospital locations under the banners of Texas Health Presbyterian, Texas Health Arlington Memorial, Texas Health Harris Methodist and Texas Health Huguley. Texas Health access points and services, ranging from acute-care hospitals and trauma centers to outpatient facilities and home health and preventive services, provide the full continuum of care for all stages of life. The system has more than 4,100 licensed hospital beds, 6,400 physicians with active staff privileges and more than 26,000 employees. For more information about Texas Health, call 1-877-THR-WELL, or visit www.TexasHealth.org.