April 21, 2020
Tech-Connect facilitates video chats between patients and family members
PLANO, Texas — Family members who are longing to see their loved ones in the hospital are now able to connect with them virtually in several areas of the hospitals, including the Intensive Care Unit at Texas Health Presbyterian Hospital Plano.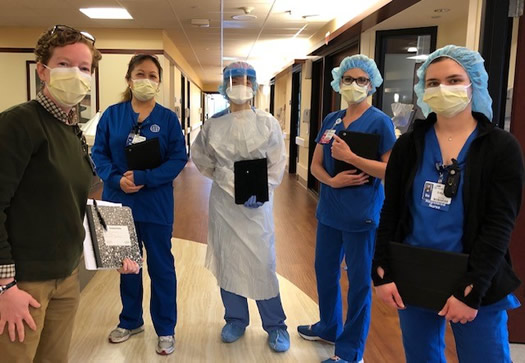 Hospital chaplain Julie Cecil, left, with members of the Tech-Connect team at Texas Health Plano.
The pilot program called Tech-Connect allows ICU staff members and other caregivers to use video chat on an iPad to connect patients with their families, who have been restricted from visiting the hospital during the COVID-19 pandemic.
"We have helped COVID-19 patients, elderly patients, non-verbal patients and even patients who don't know how to operate a smart device," said Julie Cecil, chaplain at Texas Health Plano.
The hospital's chaplain is guiding the Tech-Connect team and meets with them three times a week to explain the process and answer questions. They discuss which patients meet the criteria and decide which Tech-Connect member will reach out to a family member.
"We end our discussions with a short blessing and go forth to connect patients with their support system," Cecil said.
The hospital purchased six iPads that have Skype and FaceTime. Each call is only two minutes, but some families have found creative ways to fill the time.
Mina Zamora contacted a spouse on behalf of a patient who's on a ventilator.
"His wife played a special song for him," said Zamora, B.S.N., R.N., nursing supervisor on the Med Surg unit at Texas Health Plano. "He could not respond verbally, but I let his wife know that he swayed to the music and raised his eyebrows at the sound of her voice, which gave his wife a great sense of peace."
Jessica Lo offered to help hold the iPad during the family interactions. She said it's important to stay connected especially during this difficult time.
"Even though we care for these patients, we can forget we are also caring for their family and friends as well," said Lo, a gastrointestinal laboratory technician at Texas Health Plano. "I was reminded that that is what we are here for and we can make a difference."
The program recently expanded to four units in the hospital so more caregivers can help serve as a gateway between the patients and their families.
"It's an honor to help them and witness the heartwarming responses," Zamora added.
About Texas Health Resources
Texas Health Resources is a faith-based, nonprofit health system that cares for more patients in North Texas than any other provider. With a service area that consists of 16 counties and more than 7 million people, the system is committed to providing quality, coordinated care through its Texas Health Physicians Group and 29 hospital locations under the banners of Texas Health Presbyterian, Texas Health Arlington Memorial, Texas Health Harris Methodist and Texas Health Huguley. Texas Health access points and services, ranging from acute-care hospitals and trauma centers to outpatient facilities and home health and preventive services, provide the full continuum of care for all stages of life. The system has more than 4,100 licensed hospital beds, 6,400 physicians with active staff privileges and more than 26,000 employees. For more information about Texas Health, call 1-877-THR-WELL, or visit www.TexasHealth.org.