May 01, 2020
Husband and wife each spent days on ventilators at Texas Health Dallas
ARLINGTON, Texas — They were inseparable for decades, until COVID-19 tore Lorenzo and Elba Banales away from each other on April 11. But the Dallas couple were together again Tuesday as they were wheeled out of Texas Health Presbyterian Hospital Dallas, well enough to go home.
Lorenzo, 56, entered the hospital COVID-19 positive on April 11 and was placed on a ventilator for 14 days beginning April 12, said their daughter, Lorena Garcia.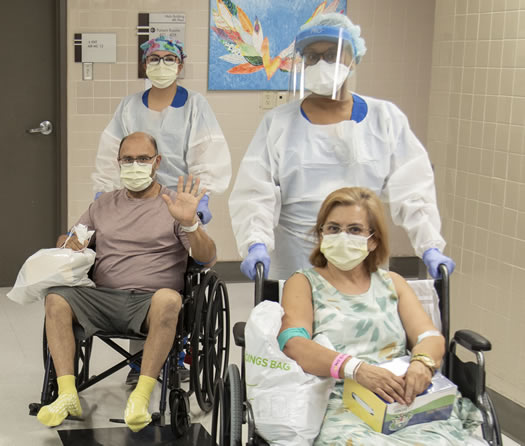 Lorenzo and Elba Banales head for the exit after leaving the med-surg/COVID-19 unit at Texas Health Dallas.
"Mom was home in a panic, and he was constantly texting us to check on her until he was intubated," Lorena said. "They've never slept apart. They've always been together."
Her mother, 52, was hospitalized April 16, tested positive and was placed on a ventilator for several days beginning April 19, she said.
They have been married for three decades.
Symptoms began March 31
Their encounter with the virus began when Lorenzo started to feel ill on March 31. At first, he brushed it off as allergies, and was better for two or three days. But then he began to feel worse again, Lorena said.
Elba felt ill two or three days after her husband and never started to feel better, Lorena said.
Lorenzo's symptoms included upset stomach, weakness and fatigue, headaches and feeling as if he had a fever at times, Lorena said.
She and her four brothers were unable to be with their parents at the hospital because no visitors are allowed at this point in the pandemic.
"It was very stressful not being able to be at their bedside," Lorena said. "I was terrified."
She said the family had just recently suffered a loss in October when her 12-year-old daughter died after spending time on a ventilator.
"Now my parents were on a ventilator," Lorena said. "We were all very scared and praying foremost, constantly putting God first."
Together from a distance
Texas Health Dallas care teams were sensitive to the couple's separation, said Jennifer Campbell, B.S.N., R.N., nurse manager of a medical-surgical unit, now a COVID-19 unit, where the couple was moved after the intensive care unit.
Lorenzo moved to med-surg unit first, and when Elba came in, they could visit briefly.
"It was important for them to know they were in the same area," Campbell said. "And that they were both well enough to be off the ventilators."
Gabriele Herrick, B.S.N., R.N., was Lorenzo's bedside nurse and helped care for him along with many other nurses and Allison Liddell, M.D., an infectious disease specialist who is on the medical staff of the hospital.
Herrick said a big moment for Lorenzo came Monday when he was taken off oxygen and began to breathe room air for the first time in many days.
"He was very confident in how he was feeling," Herrick said. "He was feeling positive and upbeat about his health."
'A smile on everyone's face'
The couple were a big hit in the unit, Campbell said. The negative pressure machines in their rooms were so loud they had to shout in order to hear each other, and their conversations carried into the hallways.
"It put a smile on everyone's face at the nurse's station," she said.
The siblings suggested that their parents go to Texas Health Dallas from the beginning because they love the hospital, Lorena said. Four of her nieces were born there.
Now that they have left the hospital, she said her parents will either stay in quarantine with her or with one of her brothers.
Lorena, who interpreted for her Spanish-speaking parents, said Lorenzo wanted to let people know that they should take COVID-19 seriously.
"I want to let people know how serious it is," he said. "I was one of those that thought 'Oh, we'll be OK.' Now I see how bad it is and what happens."
About Texas Health Resources
Texas Health Resources is a faith-based, nonprofit health system that cares for more patients in North Texas than any other provider. With a service area that consists of 16 counties and more than 7 million people, the system is committed to providing quality, coordinated care through its Texas Health Physicians Group and 29 hospital locations under the banners of Texas Health Presbyterian, Texas Health Arlington Memorial, Texas Health Harris Methodist and Texas Health Huguley. Texas Health access points and services, ranging from acute-care hospitals and trauma centers to outpatient facilities and home health and preventive services, provide the full continuum of care for all stages of life. The system has more than 4,100 licensed hospital beds, 6,400 physicians with active staff privileges and more than 26,000 employees. For more information about Texas Health, call 1-877-THR-WELL, or visit www.TexasHealth.org.