December 04, 2020
Progressive lung disease places her at high risk if she were to become infected with COVID-19
DALLAS — As the pandemic surges across the U.S., as Americans cancel holiday plans and some healthcare workers nationwide even rethink their beloved professions, a young respiratory therapist at Texas Health Presbyterian Hospital Dallas heads to the front lines every day despite a chronic, progressive lung disease that places her at high risk for serious illness or even death if she is infected with COVID-19.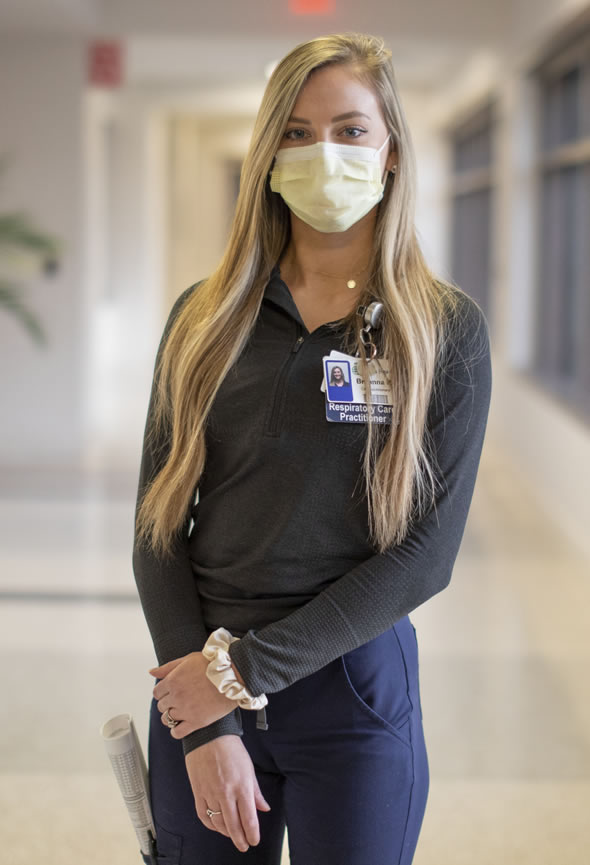 Breanna Pierce
"It could easily take my life," said Breanna Pierce, 26, who has cystic fibrosis. "In the beginning I had thought of taking short term disability — that's what my doctors advised. But I wanted to help out as much as I could. It's what I signed up for. I think as an RT with cystic fibrosis I am able to relate to my patients on a different level. I know what it feels like when you can't catch your breath and the anxiety that comes with that."
Before and after Pierce cares for some of the hospital's sickest patients, she takes breathing treatments — in the car, on the way to work and on the way home. She's had to wear oxygen during shifts a few times. She takes 55 pills a day to combat various aspects of cystic fibrosis.
But caring for patients at Texas Health Dallas — where she was born — is where she wants to be despite the risks.
Cystic fibrosis is a genetic disease that causes frequent lung infections, scarring and can eventually limit breathing. Mucus in the lungs of its victims becomes thick and sticky, trapping germs, according to the Cystic Fibrosis Foundation.
And COVID-19 symptoms mimic those of a lung infection. As a result, Pierce has had two COVID-19 tests, both negative.
"I think about it pretty much daily," she said. Lung infection symptoms include shortness of breath, change in cough, sore throat, chest pain and sometimes a fever. When her last infection struck, she said, "My first thought was 'Oh, God, do I have COVID?'"
COVID-19 is new and the number of cystic fibrosis patients is relatively small (roughly 70,000 cases worldwide, according to the Cystic Fibrosis Foundation Patient Registry), so the outcomes of patients with both has not been extensively studied.
But for Pierce, "it's a huge, huge risk," said her supervisor, Mark Rose, B.S., RRT, respiratory therapy manager for cardiopulmonary adult services. "She runs a big risk of having a negative outcome because of how tenuous the lungs of a cystic fibrosis patient are."
Encounters with COVID-19 patients
For that reason, Pierce generally doesn't work in COVID-19 units. But sometimes patients don't display COVID-19 symptoms at first.
"She has taken care of COVID patients, but not on purpose. If her patient converts to COVID patient, she swaps and trades," Rose said.
"Breanna Pierce's strength is an inspiration to everyone here and should be to everyone who hears her story," hospital President Jim Parobek said. "She is one of the many caregivers at Texas Health Dallas who regularly give far more than could ever be expected. We take employee safety very seriously. We make sure our team members are supported with education and personal protective equipment. Employees with pre-existing conditions are encouraged to work in areas with a decreased risk of exposure."
Co-worker Amy Lobban, RRT, has worked with Breanna since 2018, when she started at Texas Health Dallas.
"She's really a bright light and an inspiration to a lot of people," Lobban said. "I wish I had as much energy as she does. It's really amazing to see somebody with what can be such a debilitating disease who doesn't use it as a crutch for anything."
Their jobs are demanding.
Respiratory therapists, pulmonologists and intensivists are among the key clinicians, along with ICU nurses, who spend the most time with COVID-19 patients, Rose said. The demand for them nationwide is great and the job can be mentally and physically exhausting. Administering breathing treatments means they may be inches from a COVID-19 patient's exhalations, he said.
"I see all the people I work with working their butts off, and I want to do anything I can do to help," Pierce said.
"Breanna Pierce's strength is an inspiration to everyone here and should be to everyone who hears her story," Parobek said. "She is one of the many caregivers at Texas Health Dallas who regularly give far more than could ever be expected."
Making a difference
Her dedication to her work is characteristic of Pierce's determination to keep doing what needs to be done.
She was diagnosed with cystic fibrosis at 10, relatively late — most patients are diagnosed at birth — and spent much of her childhood in and out of hospitals. Pierce said she was admitted at least five times a year for IV antibiotics to fight lung infections until she got older and had a port implanted so she could administer them at home.
By 2015, she was on oxygen 24-7 and on full disability. Pierce had been working at an eye doctor's office and attending classes at Collin County College, but quit her job because of the toll the disease was taking on her.
"I decided to keep going to school and at least try," she said.
Rose, now her supervisor, was an instructor at the college at the time. "She wanted so badly to work in the RT field she gave up her full disability to go to school," he said.
The key, Pierce said, was exercise.
"That really changed my life completely," she said. "I don't wear oxygen anymore — maybe once a year." Now she works out with weights four to five days a week, avoiding cardio because cystic fibrosis also affects the digestive system and those with the disease often lose too much weight.
Pierce does breathing treatments multiple times each day, using several different drugs to help her cough to get rid of mucus, and to thin it.
But she's doing what she wants to do now.
"I've spent far too long in some of my patients' rooms talking to them and trying to bring them hope by sharing my story and empathizing with them when they have felt completely hopeless and scared," she said. "The hospital can be a very lonely place. Nothing makes me happier than being able to make a difference in peoples' lives."
About Texas Health Resources
Texas Health Resources is a faith-based, nonprofit health system that cares for more patients in North Texas than any other provider. With a service area that consists of 16 counties and more than 7 million people, the system is committed to providing quality, coordinated care through its Texas Health Physicians Group and 29 hospital locations under the banners of Texas Health Presbyterian, Texas Health Arlington Memorial, Texas Health Harris Methodist and Texas Health Huguley. Texas Health access points and services, ranging from acute-care hospitals and trauma centers to outpatient facilities and home health and preventive services, provide the full continuum of care for all stages of life. The system has more than 4,100 licensed hospital beds, 6,400 physicians with active staff privileges and more than 26,000 employees. For more information about Texas Health, call 1-877-THR-WELL, or visit www.TexasHealth.org.