October 13, 2020
Texas Health Fort Worth adding Graduate Medical Education slots in primary care specialties
ARLINGTON, Texas — Texas Health Harris Methodist Hospital Fort Worth has been approved to begin a general surgery residency program by The Accreditation Council on Graduate Medical Education. This is the first residency program at the hospital and a major milestone for Texas Health Resources as it dramatically expands training programs for the next generation of physicians in North Texas.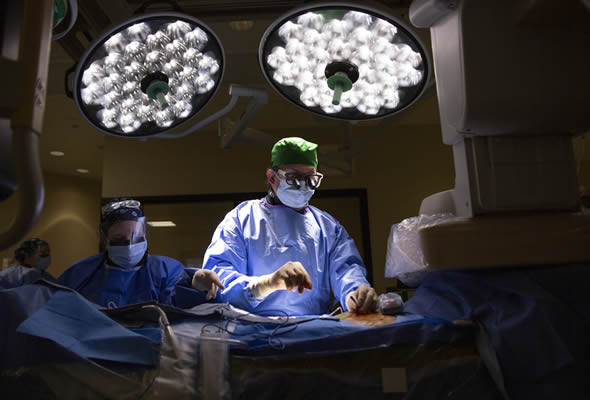 Charles West, M.D., vascular surgeon on the medical staff of Texas Health Fort Worth and faculty physician for the general surgery program, performs an endovascular procedure.
Residents will begin working at Texas Health Fort Worth in mid-2021, with additional programs starting there and at other Texas Health hospitals and outpatient clinics and locations through 2023.
Texas Health Fort Worth President Joseph DeLeon said the residency programs that will be established at his hospital and other Texas Health campuses will bring a new dimension to the advanced care offered throughout the system.
"It will be exciting to see young physicians learning in environments ranging from one of the busiest hospitals in the state to rural and underserved settings," he said. "Patients across North Texas will benefit from the care of these young, talented physicians, who represent the future of healthcare here in our region and beyond."
Expanding GME commitments across Texas Health
The general surgery accreditation launches Texas Health's plan to increase its graduate medical education (GME) commitments to help address the shortage of physicians in the Metroplex and increase access to convenient care for North Texans, said Andrew Masica, M.D., MSCI, Texas Health's senior vice president and chief medical officer, Reliable Health.
"These programs create a long-term benefit for the community and support our mission to improve the health of the consumers we serve," Masica said. "Training the next generation of caregivers helps ensure that the future of that mission is in good hands."
While residents have been working at Texas Health Presbyterian Hospital Dallas for decades (with 40 there currently), the recent accreditation demonstrates a significant expansion of Texas Health's physician training programs to new locations.
The current plan is for the new residency programs to be based at four campuses — Texas Health Fort Worth, Texas Health Presbyterian Hospital Plano, and a combined program at Texas Health Presbyterian Hospital Denton and Texas Health Harris Methodist Hospital Hurst-Euless-Bedford. The new programs will add over 300 residency positions within Texas Health by 2023. In addition to working in urban settings, Texas Health expects residents to rotate to rural and underserved communities, such as Erath County.
In addition to general surgery, Texas Health's GME programs will train physicians in primary care specialties such as internal medicine, family medicine, and obstetrics and gynecology. Future programs planned include psychiatry, emergency medicine, and physical medicine and rehabilitation. The programs will roll out over the course of the next three years, with residents training at their primary hospital and Texas Health locations throughout the region.
Building the first class of residents
"We're excited to begin recruiting residents for the Texas Health Fort Worth surgery program," said Therese M. Duane, M.D., MBA, CPE, FACS, FCCM, general surgeon and surgical intensivist on the Texas Health Fort Worth medical staff and the hospital's director for the general surgery program.
"This first class of residents will make their mark on our hospital and blaze a new trail for our organization," Duane said. "Our program is going to be small and intimate, so that each trainee will have front-line exposure with physicians who want to share their wealth of experience and knowledge with the next generation of surgeons."
"We're committed to providing residents excellent training to become extraordinary surgeons who are leaders in their field," she added.
Helping meet community needs
Texas Health's GME expansion will also help meet the need for physicians in North Texas and nationwide.
According to a study by the American Association of Medical Colleges (AAMC), the United States will face a shortage of between 54,100 and 139,000 physicians by 2033. A primary care physician shortage of 21,400 to 55,200 physicians is projected for the same year.
Along with the nationwide shortage of physicians, the North Texas region faces daunting challenges in physician training.
When it comes to comparably sized markets, Dallas-Fort Worth has fewer residency slots per 100,000 people than Chicago, Houston, New York and Los Angeles. With an aging physician workforce in North Texas and among the highest numbers of uninsured and medically underserved in the country, this investment in GME slots will allow Texas Health to address many critical access issues facing consumers in Texas Health's service area.
"Residency programs allow Texas Health to train physicians in a way that's tailored to fit the specific needs of the North Texas community," Masica said.
"Bringing residents to our care delivery sites complements the robust medical staffs at Texas Health facilities, and also provides an opportunity for physicians to extend teaching and research activities."
Additionally, there is a 60 percent higher possibility that residents stay in practice in the area where they completed residency, according to the AAMC.
"The significant investment we're making in graduate medical education here at Texas Heath Fort Worth and throughout our entire system makes sense for the patients who comes to us for care," DeLeon said, "and for the broader North Texas region."
About Texas Health Resources
Texas Health Resources is a faith-based, nonprofit health system that cares for more patients in North Texas than any other provider. With a service area that consists of 16 counties and more than 7 million people, the system is committed to providing quality, coordinated care through its Texas Health Physicians Group and 29 hospital locations under the banners of Texas Health Presbyterian, Texas Health Arlington Memorial, Texas Health Harris Methodist and Texas Health Huguley. Texas Health access points and services, ranging from acute-care hospitals and trauma centers to outpatient facilities and home health and preventive services, provide the full continuum of care for all stages of life. The system has more than 4,100 licensed hospital beds, 6,400 physicians with active staff privileges and more than 26,000 employees. For more information about Texas Health, call 1-877-THR-WELL, or visit www.TexasHealth.org.