August 06, 2020
Ten years after Texas Health Dallas nurse cared for dying patient, she attends to granddaughter in NICU
DALLAS — As Brad Powers held his baby girl for the first time in the neonatal intensive care unit (NICU) at Texas Health Presbyterian Hospital Dallas, somehow he knew that his mother, who had spent some of her final moments of life in that same hospital, was there looking down on him.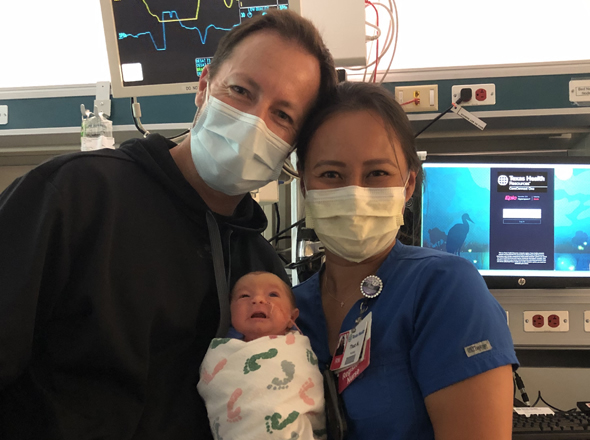 Brad and Emma Powers with Thao Nguyen, R.N.
Almost a decade had passed since Brad's mother, Myrna Powers, had died unexpectedly from heart complications. She had spent two days as a patient in the intensive care unit (ICU) at Texas Health Dallas before being transferred to a different hospital where she passed away.
Although her time in the ICU at Texas Health Dallas was brief, "She captured the hearts of everyone who cared for her," said Thao Nguyen, R.N., one of Myrna's ICU caregivers. "She truly left behind a legacy of love and genuine kindness that left an impression on all of us."
Powers said that during those two days his interaction with the nurses taking care of his mother was unlike any other he had ever experienced.
"Their attention to not only my mother's medical needs, but also to our family's emotional needs was so authentic and personal," he said. "Even after we left the hospital, they continued to support us through the grieving process. I felt like even though we had just lost a family member, we had gained an extended family."
Almost a decade later Brad and his wife Kristin were expecting their second child. At 28 weeks of pregnancy, Kristin unfortunately experienced complications and was admitted to Texas Health Dallas for the remainder of her pregnancy.
On June 9, at 34 weeks of pregnancy, baby girl Emma Grace was born prematurely and transferred to the NICU.
Brad was able to provide updates to friends and family on their journey through Facebook, including the Powers' "extended family network" of nurses who, 10 years ago in the ICU at that same hospital, had been so touched by his mother during her final days.
One of those nurses was Thao Nguyen. She had since transferred from the hospital's adult ICU and was now working full time in the NICU, where she became baby Emma's nurse.
"I can't quite put into words how it felt to be caring for that sweet baby knowing that I had cared for her grandmother," Nguyen said. "I was also sad that she never got to meet her, but so happy that maybe I could be a part of the connection to her granddaughter."
Powers said that because of his faith he knows he will see his mom again in heaven. But to feel her looking down on Emma through the connections with the caregivers at the same hospital was as if she had brought them all together again in such a beautiful way.
After spending 10 days in the NICU, Emma was transferred to the Special Care Nursery, where she spent two weeks before being discharged.
Brad, Kristin, Emma and big brother Caden are now all safely home together.
About Texas Health Resources
Texas Health Resources is a faith-based, nonprofit health system that cares for more patients in North Texas than any other provider. With a service area that consists of 16 counties and more than 7 million people, the system is committed to providing quality, coordinated care through its Texas Health Physicians Group and 29 hospital locations under the banners of Texas Health Presbyterian, Texas Health Arlington Memorial, Texas Health Harris Methodist and Texas Health Huguley. Texas Health access points and services, ranging from acute-care hospitals and trauma centers to outpatient facilities and home health and preventive services, provide the full continuum of care for all stages of life. The system has more than 4,100 licensed hospital beds, 6,400 physicians with active staff privileges and more than 26,000 employees. For more information about Texas Health, call 1-877-THR-WELL, or visit www.TexasHealth.org.