January 22, 2020
Addition increases scope of on-demand medical care after 2018 launch in Dallas area
DENVER — DispatchHealth, a provider of tech-enabled in-home health care, today announced an expanded collaboration with Texas Health Resources, a large nonprofit health system in North Texas. The expansion enables on-demand medical care for Fort Worth residents in the comfort of their home, helps reduce unnecessary visits to the emergency room and improves access to care, especially for patients with limited transportation options. The expansion comes one year after a successful launch of the service in the Dallas area.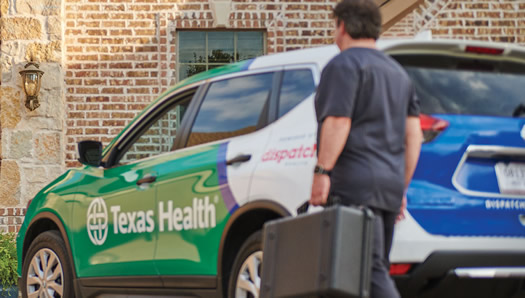 The collaboration with DispatchHealth is expected to benefit the senior population and those with chronic illnesses who may face hurdles in accessing health care.
Patients in need of acute medical care can contact DispatchHealth via app, phone call or website, to have a medical team arrive at their house, senior living facility or place of need, usually in less than two hours. Texas Health Physicians Group providers will also refer patients who may benefit from the service, which in turn improves patient satisfaction and clinical outcomes.
The medical team is comprised of a physician assistant or nurse practitioner and a medical technician. DispatchHealth can treat a wide range of acute illnesses and injuries, including fall injuries, dehydration, cuts requiring sutures and other common ailments. The medical teams can also perform a variety of advanced tests and treatments, ranging from blood tests, a 12-lead EKG, IV fluids and more.
"This mobile medical care service provides our patients with easy access to quality medical care in the most convenient setting possible," said Winjie Miao, senior executive vice president and chief experience officer at Texas Health Resources. "Our patients and their families are especially happy with this affordable option as it prevents unnecessary travel to and from an outpatient center or hospital emergency room."
This collaboration will continue to benefit the senior population and those with chronic illnesses who may face hurdles in accessing health care, often due to lack of transportation. A visit from DispatchHealth provides early intervention and helps aging adults avoid hospital admission.
While DispatchHealth is not a substitute for emergency care for life-threatening injuries and illnesses, it does prevent unnecessary and costly ER trips. Since initially launching in early 2018, DispatchHealth and Texas Health have conducted 3,584 visits, helping patients reduce medical costs.
"We want to make quality medical care as accessible as possible but also affordable and centered around the needs of the patient," said Dr. Mark Prather, CEO of DispatchHealth. "In our continued collaboration with Texas Health Resources, we're able to expand access to convenient care that's an economical option for residents in the Dallas and Fort Worth regions."
For continuity of care, DispatchHealth provides a detailed report to each primary care physician, senior living community or home health agency, in addition to electronically sending prescriptions to a patient's pharmacy if needed. Medical teams are available between 8 a.m. and 10 p.m., seven days a week, including holidays.
About DispatchHealth
DispatchHealth has redefined health care delivery to offer on-demand acute care and advanced medical care for people of all ages in the comfort of their own home. DispatchHealth's emergency trained medical teams are equipped with all the tools necessary to treat common to complex injuries and illnesses. DispatchHealth works closely with payers, providers, health systems and others to deliver care in the home to reduce unnecessary emergency room visits, as well as hospital stays and readmissions. A visit with DispatchHealth typically costs 80-90 percent less than the average emergency room visit. Acute care medical teams are available during the day and also on weekends, evenings and holidays, and can be requested via app, online or a quick phone call. Advanced Care and Extended Care patients must be referred by a health care professional. DispatchHealth is partnered with most major insurance companies. For more information, visit DispatchHealth.com.
About Texas Health Resources
Texas Health Resources is a faith-based, nonprofit health system that cares for more patients in North Texas than any other provider. With a service area that consists of 16 counties and more than 7 million people, the system is committed to providing quality, coordinated care through its Texas Health Physicians Group and 29 hospital locations under the banners of Texas Health Presbyterian, Texas Health Arlington Memorial, Texas Health Harris Methodist and Texas Health Huguley. Texas Health access points and services, ranging from acute-care hospitals and trauma centers to outpatient facilities and home health and preventive services, provide the full continuum of care for all stages of life. The system has more than 4,100 licensed hospital beds, 6,400 physicians with active staff privileges and more than 26,000 employees. For more information about Texas Health, call 1-877-THR-WELL, or visit www.TexasHealth.org.