November 09, 2020
Breeze Urgent Care will offer extended hours at 20 locations, 365 days a year
ARLINGTON, Texas — Texas Health Resources is pleased to announce the launch of a new urgent care model that offers patients a personalized experience from the moment they walk through the door.
With the opening of 20 locations across North Texas, Texas Health is investing approximately $44 million in Texas Health Breeze Urgent Care,™ a modern approach to urgent care that offers patients fast, convenient and personalized care with upscale amenities and transparent, affordable pricing.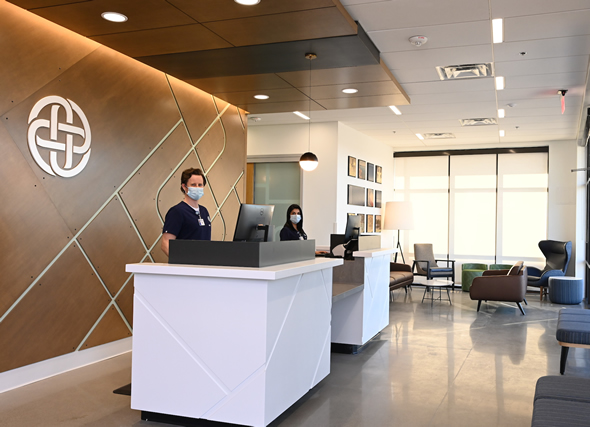 Breeze Urgent Care Lobby
Texas Health Breeze Urgent Care™ was purpose-built for people with active lifestyles who can expect to be in and out within 30 minutes — often with medications in hand.
"This is not the old, traditional way of providing urgent care," said Jamie Harraid, Texas Health vice president of Ambulatory Services. "It will open the door to existing and new patients who may not have a relationship with a primary care doctor or for those who like the convenience of urgent care but are looking for a better model."
Breeze Urgent Care was designed to be more efficient with patients' needs and comforts in mind.
"There's no more traditional check-in desks or waiting in a crowded lobby with other sick people. Instead, patients will be greeted by a personal clinical concierge, a point person who will guide them through their entire visit from arrival to discharge," Harraid said. "Each patient will also be seen by a Texas Health nurse practitioner or physician assistant who can diagnose their condition, answer their questions and provide various treatment options."
The first Texas Health Breeze Urgent Care™ opens Nov. 9 in McKinney, followed by three additional locations in the Dallas-Fort Worth area this year and 20 total locations by the summer of 2021.
Patients can access care at the new centers in multiple ways, including online reservations or walk-ins. Breeze Urgent Care will offer extended hours for those who need quick care after most physician offices are closed and on holidays. The centers are open from 8 a.m. to 8 p.m., 365 days a year.
"We want to make this quick and convenient for consumers, while providing the kind of quality care you'd find in any doctor's office," said Glenn Owen, M.D., medical director of Texas Health Breeze Urgent Care.™ "In most cases, people will be heading back home within a half-hour, with medications in hand, so they don't have to stop at the local pharmacy to pick up a prescription."
The medications filled on-site will be included in the up-front pricing at the time of the visit, Owen added.
Common illnesses and injuries treated at the centers include colds and flu, earaches, fevers, minor fractures, minor burns, rash/poison ivy, school and sports physicals, minor allergic reactions, cuts and bruises, skin conditions, sore throat, sprains and urinary tract infections.
"Breeze Urgent Care is designed for people in their early 20s to early 40s who value convenience and an exceptional experience, especially those with children," said John Mitchell, ambulatory & post-acute and channel support services chief operating officer.
The new urgent care centers will also have a transparent, up-front pricing structure. For people without insurance, or who prefer not to use it, Breeze will offer inclusive, predictable pricing so patients know what they'll pay upfront — without any add-ons or hidden fees. In most cases, the cost will be the standard urgent care insurance copay, which is often $50 or less.
"Texas Health is committed to improving the health and well-being of the people in the communities we serve, in ways that meet our patients' needs and expectations," Mitchell said. "We believe this innovative experience and new service line will help Texas Health continue as the healthcare leader in North Texas."
Texas Health Breeze Urgent Care™ locations opening this year include:
3805 W University Dr., Ste. 100, McKinney
125 Davis Blvd., Southlake
4635 Frankford Rd., Dallas
975 Sam Rayburn Tollway, Ste. 140, Allen
About Texas Health Resources
Texas Health Resources is a faith-based, nonprofit health system that cares for more patients in North Texas than any other provider. With a service area that consists of 16 counties and more than 7 million people, the system is committed to providing quality, coordinated care through its Texas Health Physicians Group and 29 hospital locations under the banners of Texas Health Presbyterian, Texas Health Arlington Memorial, Texas Health Harris Methodist and Texas Health Huguley. Texas Health access points and services, ranging from acute-care hospitals and trauma centers to outpatient facilities and home health and preventive services, provide the full continuum of care for all stages of life. The system has more than 4,100 licensed hospital beds, 6,400 physicians with active staff privileges and more than 26,000 employees. For more information about Texas Health, call 1-877-THR-WELL, or visit www.TexasHealth.org.