May 01, 2020
Myles Turner makes grateful patient gift in honor of successful treatment for his dad
ARLINGTON, Texas — Texas Health Resources recently received a $50,000 donation from Myles Turner, a Bedford, native and NBA basketball player for the Indiana Pacers whose father was successfully treated for COVID-19 at Texas Health Harris Methodist Hospital Hurst-Euless-Bedford. The gift, in honor of his father, will directly support the COVID-19 Response Fund at Texas Health HEB, which benefits the immediate needs of front-line caregivers at the hospital.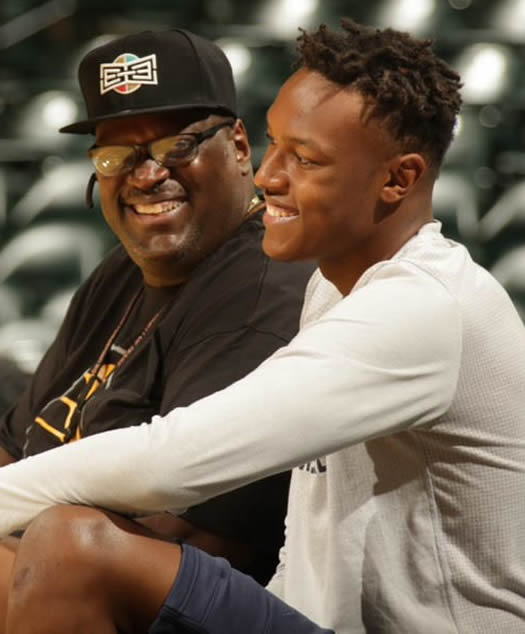 David and Myles Turner
"My family and I are extremely grateful for the dedication and care Texas Health gave my father," Turner said. "We weren't able to be with him while he was being treated, which was really hard, but knowing how well he was cared for gave us a lot of comfort. That's why we wanted to give something back to the people who dedicated themselves to getting him back to health. We prayed for his recovery every day and are thankful to have him home."
David Turner was admitted on March 24, also Myles' birthday, a little more than a week after experiencing flu-like symptoms. This first sign of illness led his wife, Mary, to rush him to an urgent care facility where he was diagnosed with Influenza and prescribed Tamiflu. He waited it out at home another four days with a persistent cough and eventually had to be taken to Texas Health HEB's emergency department. David was admitted, diagnosed with Pneumonia and administered the COVID-19 test. He was allowed no visitors from that point on. The test results came back positive for COVID-19 on March 27.
"I wasn't able to see my family for a number of days, which was very tough," David said. "I feel strongly that having loved ones by your side at a time like that can affect how you get through it. In my case I was right. My nurses — Jacqueline, Julianne, Jenna and Shelby — were my blessing. I can't express enough how appreciative I am for the care they gave me. They worked tirelessly to save my life, feel a sense of encouragement and keep me smiling."


Texas Health HEB registered nurses, from left, Julianne Kilonzo, Shelby Weldon, Jacqueline Schaffer and Jenna Cryer
Texas Health established the COVID-19 Response Fund to support front-line Texas Health Resources workers — thousands of employees selflessly serving the community every day — with basics like shelter, food, daycare and other critical medical equipment as they respond to the pandemic with courage and professionalism. The fund also supports the system's evolving work to ensure the health and well-being of the entire Texas Health community during this challenging time.
"We are deeply touched by this generous gift in recognition for the lifesaving care our team of caregivers provided during this unprecedented time," said Fraser Hay, president of Texas Health HEB. "This gift will enable us to further support our hospital's front-line caregivers while they remain focused on supporting the needs of our community. Mr. Turner is a great example of the quality of people in the Mid-Cities who we are so blessed to serve, and we thank him for continuing to look out for the needs of others."
To donate to each of the Texas Health campuses, please visit Texas Health Resources Foundation's donation page (www.TexasHealth.org/Giving). Please share your acts of generosity on social media using #helpTHfrontline.
About Texas Health Resources
Texas Health Resources is a faith-based, nonprofit health system that cares for more patients in North Texas than any other provider. With a service area that consists of 16 counties and more than 7 million people, the system is committed to providing quality, coordinated care through its Texas Health Physicians Group and 29 hospital locations under the banners of Texas Health Presbyterian, Texas Health Arlington Memorial, Texas Health Harris Methodist and Texas Health Huguley. Texas Health access points and services, ranging from acute-care hospitals and trauma centers to outpatient facilities and home health and preventive services, provide the full continuum of care for all stages of life. The system has more than 4,100 licensed hospital beds, 6,400 physicians with active staff privileges and more than 26,000 employees. For more information about Texas Health, call 1-877-THR-WELL, or visit www.TexasHealth.org.