October 20, 2020
Texas Health named to Texan by Nature 20 list
ARLINGTON, Texas — Texas Health Resources has again been named among companies with Texas operations that have demonstrated a commitment to conservation by Texan by Nature, an organization founded by former First Lady Laura Bush.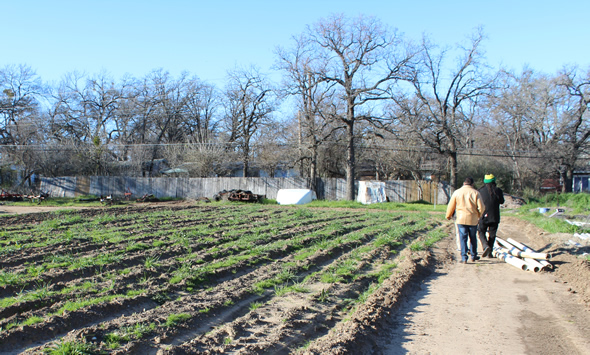 Texas Health Urban Farm
The second annual Texan by Nature 20 list recognizes the best and most innovative work in conservation coming from Texas-based businesses, according to the group. Texas Health is the only health care organization to be honored.
"Congratulations to this year's TxN 20! These companies are leaders in their industry and they are innovators in conservation. I am thrilled to recognize their efforts, and I encourage other companies to follow their example. Together, we can keep Texas thriving for the next generation," Bush said.
Texas Health maintains a wide-ranging series of initiatives that demonstrate a long-term commitment to conservation. Some initiatives for which Texas Health was recognized include:
Annually investing millions in projects that improve efficiency and lower natural gas consumption. Despite system growth, Texas Health has curtailed consumption by 2.56 percent over the past five years, which saved $15 million.
Installing water-efficient irrigation, sprinkler and plumbing systems and participating in a laundry cooperative that conserves millions of gallons of water annually.
Diverting hundreds of thousands of pounds of materials, including medical devices and single-use products, from landfills through recycling, reusing or reprocessing initiatives. The system also hosts community shredding and recycling drives.
Texas Health is committed to upgrading to more energy-efficient equipment, such as boilers and chillers, in existing facilities and to including state-of-the-art green features in new buildings.
The commitment can be seen in Texas Health Hospital Frisco, which opened last December. The campus, a collaboration between Texas Health and UT Southwestern Medical Center, was designed to be energy efficient.
Pre-cast concrete facades at Texas Health Frisco reduce demand for air conditioning, and a self-sustaining irrigation system is fed by rainfall and excess condensation from the air-conditioning system. Additionally, the native plant life on the campus is sustained through an underground detention pond in the landscaped area of the parking lot.
"Conservation of resources is vital to Texas Health's long-term sustainability and to the well-being of the people living in the communities we serve," said Shaun Clinton, senior vice president, Supply Chain Management.
Texas Health was also recognized for the work of Blue Zones Project® Fort Worth in creating Fort Worth's Urban Agriculture Ordinance, which allows vacant lots to be converted to urban farms without rezoning and policy amendments. This enables more farmers markets, which are necessary to distribute the produce grown in urban areas.
"We're happy to have played a role in removing red tape to help turn vacant lots into a food source for all residents, especially those that may have limited access to food," said Matt Dufrene, vice president of North Texas Healthy Communities/Blue Zones Project Fort Worth.
Texas Health's conservation and sustainability work is vital to fulfilling the system's Mission to improve the health of the people in the communities it serves, Clinton said.
"For a health system, conservation is about providing the most affordable, accessible and appropriate resources that improve people's health."
To learn more about the Texan by Nature 20 honorees go to texanbynature.org.
About Texas Health Resources
Texas Health Resources is a faith-based, nonprofit health system that cares for more patients in North Texas than any other provider. With a service area that consists of 16 counties and more than 7 million people, the system is committed to providing quality, coordinated care through its Texas Health Physicians Group and 29 hospital locations under the banners of Texas Health Presbyterian, Texas Health Arlington Memorial, Texas Health Harris Methodist and Texas Health Huguley. Texas Health access points and services, ranging from acute-care hospitals and trauma centers to outpatient facilities and home health and preventive services, provide the full continuum of care for all stages of life. The system has more than 4,100 licensed hospital beds, 6,400 physicians with active staff privileges and more than 26,000 employees. For more information about Texas Health, call 1-877-THR-WELL, or visit www.TexasHealth.org.