April 22, 2020
Caregivers interact with patients in isolation using specially programmed tablets
ARLINGTON, Texas — To help protect care team members and patients, Texas Health Resources recently changed how caregivers interact with patients in isolation in the Emergency Department.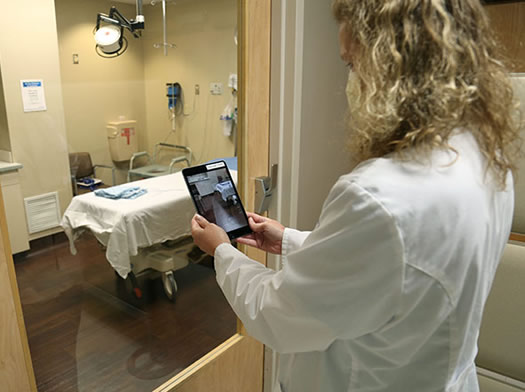 Virtual Care minimizes exposure and conserves personal protective equipment.
ED physicians and nurses can now communicate with patients virtually, using specially programmed tablets to minimize exposure and conserve personal protective equipment (PPE). The tablets are placed in patient rooms and controlled by "home tablets" kept outside the rooms.
"While direct patient care will still be necessary in some instances, incorporating a virtual platform when appropriate will minimize exposure to our care team members and conserve personal protective equipment," said Kirk King, hospital channel chief operating officer. "The safety of our care team members and patients is our top priority."
The tablets have been deployed to EDs systemwide.
"Whenever you put a patient in an isolation room, you turn on the tablet and point it toward them, so we can turn it on and off by the home tablet, and close the door," said Heather Whited, B.S.N., R.N., manager of emergency services at Texas Health Presbyterian Hospital Denton. "Physicians can use them instead of entering the room for an initial meeting, updates, questions and more, without any exposure."
At Texas Health Presbyterian Hospital Dallas, physicians often use the tablets to take an initial history from patients in isolation, or to ask follow-up questions.
"The physicians really like it," said Jennifer Hay, M.S.N., R.N., director of emergency and trauma services. "The patient can see the physician, and the physician can see them."
Nurses also use the tablets to check on patients more often or provide updates without risking exposure, Whited and Hay said.
"You don't have to get into PPE just to ask how the patient is doing or if they need anything," Whited said. "It decreases the number of times we have to go in and out of the room."
Although nurses and physicians needed some training to use the devices, patients don't need any technical knowledge.
"The patient doesn't have to touch it at all," Hay said. "It's all controlled by the care team tablets."
Patient privacy is maintained by turning the device on and off remotely, Whited added.
"We make sure it's all done on our end," she said. "But to give patients their privacy, we only turn it on when needed."
Response has been overwhelmingly positive.
"It's going really well," Whited said. "We've had all positive feedback from patients, providers and nurses. The patients really seem to understand the need for distancing, so we haven't had any negative comments. We're really pleased with it."
About Texas Health Resources
Texas Health Resources is a faith-based, nonprofit health system that cares for more patients in North Texas than any other provider. With a service area that consists of 16 counties and more than 7 million people, the system is committed to providing quality, coordinated care through its Texas Health Physicians Group and 29 hospital locations under the banners of Texas Health Presbyterian, Texas Health Arlington Memorial, Texas Health Harris Methodist and Texas Health Huguley. Texas Health access points and services, ranging from acute-care hospitals and trauma centers to outpatient facilities and home health and preventive services, provide the full continuum of care for all stages of life. The system has more than 4,100 licensed hospital beds, 6,400 physicians with active staff privileges and more than 26,000 employees. For more information about Texas Health, call 1-877-THR-WELL, or visit www.TexasHealth.org.