August 21, 2020
North Carolina duo gives back through mask sales, recognition of Dallas production partner
ARLINGTON, Texas — Texas Health Resources recently received a $5,000 donation from two teenage brothers in Raleigh, North Carolina, to directly support the COVID-19 Response Fund at Texas Health, which benefits the immediate needs of front-line caregivers.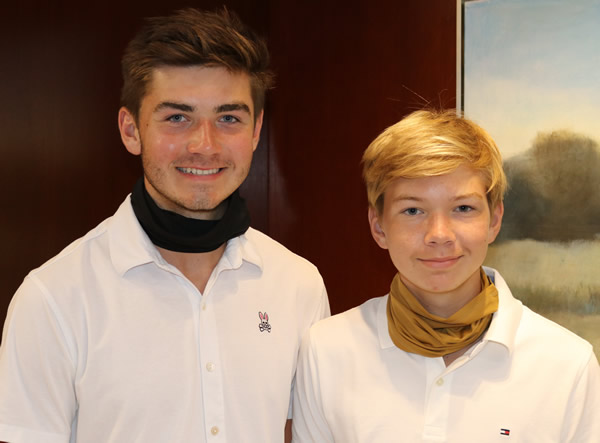 Dylan, left, and Connor Clark
With school postponed this spring, Dylan and Connor Clark launched CopperSAFE Masks in late April as a smarter, more comfortable solution to help people stay safe in public settings. Both CopperSAFE Masks and Red Tractor Masks, a secondary line later launched by the teens, are worn around the neck, and offer a far more comfortable, convenient and reusable mask for both kids and adults compared to traditional-style masks.
CopperSAFE Masks has garnered national attention as individuals, families, businesses, and schools have relied on CopperSAFE to help protect their loved ones, their employees, and their students across America. Sonrise Apparel Services LLC in Dallas is a CopperSAFE production partner. Due to the overwhelming response and success of their business, Dylan and Connor have been able to monetarily give back in the communities where they manufacture and distribute their masks and chose to support front-line healthcare workers at Texas Health, which cares for more patients than any other provider in North Texas.
"From the moment each of us first heard the term 'coronavirus' until today, front-line health care workers have been there for those stricken by COVID-19," said Dylan Clark, CopperSAFE CEO. "Day after day, night after night, they have clocked in for their shift, knowing the risks but driven by a call to serve others."
Connor Clark, Chief Marketing Officer, added: "Our respect for these doctors, nurses and administrators is unending. And today, we are incredibly proud to give back through a donation to Texas Health in recognition of their commitment to help the patients of north Texas during this pandemic."
The brothers will continue to fund additional donations to Texas Health, based upon future sales of CopperSAFE masks in Texas.
"Texas Health is very grateful for the generous donation from CopperSAFE to support our front-line caregivers," said Jay McAuley, president of Texas Health Resources Foundation. "We are so appreciative Dylan and Connor chose us to benefit from their generosity, and as young philanthropists, they set a wonderful example and inspiration for the next generation of donors."
Texas Health established the COVID-19 Response Fund to support front-line workers — thousands of employees selflessly serving the community every day — with basics like shelter, food, daycare and other critical medical equipment as they respond to the pandemic with courage and professionalism. The fund also supports the system's evolving work to ensure the health and well-being of the entire Texas Health community during this challenging time.
To donate to Texas Health's COVID-19 Response Fund, please visit Texas Health Resources Foundation's donation page (www.TexasHealth.org/Giving). Please share your acts of generosity on social media using #helpTHfrontline.
About CopperSAFE
CopperSAFE Masks is a Raleigh, NC based, copper infused mask company started by teen brothers, Dylan and Connor Clark. The brothers launched CopperSAFE Masks in late April 2020 when they saw the need for smarter, more comfortable masks during COVID-19. Since their launch, they have been able to not only garner national attention but have also secured partnerships with multiple Fortune 500 companies, ACC schools, and other organizations. Due to the overwhelming response, Dylan and Connor have been able to raise thousands of dollars, which they have donated to various healthcare systems to help fight COVID-19.
About Texas Health Resources
Texas Health Resources is a faith-based, nonprofit health system that cares for more patients in North Texas than any other provider. With a service area that consists of 16 counties and more than 7 million people, the system is committed to providing quality, coordinated care through its Texas Health Physicians Group and 29 hospital locations under the banners of Texas Health Presbyterian, Texas Health Arlington Memorial, Texas Health Harris Methodist and Texas Health Huguley. Texas Health access points and services, ranging from acute-care hospitals and trauma centers to outpatient facilities and home health and preventive services, provide the full continuum of care for all stages of life. The system has more than 4,100 licensed hospital beds, 6,400 physicians with active staff privileges and more than 26,000 employees. For more information about Texas Health, call 1-877-THR-WELL, or visit www.TexasHealth.org.