October 13, 2020
Hospital recognized with federal Workplace Partner for Life Platinum honor
ARLINGTON, Texas — Texas Health Presbyterian Hospital Dallas was recently recognized by the U.S. Health Resources and Services Administration (HRSA) for its work to raise awareness of organ and tissue donation. The hospital received the Workplace Partner for Life Platinum Award for working with Southwest Transplant Alliance to raise awareness and register organ and tissue donors.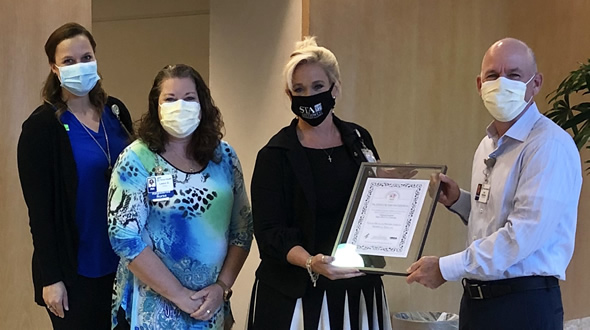 Event participants, from left, Rachael Ragsdale, Laura Garlow, Yvette Chapman and Jim Parobek.
Yvette Chapman, vice president, business partner development for Southwest Transplant Alliance, presented the award certificate to Texas Health Dallas President Jim Parobek and hospital Trauma Program Manager Laura Garlow at the hospital on Oct. 5.
"Your ongoing support has helped us continue to save lives through donation," said Chapman, B.S.N., R.N., CCTC. "As we all know, despite all that has gone on in our world, the transplant waiting list can't wait."
Garlow noted the hospital's extensive collaboration with Southwest Transplant Alliance.
"We work closely with them to communicate to patients, families and hospital staff the potentially lifesaving importance of organ and tissue donation. It's heartening to be recognized for increasing awareness around vital end-of-life decisions," said Garlow, M.H.A., B.S.N., R.N.
"Our goal in working together is to improve the quality of care we give our patients that would preserve the patient's or family's decision to become an organ donor. This supports the community's need for organ and tissue donation."
The Workplace Partnership for Life Hospital Campaign is sponsored by HRSA, a part of the U.S. Department of Health and Human Services (HHS), and supported locally by Southwest Transplant Alliance, to encourage donor registration and support within hospital communities.
Texas Health Dallas was recognized for having 16 organ donors in 2019, the most ever for the hospital. Southwest Transplant Alliance, which serves the organ procurement region that includes Texas Health's eastside hospitals, submitted Texas Health Dallas for the Platinum Award.
The hospital's work with Southwest Transplant Alliance includes tissue, such as eyes, long bones, tendons and skin, as well as organ donation.
"A patient can save up to eight lives through donation of various organs, but tissue donation has essentially limitless uses," said Rachael Ragsdale, Southwest Transplant Alliance hospital services coordinator and liaison with Texas Health Dallas. "Only three in 1,000 deaths occur in a way where the patient can be an organ donor, but tissue and eye donation can happen after cardiac death."
There are currently 113,000 Americans, including 10,000 Texans, waiting for a lifesaving organ transplant. On average, 20 people die each day waiting for an organ transplant. And every 10 minutes, another person is added to the transplant waiting list, according to Southwest Transplant Alliance.
To help meet transplantation needs, Texas Health Dallas has established a Donor Advisory Committee to coordinate hospital work among service lines, including trauma, neurology clinical care, surgery and women's services.
Along with managing the hospital's organ and tissue donation program, Garlow serves as chair of Texas Health's Trauma Program Managers Workgroup and of the Trauma Committee of the North Central Texas Central Regional Trauma Advisory Council.
Parobek emphasized the effect of the hospital's work with Southwest Transplant Alliance to build awareness of organ and tissue donation.
"Texas Health Dallas is committed to supporting the end-of-life decisions of our patients," Parobek said. "Raising awareness in our community is important to us as healthcare providers. Texas Health values our relationships with Southwest Transplant Alliance and the UT Southwestern Transplant Services Center as we work together in service to our community."
Organ and tissue donation should be a part of end-of-life discussions between patients and their families, Garlow said. The information provided through the collaborative work between the hospital and Southwest Transplant Alliance is critical to that.
"So many lives can be positively impacted when we enhance opportunities for patients to give a final, lifesaving gift."
About Texas Health Resources
Texas Health Resources is a faith-based, nonprofit health system that cares for more patients in North Texas than any other provider. With a service area that consists of 16 counties and more than 7 million people, the system is committed to providing quality, coordinated care through its Texas Health Physicians Group and 29 hospital locations under the banners of Texas Health Presbyterian, Texas Health Arlington Memorial, Texas Health Harris Methodist and Texas Health Huguley. Texas Health access points and services, ranging from acute-care hospitals and trauma centers to outpatient facilities and home health and preventive services, provide the full continuum of care for all stages of life. The system has more than 4,100 licensed hospital beds, 6,400 physicians with active staff privileges and more than 26,000 employees. For more information about Texas Health, call 1-877-THR-WELL, or visit www.TexasHealth.org.