April 22, 2020
Residents offering valuable donations and well-wishes
ARLINGTON, Texas — As Texas Health Resources and other health systems continue to address the COVID-19 pandemic affecting North Texas residents, the outpouring of donations has been received warmly and is greatly appreciated.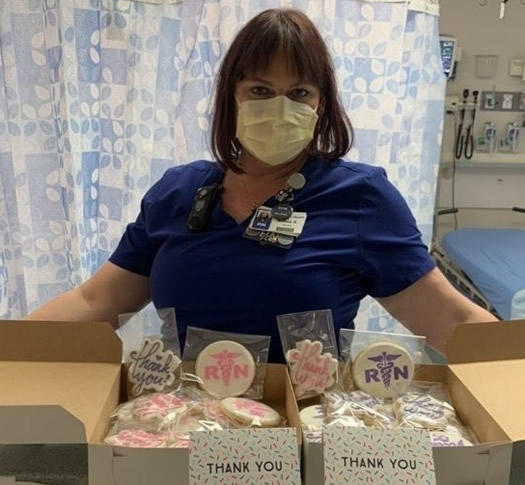 Krista Schaefer, R.N., displays cookies donated to staff members at Texas Health Dallas.
Employees at several Texas Health facilities have received numerous donations, including masks made by local companies, bottles of hand sanitizer, bouquets of flowers, along with nutritious food deliveries and hotel accommodations. To date, Texas Health has coordinated with more than 400 donors for in-kind donations of meals for front-line caregivers or personal protective equipment.
To meet the growing demand, Texas Health has established a COVID-19 Response Fund to support its front-line workers — thousands of employees selflessly serving the community every day — with basics like shelter, food, daycare and other critical medical equipment as they respond to the pandemic with courage and professionalism. The fund also supports Texas Health's evolving work to ensure the health and well-being of the entire Texas Health community during this challenging time.
To efficiently donate to each of the Texas Health campuses, please visit Texas Health Resources Foundation's donation page: www.TexasHealth.org/Giving. Please share your acts of generosity on social media using #helpTHfrontline.
Texas Health truly appreciates the community's sincere gratitude for front-line workers — true heroes demonstrating their selflessness and sacrifice daily. By working together, North Texans will not face these trying times ahead, alone. They will be faced and overcome, together.
Individuals wanting to creatively show support and appreciation for Texas Health employees and physicians on the medical staffs are encouraged to do so virtually. Those interested can join the Hearts for Healthcare Workers social media campaign. Participants have the option of creating cards, posters, or even videos. Creative expressions can then be shared on social media with #HeartsForHealthcareWorkers.
About Texas Health Resources
Texas Health Resources is a faith-based, nonprofit health system that cares for more patients in North Texas than any other provider. With a service area that consists of 16 counties and more than 7 million people, the system is committed to providing quality, coordinated care through its Texas Health Physicians Group and 29 hospital locations under the banners of Texas Health Presbyterian, Texas Health Arlington Memorial, Texas Health Harris Methodist and Texas Health Huguley. Texas Health access points and services, ranging from acute-care hospitals and trauma centers to outpatient facilities and home health and preventive services, provide the full continuum of care for all stages of life. The system has more than 4,100 licensed hospital beds, 6,400 physicians with active staff privileges and more than 26,000 employees. For more information about Texas Health, call 1-877-THR-WELL, or visit www.TexasHealth.org.