September 08, 2020
Patient care technicians offer support at Texas Health Cleburne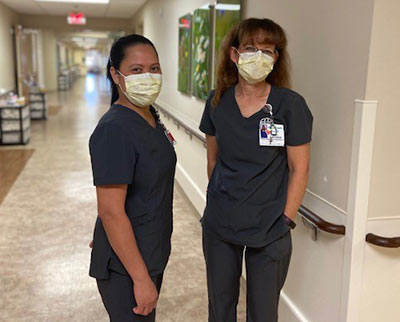 Rosemarie Nelson and Heather Magers
As night begins to fall at Texas Health Harris Methodist Hospital Cleburne, Heather Magers and Rosemarie Nelson start their 6 p.m. shifts.
They will spend the next 12 hours continuously in and out of rooms, donning and doffing personal protective equipment, caring for COVID-19 positive patients and persons under investigation for the virus. The two patient care technicians typically tend to about 15 patients each, checking vitals, helping with toileting, helping to turn them, feeding them, changing linens.
And then, they hold their patients' hands while they cry.
"It's really hard during COVID, because we always take precautions for ourselves so we can take care of them. They're impatient for us to be there right away," Nelson said. "Some patients are scared about COVID. They're crying because they're scared."
Magers agreed that sometimes they cope with emotionally difficult situations, but added, "To me, I'm thankful because I can be with somebody and be their comfort zone."
'They remember you'
PCTs answer to nurses and charge nurses, taking care of requests that are sometimes small, sometimes physically taxing, but vital and nonstop throughout their shifts.
"I did it for a while, when I was going through nursing school, and I loved it — you will spend more time with a patient than anyone else," said Adam Jobe, M.H.A., manager of the med-surg progressive care unit and interim manager of the Texas Health Cleburne intensive care unit. "You're in the room so much more often than any other person in the hospital. They remember you. When I was a PCT, I made so many friends throughout the community."
Magers, who grew up in Crowley, said she became interested in healthcare because two of her children had health issues, other family members had cancer and then she tended her father before he died.
"That's what really hit home for me," she said. "I wanted to learn and understand a little bit more." She began the work after a 14-year career in fast food.
Nelson, who came to the U.S. from the Philippines six years ago, had previously been in sales. She said she realized she wanted to help others after caring for a 94-year-old woman who lived independently.
"I learned a lot interacting with patients and that I really have the patience to understand them," she said. "That lady was very, very sweet."
Neither of them minds the unpleasant work that comes with the job — diapering patients and caring for disgruntled patients who don't want them there while they are in the bathroom (the PCTs have to monitor patients for safety).
"I raised four kids and I'm taking care of two grandkids," said Magers. "It doesn't bother me."
Compassion and heart
Adam said both women are hard workers who never complain.
"It's hard work, there are continuous requests, they may have a patient who's also coming down on them and being very hateful," he said. All that comes down on you and sometimes it can make people have a negative attitude. I never hear anything negative out of them."
Magers and Nelson both like the night shift. "We have a great team at night," Nelson said. "We help each other."
Strong teamwork is the norm at Texas Health Cleburne, said Ajith Pai, PharmD, FACHE, the hospital's president.
"We all work together 24/7 to improve the health of the people in our community," he said. "Our hard work is driven by compassion and a calling for service to others."
Magers agreed.
"If you don't have a heart for something like this, don't do it," she said. "It's about the compassion and the heart. They've got to have that smile on their face when they go home. That's what makes it all worth it."
About Texas Health Resources
Texas Health Resources is a faith-based, nonprofit health system that cares for more patients in North Texas than any other provider. With a service area that consists of 16 counties and more than 7 million people, the system is committed to providing quality, coordinated care through its Texas Health Physicians Group and 29 hospital locations under the banners of Texas Health Presbyterian, Texas Health Arlington Memorial, Texas Health Harris Methodist and Texas Health Huguley. Texas Health access points and services, ranging from acute-care hospitals and trauma centers to outpatient facilities and home health and preventive services, provide the full continuum of care for all stages of life. The system has more than 4,100 licensed hospital beds, 6,400 physicians with active staff privileges and more than 26,000 employees. For more information about Texas Health, call 1-877-THR-WELL, or visit www.TexasHealth.org.