January 04, 2021
COVID-19 survivor recounts treatment at forerunner of Texas Health Dallas, where she was born 68 years ago
DALLAS — Karen Stephenson never expected she would contract COVID-19, let alone be treated at the same hospital where she was born — Texas Health Presbyterian Hospital Dallas.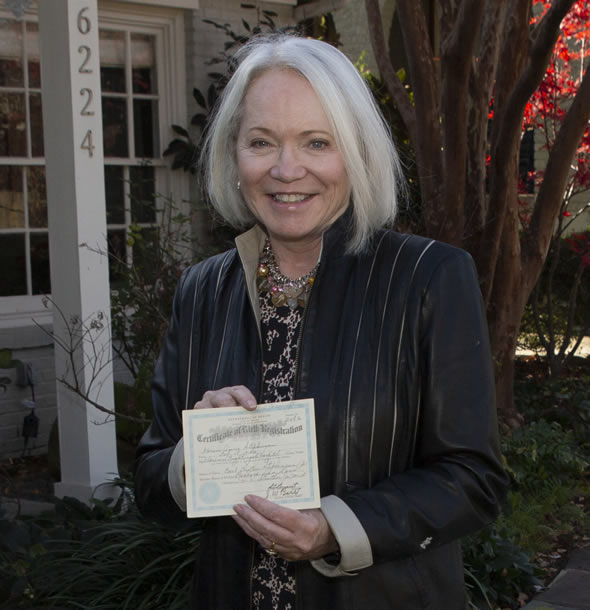 Karen Stephenson displays her 1950s birth certificate.
"I guess you would consider me alumni of Texas Health Dallas," said Stephenson, a COVID-19 survivor. "My brother reminded me that we were both born at the original Presbyterian Hospital in Dallas before it moved to its current location."
Stephenson, 68, decided to get a COVID-19 test in November after returning home from a work trip.
"When I found out the results were positive, you could hear my jaw drop because I had no symptoms," she said.
Stephenson takes pride in a healthy lifestyle that includes walking six miles per day.
But that stopped when she started showing symptoms of COVID-19 and progressively got worse while self-quarantining at home.
She reached out to her neighbor, a geriatric physician, who told her to seek care at Texas Health Dallas' ER.
"I really noticed a shortness of breath after walking up the hospital steps," she said.
A chest X-ray confirmed Stephenson had COVID-19. She was placed in an isolated area in the ER and received her own patient room that evening.
Her main symptoms included a headache or severe head pain and night sweats — a milder case of COVID-19, she added.
"I felt scared when I came down with symptoms at home, but not when I was in the care of doctors and nurses," she said.
Stephenson spent five days in the hospital, which she calls a "humbling experience." She was grateful to connect on the phone with her brother, who lives in Fort Worth.
"I can't say enough good things about Texas Health Dallas," she said. "The staff was fantastic, and the food was excellent."
Stephenson wanted to do more to show her appreciation, so she wrote a letter to the hospital president.
It read in part, "The nurses and technicians that rotated during the time I was there were kind, competent and exemplary at their jobs. The discharge nurse who wheeled me to my car, Viviane, was a model of efficiency and organization."
Jim Parobek, president of Texas Health Dallas, appreciated the letter of commendation and sent her one back.
"We haven't treated many alumni for COVID-19 but I'm glad she had a good stay while she was here," he said. "Our staff is extraordinary. They've been dealing with this pandemic for 10 months now and they continue to provide exceptional care for everyone."
Stephenson is now back to her old routine — walking six miles a day — and feels "completely healthy." She plans to donate blood plasma to help critically ill COVID-19 patients recover from the virus.
If you are interested in learning more about donating blood plasma, visit www.TexasHealth.org/Donate-Plasma.
About Texas Health Resources
Texas Health Resources is a faith-based, nonprofit health system that cares for more patients in North Texas than any other provider. With a service area that consists of 16 counties and more than 7 million people, the system is committed to providing quality, coordinated care through its Texas Health Physicians Group and 29 hospital locations under the banners of Texas Health Presbyterian, Texas Health Arlington Memorial, Texas Health Harris Methodist and Texas Health Huguley. Texas Health access points and services, ranging from acute-care hospitals and trauma centers to outpatient facilities and home health and preventive services, provide the full continuum of care for all stages of life. The system has more than 4,100 licensed hospital beds, 6,400 physicians with active staff privileges and more than 26,000 employees. For more information about Texas Health, call 1-877-THR-WELL, or visit www.TexasHealth.org.