August 23, 2021
Sheri Puffer, M.D., an obstetrician-gynecologist with Women's Health Services in Arlington who also is on the medical staff at Texas Health Arlington Memorial Hospital, addresses questions she often hears from her patients regarding the COVID-19 vaccines.
What risks are associated with unvaccinated pregnant women contracting COVID?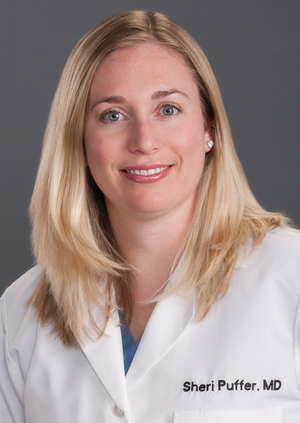 Sheri Puffer, M.D.
We've been seeing many pregnant women testing positive in our labor and delivery unit. Even if asymptomatic, they could still pass the virus to their family and their newborn baby.
We've also seen moms who come in with COVID that are symptomatic. If they're pre-term, they run the risk of needing a pre-term delivery as they could be unable to oxygenate the baby if the mom has difficulty breathing. When a baby is delivered pre-term, this can have lifelong consequences.
Should you avoid getting the vaccine in your first trimester?
A big fear I hear about is miscarriage. People are really scared that if they get the vaccine in the first trimester, they're going to have a miscarriage. That is unfounded. About 25% of all pregnancies end in miscarriage and, often, we just don't know what causes them. Genetics plays a huge role. But there is no evidence to support that vaccines cause miscarriages, so I don't recommend that patients wait, especially in current times with the delta variant. I recommend that they get it even if they're newly pregnant.
Can vaccines cause infertility?
The infertility risk is unfounded. There's no scientific basis for it at all. It's just unfortunately a terrible rumor that got spread on social media and now we're having to work very hard to get the facts out there that this is not true. All the major organizations – the American College of Obstetrics and Gynecology, the Society for Maternal and Fetal Medicine and the American Society For Reproductive Medicine – have all said that there's no risk and have recommended vaccination for people attempting to have children, those who are pregnant and people who are lactating.
Will getting the vaccine while breastfeeding harm your baby?
If you're breastfeeding and haven't received the vaccine, it's a perfect time to get it because the antibodies you produce will then pass to your baby and protect your baby as well. In the third trimester of pregnancy, we provide another vaccine called Tdap (tetanus toxoid, reduced diphtheria toxoid and acellular pertussis) which protects against whooping cough. The whole point of doing that vaccine is to protect your baby in the first year of life. We believe the COVID vaccine works in a similar fashion.
Will pregnant women experience worse side effects from the vaccine?
Actually, we've noticed that pregnant women sometimes have a more muted response to the vaccine though, with any vaccine, reactions can vary. In general, after the first shot, most people don't feel too much, maybe a little fatigued. After the second shot, I feel like it's 50/50. Some people have fever, chills and don't feel great, but it's very short-lasting, usually only up to 24 hours and then you're done with it. I don't think in general pregnant women should expect any worse side effects.
If some people who have received the vaccine have still gotten COVID, why should pregnant, breastfeeding and women wanting to get pregnant get the vaccine?
The vaccine is not a miracle. It is not something that guarantees you will not get this virus. It will, however, make the disease course not as severe —preventing hospitalizations and deaths in particular— and that's the biggest thing. Most of the time, if you get COVID when you have the vaccine, you will not die and you will not have serious symptoms.
Should pregnant women, those breastfeeding or women wanting to get pregnant obtain a third dose of the vaccine or a booster shot?
The FDA has authorized an additional dose of the Pfizer or Moderna vaccine for certain immunocompromised people. An additional dose under this indication is specifically for individuals with underlying immune system conditions that may have prevented them from fully responding to the first vaccination series. Talk to your doctor to determine if you fit the criteria to receive an additional dose for this reason.
Additionally, public health and medical experts recently announced plans to offer COVID-19 booster shots to all Americans, citing the threat from the delta variant and concerns related to waning immunity over time. The plan calls for an extra dose eight months after people get their second shot of the Pfizer or Moderna vaccine. The doses could begin the week of Sept. 20, although most will become eligible later in the fall. Officials noted that booster shots will also likely be needed for people who received the Johnson & Johnson vaccine.
About Texas Health Resources
Texas Health Resources is a faith-based, nonprofit health system that cares for more patients in North Texas than any other provider. With a service area that consists of 16 counties and more than 7 million people, the system is committed to providing quality, coordinated care through its Texas Health Physicians Group and 29 hospital locations under the banners of Texas Health Presbyterian, Texas Health Arlington Memorial, Texas Health Harris Methodist and Texas Health Huguley. Texas Health access points and services, ranging from acute-care hospitals and trauma centers to outpatient facilities and home health and preventive services, provide the full continuum of care for all stages of life. The system has more than 4,100 licensed hospital beds, 6,400 physicians with active staff privileges and more than 26,000 employees. For more information about Texas Health, call 1-877-THR-WELL, or visit www.TexasHealth.org.