June 07, 2021
Texas Health Denton recognized for comprehensive birthing services
DENTON, Texas — Expectant mothers in Denton County now have both a Level III Maternal Care program and a Level III Neonatal Intensive Care Unit available to them at Texas Health Presbyterian Hospital Denton.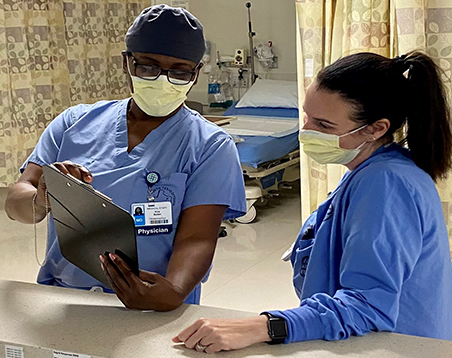 Kira Butler, M.D., and registered nurse Jessica Perez collaborate on patient care at Texas Health Denton, where about 2,000 babies are born annually.
Together the designations from the Texas Department of Health and Human Services reflect that Texas Health Denton meets standards to provide comprehensive maternal and infant care available for North Texas families. About 2,000 babies are born annually at Texas Health Denton, the only hospital in Denton that provides labor and delivery services.
"Our Level III maternal and neonatal programs allow us to provide specialty maternal and neonatal care close to home for Denton County mothers and families," said Melissa Winans, D.N.P., M.B.A.-H.C.M., R.N., NEA-BC, FACHE, chief nursing officer at Texas Health Denton.
"The designation demonstrates our continued commitment to being the provider of choice for obstetric, maternal and neonatal care in Denton," Winans said.
A Level III maternal care facility provides comprehensive care for pregnant women, with programs focused on healthy pregnancies including non-invasive therapies to avoid unnecessary c-sections, breastfeeding support, education, and medical and surgical treatments for complex obstetrical conditions.
The state implemented the rating system for maternal care programs and neonatal intensive care units (NICUs) to verify hospitals have the resources and expertise to provide care that leads to healthy outcomes for mothers and babies.
"Congratulations to our Women's team. They work collaboratively with our OB/GYN medical staff physicians and OB Hospitalist Group to meet or exceed the designation requirements," said Dayla Daff, M.S.N., M.B.A., R.N., director of Women and Infants Services at Texas Health Denton.
Daff said the hospital's employees and medical staff physicians participate in drills and collaborate across departments to provide the same high quality of care throughout the hospital, whether in the Emergency Department, Intensive Care Unit or Women's Center.
The hospital is expanding its Women's Center to serve the growing Denton County area. Designed with mothers, babies and families in mind, the new center will include 12 labor and delivery rooms, 30 postpartum and antepartum beds, and two dedicated surgical suites for C-sections. This new addition will also include advanced breast imaging, physical therapy and cardiac rehab. The expansion is expected to open in 2022.
"The Level III designation demonstrates Texas Health's commitment to high-quality, comprehensive care with excellent outcomes for both mother and baby," said Mahnaz Rahman, M.D., maternal medical director and OB/GYN on the hospital's medical staff.
"We're looking forward to continuing to grow how we care for the health and well-being of area families when the Women's Center expansion opens next year."
Other Texas Health hospitals that have been recognized as Level III maternal care facilities are Texas Health Arlington Memorial Hospital and Texas Health Harris Methodist Hospital Alliance.
Additionally, Texas Health Presbyterian Hospital Dallas and Texas Health Presbyterian Hospital Plano have received the Level IV maternal care designation. Level IV, the highest possible designation, recognizes a hospital's capability to treat the most complex obstetrical conditions.
About Texas Health Resources
Texas Health Resources is a faith-based, nonprofit health system that cares for more patients in North Texas than any other provider. With a service area that consists of 16 counties and more than 7 million people, the system is committed to providing quality, coordinated care through its Texas Health Physicians Group and 29 hospital locations under the banners of Texas Health Presbyterian, Texas Health Arlington Memorial, Texas Health Harris Methodist and Texas Health Huguley. Texas Health access points and services, ranging from acute-care hospitals and trauma centers to outpatient facilities and home health and preventive services, provide the full continuum of care for all stages of life. The system has more than 4,100 licensed hospital beds, 6,400 physicians with active staff privileges and more than 26,000 employees. For more information about Texas Health, call 1-877-THR-WELL, or visit www.TexasHealth.org.