October 06, 2021
COVID-19 patient's daughter honors Texas Health Plano heroes with personalized painting
PLANO, Texas — A nationally recognized artist symbolically honored the people who cared for her father at Texas Health Presbyterian Hospital Plano. Mario Cortez survived COVID-19, and to show their appreciation, the Cortez family presented Texas Health Plano with a personalized painting.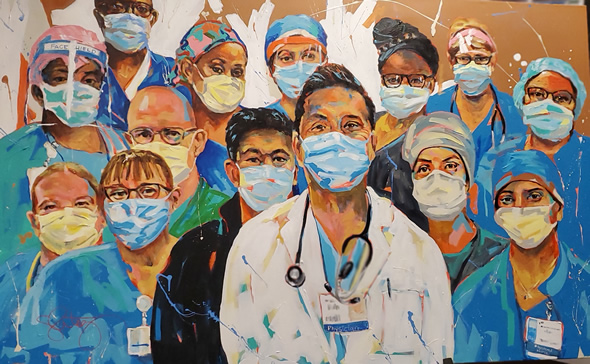 The Texas Health Plano "superheroes" who helped Susie Cortez's dad recover from COVID-19.
"Before putting brush to canvas, I thought of the Justice League, where you see Superman and Wonder Woman and all the superheroes standing in solidarity," said Susie Cortez, a fine art consultant and well-known visual artist. "That's what I visualized for this painting, but the superheroes captured in this piece are the nurses and doctors that helped my dad recover from COVID-19."
On Sept. 30, Mario returned to Texas Health Plano with Susie, just eight months after he beat COVID-19. The family shared a unique piece of artwork — a 48-by-30-inch painting honoring Texas Health Plano nurses and physicians on the medical staff, including family medicine physician Michael Mercado, D.O. Susie was able to create the artwork after hospital administration provided her with several individual photos of Mercado and the rest of her father's care team. Mercado, along with hospital staff, were on hand for the recent unveiling ceremony. It was an emotional reunion for everyone.
"It's a humbling experience," Mercado said. "When I heard about her project, how could I say 'no' to such a unique and touching token of appreciation? This painting is amazing, and I'm honored to be a part of it."
Even though 88-year-old Mario lost his wife, Anita, to a stroke last year, he and his family remain grateful. Living with diabetes and one kidney, Mario spent a total of 10 days at Texas Health Plano — all without the aid of a ventilator. He credits his successful recovery to more than just medication and oxygen treatments.
"Every day, all the nurses would lift my spirits up," Mario said. "God only knows what was going on in their lives while they were helping heal me."
Percy Paclibar, M.B.A., B.S.N., R.N., CCRN-K, critical care nursing director, was one of those nurses.
"When we care for patients, whether they have COVID-19 or not, we treat every person with dignity and compassion, because they deserve it," he said. "And when they can't connect with their families, it's our obligation to give them the support and upliftment that they need."
Her painting will remain on display for several months at Texas Health Plano. She wants others to know that healthcare workers need to be appreciated and supported as they continue to deal with the ramifications of COVID-19.
"Creating this piece, I felt happiness inside my heart, not sadness," Susie said. "As I painted and looked at the individual photos of healthcare workers, I could sense smiles behind those masks. Hopefully, I captured those emotions, and others will find joy in my artwork as well."
About Texas Health Resources
Texas Health Resources is a faith-based, nonprofit health system that cares for more patients in North Texas than any other provider. With a service area that consists of 16 counties and more than 7 million people, the system is committed to providing quality, coordinated care through its Texas Health Physicians Group and 29 hospital locations under the banners of Texas Health Presbyterian, Texas Health Arlington Memorial, Texas Health Harris Methodist and Texas Health Huguley. Texas Health access points and services, ranging from acute-care hospitals and trauma centers to outpatient facilities and home health and preventive services, provide the full continuum of care for all stages of life. The system has more than 4,100 licensed hospital beds, 6,400 physicians with active staff privileges and more than 26,000 employees. For more information about Texas Health, call 1-877-THR-WELL, or visit www.TexasHealth.org.