December 17, 2021
Texas Health Plano honored again with prestigious status
PLANO, Texas — The American Nurses Credentialing Center (ANCC) recognized Texas Health Presbyterian Hospital Plano on Friday, Dec. 17, for the fourth time as a Magnet® hospital – the most prestigious designation honoring nursing services.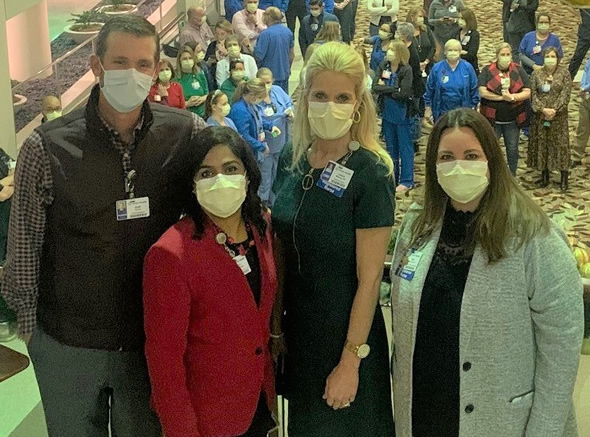 Josh Floren, hospital president, Viji George, Magnet program director, Laura Massey, chief nursing officer and Kari McCord, associate chief nursing officer at the Magnet announcement.
A total of 549 hospitals worldwide and 53 in Texas have received Magnet status. Texas Health Plano joins 12 other Texas hospitals to have achieved Magnet designation for the fourth time. Five other wholly owned Texas Health hospitals are also Magnet recognized hospitals.
The designation every four years recognizes healthcare organizations for quality patient care, nursing excellence and innovations in the nursing practice.
"It is a true honor to be re-designated as a Magnet hospital, one of the most prestigious designations in nursing and clinical excellence," said Laura Massey, M.H.A., B.S.N., R.N., CPN, chief nursing officer. "It reinforces our commitment to creating a collaborative, supportive environment for our nursing staff to provide quality care for our patients."
A Magnet-designated hospital is recognized for its "magnetic" nursing environment, where nurses and clinical staff work collaboratively within a positive culture that supports new ideas and evidence-based work practices. Although Magnet is a program designed for the recognition of nurses, the entire interdisciplinary care team plays a valuable part in attaining the Magnetdesignation.
"This designation shows what we already know — Texas Health Plano is committed to providing quality care to the people in the communities we are privileged to serve," said Josh Floren, hospital president. "Our entire care team contributed to this recognition and this shows we are dedicated to our patients and also support each other regardless of the challenges that come our way,"
For patients and consumers, having a Magnet-designated hospital nearby means that when care is needed, they can expect a safe and quality experience every time. Consumers have come to rely on Magnetdesignation as the ultimate credential for high-quality nursing, according to ANCC.
"Magnet designation means achieving the gold standard in nursing and clinical excellence," said Viji George, M.A., B.S.N., R.N., RNC-NIC, Magnet program manager for Texas Health Plano and system Clinical Excellence Program Manager. "Texas Health Plano is proud to be a Magnet organization!"
About Texas Health Resources
Texas Health Resources is a faith-based, nonprofit health system that cares for more patients in North Texas than any other provider. With a service area that consists of 16 counties and more than 7 million people, the system is committed to providing quality, coordinated care through its Texas Health Physicians Group and 29 hospital locations under the banners of Texas Health Presbyterian, Texas Health Arlington Memorial, Texas Health Harris Methodist and Texas Health Huguley. Texas Health access points and services, ranging from acute-care hospitals and trauma centers to outpatient facilities and home health and preventive services, provide the full continuum of care for all stages of life. The system has more than 4,100 licensed hospital beds, 6,400 physicians with active staff privileges and more than 26,000 employees. For more information about Texas Health, call 1-877-THR-WELL, or visit www.TexasHealth.org.