April 28, 2021
Texas Health Fort Worth dedicates digital Wall of Life to remember organ donors
FORT WORTH, Texas — Organ and tissue donation is the ultimate gift that keeps on giving. To recognize and remember those who gave the gift of life, Texas Health Harris Methodist Hospital Fort Worth on April 27 dedicated a digital Wall of Life during its annual celebration of deceased donors, living donors and transplant recipients.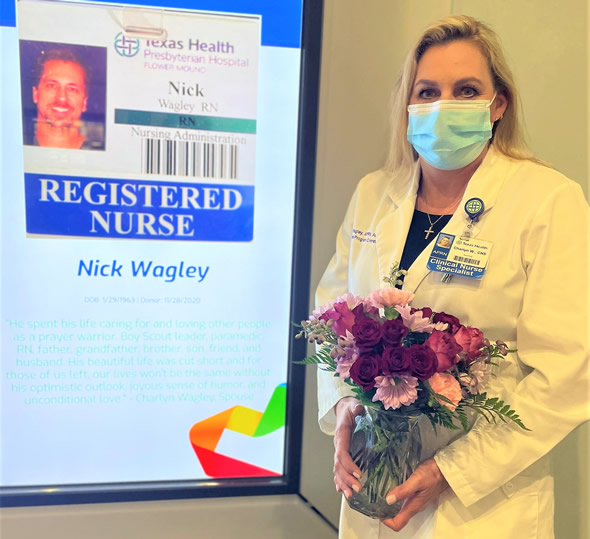 Charlyn Pafford Wagley's late husband, Nick, benefited multiple recipients through the Texas Health Fort Worth transplant program.
The digital Wall of Life allows donor families to include a picture and short story about their loved ones who donated organs at Texas Health Fort Worth. The current Wall of Life, dedicated in 2013, had run out of space to list donor information.
"Along with recognition, we wanted families to be able to share the rich lives of their loved ones who made this ultimate sacrifice," said Joseph DeLeon, Texas Health Fort Worth president.
Leaders from the hospital and LifeGift, Texas Health Fort Worth's organ procurement organization, emphasized the value of donation in a time of grief and despair.
"Organ donation gives us the opportunity to save lives and leave legacies," said Kevin Myer, LifeGift president and CEO. "As a donor you can help people come out of a time of overwhelming sorrow through your generosity."
Organ donation helped 25-year-old Bailie Samford-Jackson save the lives of five people when she died in 2017, her brother Brandon Aeling said.
"Bailie's gift has given our family a strong sense of closure," Aeling said. "In life Bailie always wanted to help others. Because of organ donation she's still doing that."
The digital Wall of Life unveiling was especially poignant for Charlyn Pafford Wagley, Texas Health Fort Worth's sepsis program coordinator and an Advanced Practice Registered Nurse. Wagley's husband, James "Nick" Wagley, spent his life caring for people as a nurse in several Texas Health hospitals, including Texas Health Fort Worth.
Nick died in November from a massive ischemic stroke he suffered due to a genetic blood clotting disorder. A firm believer in organ donation, he continued his life of service after death by donating corneas, bone and skin thorough Texas Health Fort Worth's transplant program. Texas Health Fort Worth works with LifeGift to connect donors to recipients.
At the Wall of Life celebration, a letter from a grateful recipient of one of Nick's corneas was read. Charlyn was thankful to hear the personal story of someone who benefitted from her husband's generosity.
As she viewed Nick's photo on the Wall, she noted, "Nick believed that God gave him this temporary body to live in. When he was finished living in it, then it belonged to God to use for others."
Working with LifeGift, Texas Health Fort Worth performs living donor and deceased donor kidney transplant programs. The hospital performs between 25-30 transplants annually. More than 1,150 patients have received kidneys at Texas Health Fort Worth.
About Texas Health Resources
Texas Health Resources is a faith-based, nonprofit health system that cares for more patients in North Texas than any other provider. With a service area that consists of 16 counties and more than 7 million people, the system is committed to providing quality, coordinated care through its Texas Health Physicians Group and 29 hospital locations under the banners of Texas Health Presbyterian, Texas Health Arlington Memorial, Texas Health Harris Methodist and Texas Health Huguley. Texas Health access points and services, ranging from acute-care hospitals and trauma centers to outpatient facilities and home health and preventive services, provide the full continuum of care for all stages of life. The system has more than 4,100 licensed hospital beds, 6,400 physicians with active staff privileges and more than 26,000 employees. For more information about Texas Health, call 1-877-THR-WELL, or visit www.TexasHealth.org.