October 07, 2021
Texas Health Fort Worth recognized for comprehensive maternal care in most-complex conditions
FORT WORTH, Texas — Texas Health Harris Methodist Hospital Fort Worth has been designated a Level IV maternal care facility, the highest level of care available, by the Texas Department of State Health Services.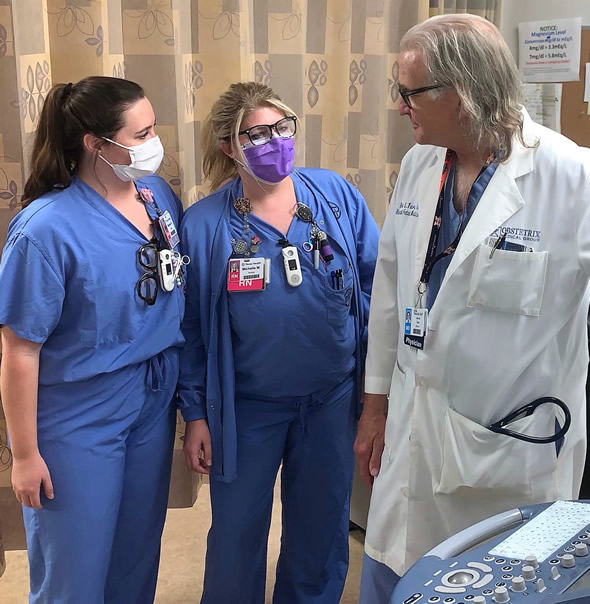 Labor and delivery nurses Morgan Brooks, left, and Michelle Magallon review a patient care case with Bannie Tabor, M.D.
A Level IV facility provides comprehensive care for pregnant and postpartum patients, from those with low-risk conditions up to and including the most complex medical, surgical and/or obstetrical conditions that present a high-risk of maternal morbidity or mortality.
"We're honored to receive Level IV recognition of our top-notch program," said Joseph DeLeon, hospital president. "The designation demonstrates our continued commitment to being the provider of choice for obstetric, maternal and neonatal care."
DeLeon said Texas Health Fort Worth stands out from other nearby Level IV facilities in being able to receive transfers that require a higher level of care for mother, baby or both, from places as distant as Amarillo. The hospital has received more than 250 transfers in 2021.
As a Level IV facility, Texas Health Fort Worth provides a wide range of care, from low-risk families who want a low-intervention birth experience to patients with very complex medical conditions who require ICU care and significant interventions. About 3,000 babies are delivered annually at the hospital.
Texas Health Fort Worth's team not only provides routine care for patients during their birth experience but also cares for critically ill patients with medical and obstetrical complications during pregnancy.
Patients with the most complex health issues are cared for through programs such as an OB cardiac initiative. The program follows pregnant mothers with cardiac complications, such as repaired congenital cardiac defects, so that appropriate care and surveillance can be provided while the patient is in labor and during the immediate postpartum period.
The hospital's OB emergency department provides triage services. Additional services include antenatal testing, as well as maternal and fetal surveillance for high-risk patients.
"We provide family-centered care to keep our infants with their families whenever possible," said Ashley Stone, B.S.N., R.N., RNC-OB, C-EFM, C-ONQS, maternal program coordinator.
"As a former patient (with three babies born in the hospital), staff nurse, charge nurse, nursing supervisor and now program coordinator, I have been a part of our care at all levels. I see the excellent care we provide firsthand, but it's great to be recognized by our designation for all that we are doing to take care of our patients," Stone said.
Texas Health Fort Worth's consistency in providing outstanding care was noted by Bannie Tabor, M.D., maternal and fetal medicine physician on the hospital's medical staff.
"We have been providing the same level of care to our patients for the 30 years that I have been here. It's nice to be recognized for all of our hard work and dedication to pregnant and postpartum patients in our community," Tabor said.
Texas Health Fort Worth is one of only 32 Level IV facilities in the state. Other Texas Health hospitals that have achieved this designation are Texas Health Presbyterian Hospital Dallas and Texas Health Presbyterian Hospital Plano.
Gretchen Clark, M.S.N., RNC-OB, C-ONQS, women's services manager, emphasized the importance of the designation to patients and staff members.
"Achievement of the Level IV designation is a tangible demonstration of our commitment to pregnant people and their families, showing that we're the provider of choice for high-quality, high-acuity care, while maintaining the family-centeredness we're known for throughout the community," Clark said. "This is a direct testament to the hard work and dedication of our entire team."
About Texas Health Resources
Texas Health Resources is a faith-based, nonprofit health system that cares for more patients in North Texas than any other provider. With a service area that consists of 16 counties and more than 7 million people, the system is committed to providing quality, coordinated care through its Texas Health Physicians Group and 29 hospital locations under the banners of Texas Health Presbyterian, Texas Health Arlington Memorial, Texas Health Harris Methodist and Texas Health Huguley. Texas Health access points and services, ranging from acute-care hospitals and trauma centers to outpatient facilities and home health and preventive services, provide the full continuum of care for all stages of life. The system has more than 4,100 licensed hospital beds, 6,400 physicians with active staff privileges and more than 26,000 employees. For more information about Texas Health, call 1-877-THR-WELL, or visit www.TexasHealth.org.