January 06, 2021
DFW native Salman Bhai, M.D., leads clinical care and study effort
ARLINGTON, Texas — A North Texas native whose passion for exercise, health and well-being drives his work as physician and researcher is expanding the breadth of capabilities of one of Dallas' leading research centers on physiology and muscle disease. Salman Bhai, M.D., recently joined the faculty of the Institute for Exercise and Environmental Medicine (IEEM) to lead the clinical and research work of its Neuromuscular Disease Center (NMDC).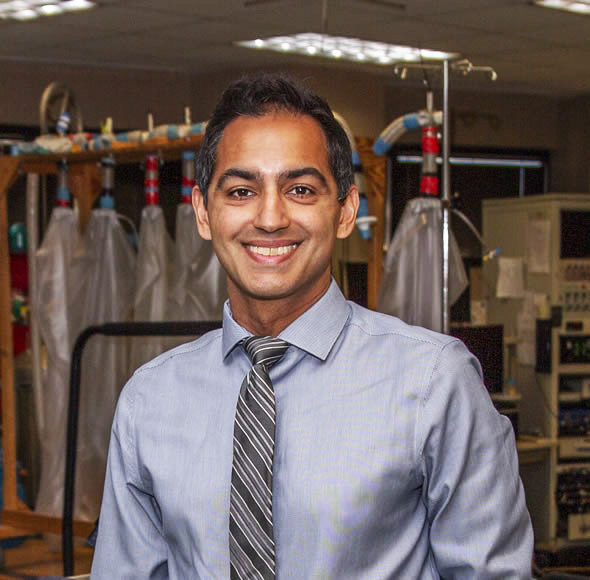 Salman Bhai, M.D.
Muscles play a vital role in supporting overall health and wellness, especially as we advance into old age. So what happens when muscles don't function as they should? The IEEM performs research and provides clinical care for patients afflicted with muscle diseases known as myopathies. Located on the campus of Texas Health Presbyterian Hospital Dallas, the IEEM is a collaboration between Texas Health Dallas and UT Southwestern Medical Center.
Along with his IEEM appointment, Bhai is an assistant professor in the Department of Neurology at UT Southwestern Medical Center. He specializes in the evaluation, diagnosis, and treatment of neuromuscular disorders, such as myositis, a chronic condition where the immune system attacks its own tissue, causing inflammation — a reaction to injury — in the muscles.
"Dr. Bhai brings a novel clinical program for treating patients with inflammatory myopathies. He will help us expand our research into what happens when the muscle becomes inflamed," said Benjamin Levine, M.D., IEEM's director, cardiologist on the Texas Health Dallas medical staff and professor of internal medicine and Distinguished Professor in Exercise Sciences at UT Southwestern Medical Center.
"The work of Dr. Bhai and the NMDC is especially vital because of the importance of muscle in what we call the 'oxygen cascade,' the path oxygen takes in the body from the atmosphere to mitochondria in cells, which generate energy. Oxygen is converted into energy in muscle. I think of muscle as 'the room where it happens.'"
Bhai's clinical interests in neurology and neurological diseases stem from his love of exercise. "In my medical training I gravitated toward patients who had limited function due to muscle disorders. I'm fascinated by these conditions and how they affect the body and the brain, not just the muscle."
He was attracted to the IEEM because of the combination of advanced research at UT Southwestern and quality care provided by Texas Health Dallas.
"The IEEM offers patient-centered care that can be translated to research, ideas and solutions that are then taken back to patients. Listening to patients and making observations on the gaps in clinical knowledge informs my research," Bhai said.
"My goal is to provide compassionate, world-class care. I think of my model in both treating patients and conducting research as 'from bedside to bench and back to the community.' Our research shouldn't stop at the clinic doors but should benefit a global population."
Bhai seeks to better understand muscle health through the signals that the muscle releases. This extends the research beyond energy production in the muscles — the traditional end of the oxygen cascade where the oxygen helps create energy at the molecular level.
"My focus is to understand how muscle speaks with the rest of the body," he said. "I believe this work will inform treatment for not only muscle diseases but will provide new windows into non-muscle-related diseases such as dementia."
Bhai believes that muscle is a dynamic organ system that does more than just move us.
"It actually communicates with the brain and body through various systems when it's inflamed, damaged or physiologically stressed from exercise or high altitude, areas in which the IEEM has strong expertise," he said.
Despite advances in understanding muscle physiology, clinicians still use relatively crude ways to gauge muscle health. Bhai plans to design a muscle stress test to better understand muscle health through the signals it releases. He believes this will help inform the diagnosis, treatment and management of neuromuscular diseases.
A Dallas native, Bhai attended Hebron High School in Carrollton. He earned his bachelor's degree in mathematics and certificate in global health from Duke University, then received his M.D. from Harvard Medical School. He completed his internship, neurology residency, and neuromuscular fellowship at Harvard: internship at Brigham and Women's Hospital, and residency and fellowship in a joint program between Massachusetts General Hospital and Brigham and Women's Hospital.
Follow this link to learn more about the IEEM.
About Texas Health Resources
Texas Health Resources is a faith-based, nonprofit health system that cares for more patients in North Texas than any other provider. With a service area that consists of 16 counties and more than 7 million people, the system is committed to providing quality, coordinated care through its Texas Health Physicians Group and 29 hospital locations under the banners of Texas Health Presbyterian, Texas Health Arlington Memorial, Texas Health Harris Methodist and Texas Health Huguley. Texas Health access points and services, ranging from acute-care hospitals and trauma centers to outpatient facilities and home health and preventive services, provide the full continuum of care for all stages of life. The system has more than 4,100 licensed hospital beds, 6,400 physicians with active staff privileges and more than 26,000 employees. For more information about Texas Health, call 1-877-THR-WELL, or visit www.TexasHealth.org.