April 30, 2021
Nearly $60 million project in Margot Perot Center expected to be completed in 2023
DALLAS — A nearly $60 million renovation is under way at the Margot Perot Center for Women and Infants on the campus of Texas Health Presbyterian Hospital Dallas.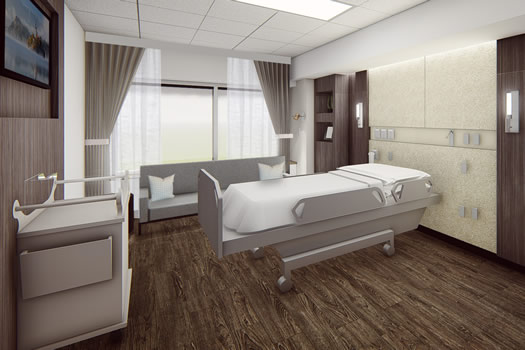 A rendering of a new postpartum room at the Margot Perot Center. Courtesy: HKS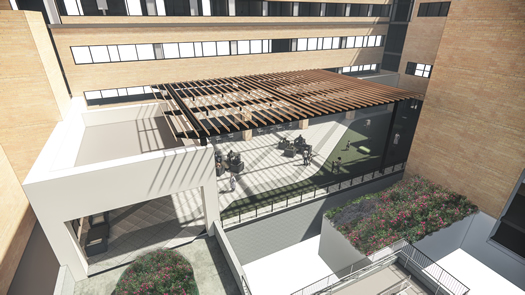 A rendering of the new outdoor plaza. Courtesy: HKS
The major renovation of the women's and infants' hospital includes a complete revision of the labor and delivery unit and operating rooms, as well as updates throughout the clinical areas.
"We're excited to expand and improve the Perot Center, which has been a staple in the Dallas community for nearly four decades and a premier care facility focused on improving outcomes for women and infants," said Jim Parobek, president of Texas Health Dallas. "We made sure each design element creates an environment that fosters healing for our patients and comfort for their growing families."
In addition to upgraded technology in the ORs, the 362,000-square-foot building will feature modern designs on patient floors and public areas, including the inpatient post-surgical unit, triage unit, postpartum unit, concierge suites, elevators and entrances.
"The new design incorporates technological advancements such as smart ambient lighting and ultraviolet lighting for virus and infection prevention," said Virginia Rose, vice president and service line officer at Texas Health Dallas. "We also developed an outdoor space for hospital and community events, and a quiet, outdoor oasis for patients and their families."
Construction will be done in phases to not disrupt care. The project is expected to be completed in May 2023, coinciding with the center's 40th anniversary celebration.
The Margot Perot Center was dedicated in 1983 in celebration of the 25th wedding anniversary of the late Ross Perot and his wife Margot. It was one of the country's first hospitals dedicated to the care of women and infants.
"Texas Health Dallas is proud to continue a legacy with the Perot family, and we want to build on that by focusing on the future," Parobek said.
About 5,000 babies are born each year at the Perot Center. The 8-story building features 84 neonatal intensive care unit (NICU) beds, a maternal and neonatal transport team, surgical operating suites, a dedicated pediatric outpatient clinic and the Peggy Bell Diagnostic Imaging Center, which completes more than 32,000 procedures annually.
Texas Health Dallas is one of 24 facilities across Texas designated as a Level IV maternal care facility, the highest possible designation by the Texas Department of State Health Services. A Level IV maternal care facility provides comprehensive care for pregnant women, with programs focused on healthy pregnancies all the way through care for moms and their babies during and after delivery.
"It's a great accomplishment that speaks not only to the achievements of our incredible women's services team, but is a formal recognition of the hospital's maternal care capabilities and commitment to excellence," said Eugene Hunt, M.D., chair of Obstetrics and Gynecology at Texas Health Dallas. "All women and all families should get the quality care they deserve."
About Texas Health Resources
Texas Health Resources is a faith-based, nonprofit health system that cares for more patients in North Texas than any other provider. With a service area that consists of 16 counties and more than 7 million people, the system is committed to providing quality, coordinated care through its Texas Health Physicians Group and 29 hospital locations under the banners of Texas Health Presbyterian, Texas Health Arlington Memorial, Texas Health Harris Methodist and Texas Health Huguley. Texas Health access points and services, ranging from acute-care hospitals and trauma centers to outpatient facilities and home health and preventive services, provide the full continuum of care for all stages of life. The system has more than 4,100 licensed hospital beds, 6,400 physicians with active staff privileges and more than 26,000 employees. For more information about Texas Health, call 1-877-THR-WELL, or visit www.TexasHealth.org.